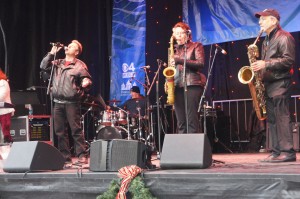 Thankfully, the weather was cooperative with yesterday's tree lighting ceremony at Faneuil Hall in Boston yesterday. Hosted by Mix 104.1 FM, the musical acts featured The Love Dogs, Jilly Martin with Ryan Brooks Kelly, and the Sugarbabies Band, all of which brought their own special sounds to the event. The Love Dogs were sponsored by Sculler's Jazz Club and the Martin-Kelly duo were sponsored by the Hard Rock Café.
The Love Dogs were as cool as usual, and the mild winter day let them rock out with their special jump blues, swing blues sound. Their horn section, Myanna Pontoppidan, and Glenn Shambroom,  were specially warm and vibrant.
Ed Scheer, who only needed one number to get into his groove, put on his washboard bulletproof vest, broke out his spoons, and added a little gumbo flavoring to The Love Dog's blues mash up. "Northbound Train" from their New Tricks album had an infectious beat caught somewhere between boogie and shuffle. Myanna blew a scorching hot sax phrase before Scheers regained control at the microphone, his handsome, husky voice tackling the challenges of playing in 40 degree weather.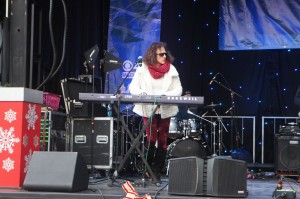 Announcing that he just wants to be loved, Scheer lead the band into a hip daddy oh number with a bright, exciting horn excursion, and, an aggressive piano chord progression from Alizon Lissance. The Love Dogs next went into a number they call "She Won't Say And She Won't Say No." Based on the "The Twist" groove, the oldie feeling grew into a funked up jive. "Merry Christmas, Baby" featured Shambroom great bari sax work, that sax bursting with a thick, rich holiday cheer in the horn section. It also let The Love Dogs showcase that they have one of the strongest rhythm sections in Boston, Downtown Steve Brown on the kit and Randy Bramwell working the low end.
Up next, the youthful pairing of Ryan Brooks Kelly and Jilly Martin. Playing some country rock and Christmas material, the two showcased numerous radio hit potential in their music and performance technique. Martin has a girlish, fetching timbre that she stretches out with coos, harmonies, and graceful vocal melodic phrasing to reach her audience. It certainly made for a beautiful sound when she sang over the festive, lively acoustic strum from Kelly. Martin projected her voice well over that accompaniment with something special that powers all of her songs. Together, their harmonies sounded like something we'd find on modern country radio, a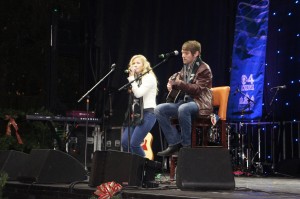 potential force to be reckoned with. She sang strikingly well on "I'm Getting There" and the other numbers the pair had pulled out of the hat. Her voice is certainly made for country pop radio.
"Santa Baby," with its acoustic guitar groove," was particularly good. Martin's voice rode the melody line with the confident precision of figure skating. "Rockin' Around The Christmas Tree" was nicely done seasonal country rock. Her voice lit up the lyrics like there was magic in her voice as Kelly served up a warm chord progression chockfull of holiday charm. The two of them eventually their acoustic guitars together while their voices flowed like honey, pure, honest, and sweet.
The final combo to take the stage before the tree lighting were the Sugarbabies Band, a slick, polished, professional outfit made up of graduates from Berklee College Of Music. Sugarbabies band showed their discipline on the Prince classic "Kiss." Their funky guitar riffs and the rhythm section kept the timing perfect and fun while the vocalists sang with beautiful high harmonies. The Sugarbabies Band showed their high level ability with ballads performing Ben E. King's "Stand By Me," a meaningful number they put plenty of meaning into with their ever so right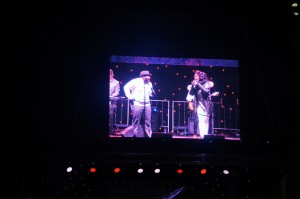 musicianship. During James Brown's "I Feel Good" the keyboardist had his way with his Korg, like he invented the thing. He swiftly pressed a lot of high flying organ magic out of his instrument.
There was never a low point in the music presentation preceding yesterday's tree lighting. With talent like this, any event could be turned into something special, and it showcased why Boston is the Hub of the New England music scene.
https://www.facebook.com/JillyMartinMusic?fref=ts
https://www.facebook.com/ryanbrookskelly?fref=ts