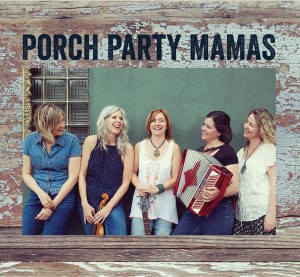 Porch Party Mamas have released their roots-folk debut album, and it's loaded with the organic instrumentation and pristine vocals the band has made their mark with. Acoustic guitars, banjo, fiddle, ukelele, and exotic percussion instruments pepper and punctuate dreamy, floating vocal melodies in the best possible way. These mamas borrow from folk, Celtic, rock and roll, and even show tunes motifs to arrive at their own, meaningful songs, songs filled with emotion, exquisite instrumentation, and ethereal singing.
Opening track "This Would Be The Thing" has adult contemporary radio hit written all over it. Its ethereal lead vocal floats over the a forlorn accordion line to form something that tugs the air with appealing sound and attitude. Bracing rhythms from an acoustic guitar and multi percussion pieces add to its allure and forlorn mystery. It's the kind of song that makes you want to listen carefully to hear how the band is coming up with such exotic appeal.
The recorder played by Felicia Brady-Lopez carries the imagination through old world sorrow on Jane Grondin's "Not For Nothing." Mildly reminiscent of the Battlefield Band Of Scotland, the voice has that distant forlorn feeling found in the sadder Celtic songs. The song casts the listener right into the scenario of the two young lovers it's about, capturing the scene perfectly as the accompanying instrumentation sets the tragic mood just right.
"Make Things Easy," by Brady-Lopez, feels like American folk in its brisk acoustic guitar strumming while Grondin's Fiddle and Brady-Lopez's accordion may remind one of the Scottish ballads found in Celtic music. It's a delicious blend of harmony vocals, lilting fiddle melody, and a tuft of warm accordion melodrama. This song is infused with a pop energy that carries it forward with the grace and speed of a gazelle. Listening to the subtle nuances from the accordion and fiddle as the song progresses, taking their bountiful turns, is enough to make one want to listen to this band all day long.
"Dream A Little Dream Of Me," dating back to 1931 when Ozzie Nelson first recorded it, gets a lovely treatment here by these Mamas with their lovely voices. It features a vocal melody that's tastefully handled while backing vocalists coo in a lush, sweet harmony that tugs the ear into a more concentrated listening. The Mamas don't try to play this in a 1931s musical style but the song seems to leap out of the stereo speakers as something representing another time period. Melodies here range from brittle to tender to lush, and each instrument does something special with these sweet timeless notes.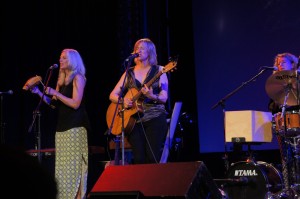 "Broken Line" travels along a mellow melody line that seems to inspire the lead singer to breathe as much life as she possibly can into her emotive lyrical content. The chorus is as hooky as anything in pop while remaining deeply rooted in a folk idiom. Subtle touches of percussion and low end make this song work well underneath the vocal. One can get caught up in all the peppy notes that pepper this song with their individual and collective appeal.
Porch Party Mamas take the traditional "Beyond The Brambles/Paddy Taylor's"  and turn it into a pleasing, fun instrumental joy ride. Beginning with lilting melodies from fiddle and accordion, the number eventually turns into a swinging reel, something one could dance a gig to.
"If I Drew A Line" gets its strength from the twists and turns in its vocal melody line. Without losing a breath, the vocalist here swiftly sings out a lot of lilting phrases, swishing through the song vocally as much as the silky lines from the fiddle and accordion. It's a pretty waltz of words and sounds in one catchy tune.
"The Little Things" floats by like a warm summer breeze. Its entire content, acoustic guitar, banjo, fiddle, sweeping vocals, are nice wrapped into a compact confection. Even its hooky chorus stays inside the snug cocoon of warmth this number is. Listeners will like this one for its bite size sweetness. In contrast, "Goes Like This" tends to be more open and rangy, letting its gentle fiddle and accordion lines move around a little more loosely and freely. Here, the Porch Party Mamas tug on the listener's ear with something that appeals in its sprawling melodies and easygoing percussion.
Another strong point from this quintet is the way they set a mood. It's impossible to not feel what their songs are about. "Missed The Chance" is a fantastic example of this. It's another story song based around a lilting vocal melody line. The sprightly vocal rides the jaunty groove with a silky prettiness that draws the ear like bees to honey.  Persistent percussion and a lonesome fiddle melody in the backdrop create a space that the voice fills well. These instruments all neatly and tightly pull together to convey the feeling of lost possibilities that the songwriter sings of.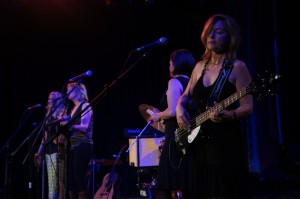 "Love Bug" is based on late 1950s/early 1960s girl band love songs and maybe a touch doo wop. The infectious beat, developed with a simple percussion instrument, is as danceable as anything from American Bandstand at the time. A girlish appreciation for the opposite sex is sweetly reminiscent of many favorite oldies. The harmonies during the chorus are loaded with something that came out of Detroit. This is simply a winsome song that could be played at any dance club, wedding, biker rally, and nobody present would ever guess it was recorded with mostly acoustic instruments.
Closing track "Allen's Pajamas" feels a bit Celtic in its forlorn emotive quality. Its fiddle melody rides the peaks and valleys of a melancholy longing while an acoustic guitar strum gives it a reassuring backbone. This one makes the listener feel, at once, supported and swept away with a flood of emotions. It works well as a closing track. Its bittersweet tone makes one feel that Porch Party Mamas are saying farewell, until we meet again.
Porch Party Mamas take a fantastic first step forward with this self-titled debut album. Beautiful voices over beautiful acoustic instruments embroiders lyrics and melodies of well crafted songs that reflect mature, heightened female perspectives.  Fans of folk, acoustic music, and anybody who appreciates a beautiful voice without a lot of hard charging music around it should purchase a copy immediately.