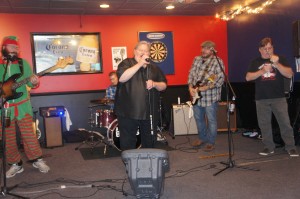 A Ton Of Blues continue their successful run as the host of the Sunday afternoon blues jam at Hot Shotz in Leominster, Massachusetts. Yesterday's jam was a great example why A Ton Of Blues and Hot Shotz is a marriage made in heaven. Not only did A Ton Of Blues showcase their own inimitable style and brandish a few new songs, they showcased the talent from their metro west area in a way that let the individual talents shine. Former Massachusetts musician and southern New Hampshire stalwart Arthur James showed up to also play an exciting set.
A Ton Of Blues opened, as usual, with their fine mix of thumpy bass lines, bristling harmonica work, guitar lines running from brittle to edgy and always razor sharp. Drummer, James Thomas, anchored it all well during their new song "So Mystified." Stephen Prunier and Scott Boo Moe-Bell LeBlanc served up a thick broth of guitar/harmonica gruel. Prunier's harmonica lines got even thicker, filling the room with a sound both beautiful and tough. Meanwhile, Boo Moe-Bell Leblanc picked slower but no less exciting bits of notes during another new ATOB song. LeBlanc's whistling guitar line in a later song rode the waves of Jeff Lorenzen's low end well, traveling smoothly over the solid, thumpy, bumpy sonic landscape that was coming from the four string.
A slow boil blues found A Ton Of Blues front man Mike "Spud" Kelly roaring life at his microphone. Kelly had to match the fury coming from a hurricane of harmonica notes and stormy, screamy guitar phrasing.  Kelly's husky howl was also a good match for LeBlanc's psychedelic blues guitar riffs on "Midnight Train."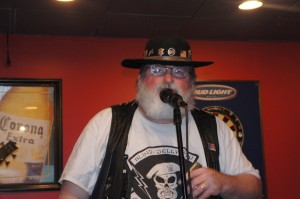 Local musician Blind Jelly Stu, who has recorded a bunch of songs for a disc he was distributing, blew a swinging blues harp while his lineup played with meticulous precision, and that's not bad for a bunch of guys who were playing together informally. Johnny Ray played some tasteful, disciplined guitar lines over tidy bass from Ken Edelman and pushy drumming from Dave Bergeron. It was a meaningful combo. The mild rasp coming from Blind Jelly Stu and some incisive picking from Johnny Ray supplied an emotive, effective batch of entertainment from the audience. This particular line up moved onto something with an oldie rock and roll motion, and Blind Jelly Stu sounded good fronting with a hip daddy-o command. During this tune Johnny Ray whipped up something that lit a fire underneath LeBlanc who, in turned, whipped up some lightning fast licks.
Kelly had earlier introduced Arthur James to the attendees and told James to stand up so people could recognize him. As James was already standing, it was a well received poke at James elfin demeanor. James was summoned to join the third lineup which he began with his take on "Checking Up On My Baby."  James sung with a raspy tough guy timbre that if you were not looking at him would make you think he was seven feet tall. He also played a kick ass blues guitar style all his own. His six sting just kept firing off a lot of ringing, soulful tones that couldn't be beat. Luckily, Prunier was able to go toe to toe with James's biting guitar phrases.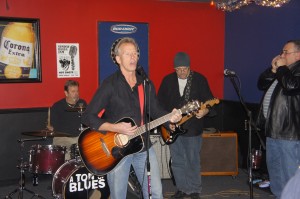 James sang a like a monster on Howlin' Wolf's "Commit A Crime" as he and the other players conjured a primitive tribal swirl that. James then pulled everyone into Paul Butterfield's "Born in Chicago" by playing it  fast and furious, prompting Prunier to blow more aggressively. "Crosscut Saw" found the band playing briskly, squeezing out furious notes, each having a life of its own. It was good fortune that Prunier brought a virgin E flat minor harmonica along with him in his kit. It came in handy when James lead his lineup into "Thrill Is Gone." This B.B. King classic was fueled by Jeff Lorenzen's low end propulsion, which allowed James to rip it up in quick succession of short, sharp, brittle notes. James next sang "You Don't Have To Go" in his huskiest timbre, sounding once again, like a seven foot, raspy giant. He also pied pipered several dancers onto the dance floor.
The next line up featured an acoustic guitar player/vocalist named Wayne Tallie who lead his lineup through several oldies rock and roll and rockabilly numbers. Tallie and an electric guitar player named Mike Freestone captured the sound from that simpler time in modern music. "Whole Lotta Shakin','' "Flip, Flop, And Fly," "Shake, Rattle, And Roll," and "Blue Suede Shoes" brought the crowed into another dimension in music that they don't always get at a blue jam and probably should. This music was a bridge between rock and roll and blues back in the 1950s when crossover was taken for granted. The lineup went naturally into Muddy Waters' blues anthem stomp "Mannish Boy."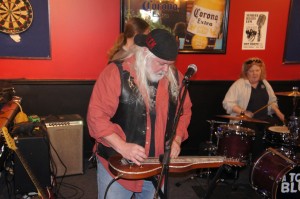 Rob Marchetti brought his pedal steel guitar to brighten up several numbers with a rangy sound. Drummer Don Haase kept pace on Jimi Hendrix's "Hey Joe" while injecting plenty of rolls and fills. Spud Kelly retained control at the microphone singing  "Messing' With The Kid" while drummer Carol "CJ" Chaplin carried it home.
Near the end of the jam, Jeff Lorenzen brought up his side project featuring singer Joe Hallen, a man with a large presence and large voice at the microphone. Djembe player Renee Comea joined in with this final lineup for the sweeping "Whipping Post" and the rhythmic quirks of "Hey Pocky Way."
A variety of song material and a variety of players were in good supply at yesterday's Sunday Afternoon Blues Jam. A Ton Of Blues got to follow an appearance by Santa Claus himself and the players co-hosted a Toys For Tots drive at Hot Shotz. Hot Shotz also has on tap a local brew named Wormtown IPA. One must try that rich, zesty beverage when one is in the Metro West area bar. Hot Shotz is located at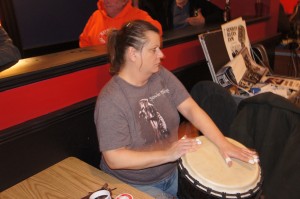 1293 Main St Leominster, Massachusetts 01453Phone (978) 345-2337.
Blues, rockabilly, country, oldies rock and roll, and a Wormtown IPA a few of the good things in life that go well together.
https://www.facebook.com/profile.php?id=100001815083739
https://www.facebook.com/pages/Hot-Shotz/149431411774765?ref=ts&fref=ts