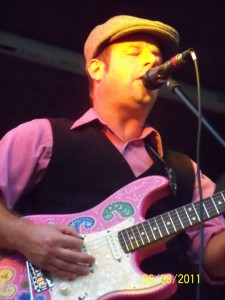 New Hampshire and New England blues fans can help cheer on and raise travel expense funds for the three acts from New Hampshire that will be competing in this year's International Blues Competition in Memphis.
The Granite State Blues Society will host a fundraiser, for their solo blues artist Arthur James, their youth blues performer Delaney Pickering, and their band winner entry Mike Crandall Blues Band, at Tupelo Music Hall in Londonderry, New Hampshire on Sunday, January 4, 2015 at 6:00 p.m.
Solo category artist Arthur James was recently pulled aside by this zine to answer some questions and to give us all the dope on the upcoming fundraiser. Arthur James said he will most likely play a mix of songs that is heavy on originals with some of his fans' favorites thrown into his set.
An avid gear head, Arthur James, ironically, has got no new equipment to show off at the fundraiser. But, he does need to get a wee, little thing enhanced.
"I do need to get my main acoustics pick-up fixed next week," Arthur James said. "I had it repaired recently, but it's tonality needs to be changed, most likely by a little tweak done on the Piezo pick-up under the bridge. My G string is now quite soft, and no one needs a soft "g" string, except maybe an exotic dancer."
This IBC appearance will mark Arthur James' third time going to Memphis to compete in the competition after winning a blues challenge held by Granite State Blues Society. Although blues musicians from any state can compete in the GSBS' blues challenge, Arthur James has been a New Hampshire resident for several years. A lot of people up in New Hampshire think he's cool.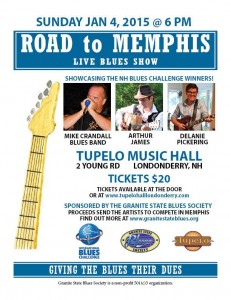 "Being a multiple winner has its advantages down there," Arthur James said, "better comfort level; more familiar with surrounding and how to promote yourself and your music."
Each time he has been to the Memphis competition, Arthur James has made connections with blues officials, fellow players, label honchos, on air personalities, promoters, festival organizers, and sexy groupies, some wearing G-Strings. He has a winning personality, that Arthur James.
Arthur James' former band mate, Matt Sambito, from Arthur James's blues power trio, is wildly optimistic about Arthur James' chances down in Memphis.
"Arthur is truly one of the finest pure blues players that I have ever worked with," Sambito said. "Memphis better be ready because he can eat more barbeque chicken than anyone I've ever seen."
A thoughtful, kind-hearted gentleman, Arthur James also spoke well of his fellow blues musicians who will be representing New Hampshire and the GSBS in Memphis.
"Delaney is a young, talented singer-guitarist with a firm grasp on the blues tradition and (has) an innocence that only a young musician can have. She should go far, if she sticks with it through her life."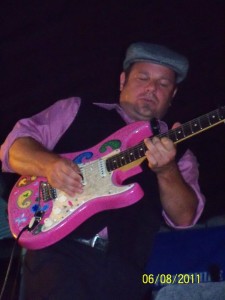 Arthur James also had a few kind words for the Mike Crandall Blues Band.
"Mike Crandall and his band are seasoned veterans," Arthur James exclaimed. "Mike has made the finals in some of his previous visits down, when it was more of an amateur competition. I think he should do quite well with his 'Fabulous Thunderbird style' band. The four piece band with a harp player is one of my favorites in the blues idiom. It's always tough and gritty with some jagged edges."
Blues fans from around New England and New Hampshire will be treated to an evening of great, glorious blues music while helping the artists earn their travel expense funds to get to Memphis. To purchase a $20 ticket, please click on the following link below: