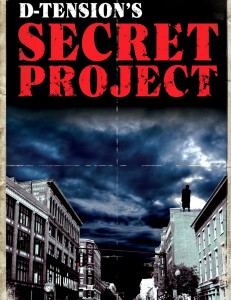 Boston's 20 year veteran of the hip hop recording studio D-Tension has briefly put aside his penchant for rap. Here, on his Secret Project album, he picks up a keytar, a bass, a guitar, plays some drums, and brings in a bunch of locally and nationally known lead singers to flesh his compositions. On this album, D-Tension dives headlong and headstrong into alternative indie rock synth pop idioms and swims back to the surface with something very successful in his new found genre love.
"Heartbreak Of The Century" pulls the listener right in with it whirring synthesizers, knobby low end notes, and robotically precise drum work. Vocalist Aaron Perrino carries us through with his smooth but worried timbre. He's disturbing enough to keep us listening while some additional eerie keyboard notes focus the listener's mind on their unusual tones. In addition to its eccentric and appealing soundscape, it's a fun, danceable, hummable number.
"Can You Stand It" grooves in with a heavy synthesized bass beat that cannot be ignored. Just when you start to feel like moving to that hefty throb, a blanket of keyboard sounds sweep over it, offering an assortment of piercing melodies, lines of notes that compel the listener to follow every single one of those interesting phrases. Boston's veteran singer Ad Frank has one of those oddly appealing voices that one cannot ever ignore of turn away from. His other worldly timbre keeps the ears glued to him because you just have to find out where he is going with this song.
"My Van Tonight" bursts into the listener's consciousness with a lively, up-tempo percussion programming. Kerri-Ann Richard puts a touch of flirty joy into her tightly structured vocal phrases. She is a perfect compliment to the spirited keyboard melodies running carefree through this song and its amusing lyrical put downs of a sleazy guy with wondering eyes. Its two primary melody lines are fantastic ear candy, and they help deliver the light-hearted view of the guy this song quaintly gripes about.
"Bury The Father" beings with an epic tension emanating from its bursting synth line. Jason Dunn's voice glides over a weave of electronic sounds, expressing a forlorn emotion, like they're calling out to the listener from some inescapable void. There is a desperate tension in this song that comes across quite effectively in the contrast between smoothly flowing synth melodies and a low end line with more sudden, brief, eccentric notes that percolate up out of nowhere.
Featuring Jen Kearney on vocals and keyboards, "The Kiss" has a romantic appeal in her whispery vocal delivery. It's uncanny how D-Tension places funk-soul mama Kearney's more rock and soul practiced voice into the middle of an electronically enhanced song. There is an undeniable urgency in a swishy synth line that intros this song, and it contrasts effectively with some deeply felt low end piano notes. As usual, Kearny fills it up with her driving, feisty vocal aplomb.
"Stacy Glass" comes closer to a pop rock sound than electronica. A smooth, pleasant vocal from Danny Carney coats this number with a sincere warmth and affection. Coupled with a spirited keyboard lift, intrusive low end lines, and a tight compact percussion track, that Carney vocal becomes a winsome presence that one could spend a lot of time listening to.
"Gatekeepers," sung beautifully by Alex Stern, is a sweet confection of melodic marimba, tightly woven electronic bass and percussion, and a tangle of synth variety. This ear candy dandy can brighten anybody's mood with its pretty chirps of bright sounds. It's also a lyrical song of hope, calling for a day of reckoning for a gatekeeper in the music scene so that its participants can get their music scene back. There is just something in the way the briefer, sharper notes hit and the way the smoothly flowing stuff caresses the ear that makes this piece a winner.
"Blindsided" comes in with a dark synth sound, creating a beautiful backdrop for a hip percussion smack and some whirring synth sounds. A burbling low end completes the soundscape well. The pretty vocal from Liz Enthusiasm moves over the song's bracing keyboard swishes with kittenish friskiness. It is easy to get swept up in the whirling dervish of lively synth melody that comes into play here. Its beat is irresistible and so is that voice.
"She Don't Like Rock And Roll" is a sly title, as the song is a hopped up rock number. Everything electronica here is based on rock instrumentation and the song involves a good dose of electric guitar. Punky, nasal inflected vocals from Kevin Stevenson contain a striking energy. A piano pushes the song forward with splashes of assertive chords. Tight ensemble playing compress all of these cool elements into something that feels just shy of being ready to explode, and that self-restraint keeps this one chugging along with steam.
"21 Guns" jumps out of the gate with a propulsive beat, some fierce guitar chords, and an electronically enhance rapper-singer, Frank Morey, putting someone on notice that he's messing with the wrong dude. This song would certainly make a good addition to an action movie film score. One can feel the tension mounting as Morey continues his badass admonitions. One can also see people doing some badass shit while listening to this gem of a tough guy violence meets rap composer in a back alley showdown.
Dee Tension closes out his Secret Project with "Fascinate You." Vocalist Stephie Coplan utilizes well her girlish purr to layer this one with chic feminine allure. Listeners will wonder what she has in mind when she sings her whispery chorus. Combining acoustic piano chords with light touches from a few synths weaves a sound that keeps the ears glued. A seemingly simple percussion track also makes it hard to stop listening. This one moves your feet while inspiring one's imagination.
D-Tension has certainly come up with a fun, danceable, and in some cases, badass album in Secret Project. While nobody would ever suggest D-Tension abandon his interest in rap and hip hop. He makes a strong case here that artists should step out of their comfort zone genre and try something different once in a while. After all, a clever artist is a clever artist regardless of whatever genre they borrow from.