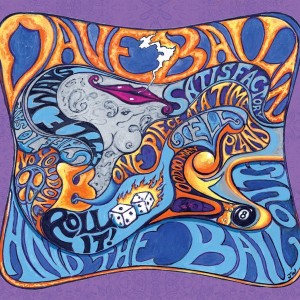 Dave Bailin And The Bailouts have documented their musical and vocal prowess on their self-titled debut studio CD. This is tight, disciplined rock and roll and free wheeling soul music all in one album. Bailin and lead guitarist Eric Reardon play bristling electric guitars while Bailin blows feisty harmonica lines. Drummer Steve Peabody keeps a beat like nobody's business while adding the hippest smacks in the most unlikely of places. Tight ensemble work is the order of the day. This is a unit that shines as much during their ensemble portions as they do during guitar and harmonica phrases and hip grooving.
Opening track "Satisfactory" finds Bailin singing in a cool, smooth hip cat sway, his lilting vocal line practically gliding over a gruel of feisty guitars, blaring saxophones, and swirls of organ. Ages of listening and playing went into this one song. The listener can hear shades of blues, classic rock, and a touch of jazz swing. Bailin moves through his chorus with a swaggering determination that cannot be matched. Eric Reardon tosses in funky guitar phrases while Andrew Hickman makes his horns blare with flair. This is definitely a satisfactory way to open an album.
"Tell" borrows a light, bouncy vocal melody idea from 1970's party rock. Bailin sings this one with a confident patter in his delivery. His guitar chords are lightly funked while Reardon brings a breezy approach to the lead guitar, letting out just enough energy to motivate but not so much it overwhelms this considerate mid-tempo rocker.
"Safe To Say" continues to showcase Bailin's affinity for the easeful vocal glide within his mid-tempo rockers. His melody vocal line makes the listener feel like he's listening to a story as much as a song. Reardon injects a lead melodic phrase in place of the singer's voice that communicates the song's feelings as well as the vocal does. Snappy touches from the guitars and drums makes this one very catchy and a lot of fun.
"No You Don't" walks right in with alluring lead and rhythm guitar lines. After that introduction is made, Bailin lets his smooth vocal do much of the talking. Peppy lead guitar work follows his voice around more than just accompanying, and it works to make the tune reflect how much is going on in the song's story. This one's a bit tender, and that guitar excels in making the listener feel it.
Strutting blues progressions push "Plans" into a hip place. One can feel the song carrying forward with a chugging blues shuffle beat while juicy harmonica lines and a nervous slide guitar move with greasy finesse. Meanwhile, Steve Peabody's percussion work is irresistibly intriguing. This one is an expression of the pure joy of playing. The listener can picture the band having fun as they lay this one down.
"Little Ways" swoops down and into the listener's conscious on the wings of its brassy trumpet and saxophone. From there, Bailin becomes a tender R&B crooner, reminding us of Otis Redding and many others who could carry us away with emotive falsettos and soulful sustains. Eric Reardon and guest guitarist Noe Socha (from Italy) inject rangy guitar phrases that also carry busloads of feeling just beneath the vocal. It all comes together with the magic and power we associate with classic soul ballads from the past.
Bailin and his gang serve up another batch of soul on "Voodoo Man," a funk fest graced by Amadee Castenell's cool saxophone lines and Eric Reardon's high pitched flight of fancy on lead guitar. Steve Peabody has got his percussion thing going on, an African inspired patter that makes this whole affair even catchier. Meanwhile, Bailin sings in the coolest, smoothest timbre this side of the Mississippi. He stretches his timbre out until it's silky, subtle. His voice practically kisses the ear when he's belting out with all his heart and soul.
One of Bailin's marketing items is a pack of tobacco rolling paper decked out in his band's name and logo. Anybody wondering how the rolling papers come into play will receiving illumination when they roll it up and smoke it down. "Roll It!" makes for good levity as well as good music. Bailin's voice is adorably goofy in its deeper hue as he describes how he gets his tobacco material ready for a good smoking experience. Peabody works his tom toms for a fuller, bouncy run of rolls and fills while Reardon plays a lean, mean phrase on lead guitar. This is another one played for pure fun.
Bailin and his Bailouts close out with the freewheeling, rangy "One Piece At A Time." Offering a lit of everything at once, guitars cry, drum rolls move forward, another Ken Clark keyboard bangs out cool notes, and Bailin sounds almost spiritual with vocal support from Brian O'Connor and Jennifer D'Angora. It's a fine mess of musical instruments, in almost a Sly And The Family Stone way, that leaves the listener waiting for a chance to catch such an exciting band in one of their live shows.
Bailin and his Bailouts have come up with a very strong album of very meaningful rock and roll and R&B. Buy it at once and see if you too can't wait to catch them live.