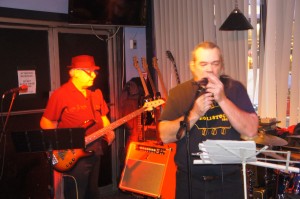 Otis And The Elevators played an exciting set of righteous blues and roots music at yesterday's Wantu Blues Jam at the Village Trestle in Goffstown, New Hampshire. Beginning their set after the first hour of jammers did their thing, Otis Doncaster lead his five piece through tasty Americana music.
Doncaster, in his opening number,  "That's How Love is," blew a smooth sophisticated line through his harmonica. He had great control over each note in his melody line. A tasteful guitar line from six string man Tom Wright was dripping in roots flavors; a little bit country, a little bit blues, and a little bit rock and roll. Meanwhile, the rhythm section of drummer Carol "CJ" Chaplin and bass player Dave Brown carried it perfectly along, like rails on a track. The tune was written by Doncaster himself and is available on one of his two CDs.
Doncaster and his band mates were soon into their original "The Big One." A lilting vocal melody line based tune, the singer traveled well over his tight rhythm section. Keyboardist Jeremy Brown, who also has been playing with The Stompers for 23 years, offered up a juicy old time piano line that made one feel like one was in a 1920s speakeasy. The pianist would play a lot of barrelhouse to accompany this tune. Merry and rollicking, "The Big One" was a lot of fun to follow along as it  filled the room with its lively charm.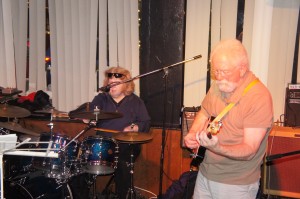 "Blue Clear Sky" found OATE knee deep in their pushy organ swirls, thumping low end, persistent beats, and a deliciously cool blues guitar phrase. And that was the icing on the cake. Doncaster lead his five piece through their twisty changes with his voice, mellifluous and husky, making them sound like he was something they had to follow like their very souls depended on it.
Another Doncaster original featured snazzy, jazzy lead guitar phrasing which pulled the band into one heck of a mid tempo number. Titled "It's My Song," Doncaster sung it smooth as Jack Daniels, letting the song breathe by going easy on it, leaving space for band mates to strut their stuff. Drummer Carol Chaplin left open a lot of space for the guitar to hum its beautifully high melodic phrase while she pushed the song forward at comfortable cruising pace.
OATE went into their rendition of James Harman's "Motel King." Doncaster sang it with  a cool, confident air, like he was telling a story. He was soon blowing a metallic sounding harp line, something with electricity curdling up inside, something ready to spring out, and that inner tension kept things crackling with energy. And again, the rhythm section controlled things well, this time with a lilting groove, keeping it simple, straightforward, but also deeply felt.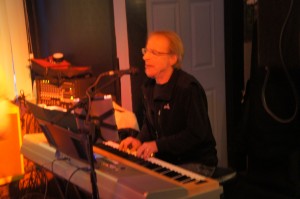 Doncaster and his Elevators closed out their set with another original, "Where There's Smoke, There's Fire." A classy number  that felt like something that would've been played at an upscale blues room in an earlier time in American music. Boy, that piano sounded good. Jeremy Brown infused his considerable tinkling with a lot of classy jazz influences. Tom Wright pressed an elegant phrase out during the bridge, icy cool lines fitting right in with the emotive qualities of this song. The rhythm section too was particularly sensitive to what the song needed. You could almost hear the drummer and bass player in close thinking contact with each other as they brought this one home.
Otis And The Elevators certainly made it an extra special day at the Wantu Blues Jam. They play with a lot of class, finesse, taste, and they play songs that make the most of their particular talents.
Leading up to OATE was the house band set and a set by Wantu regular June Vaillancourt. House band member Chris Noyes lead his mates through a breezy country blues number called "Hand It Over." Next, "Kansas City" was marked by rhythm section finesse. Angelo Mullen's low end locked into one of those down tempo grooves with drummer Rick King that felt all thick and solid and gave guitarists Noyes and Bob Pratte plenty of oomph to trade off lead and rhythm lines.  More bracing blues came in the form of an instrumental jam workout. Both guitarists sent shards of scorching hot licks over a particularly pulpy groove. It was also danceable, especially when Mullen laid down a heavy funk line that people were shaking their booties to. "One Way Out" went over big, especially when Noyes tossed in some biting slide guitar work. Harmonica man Gary Calderone joined the band to blow harp lines into the house band's blues as well as the country tunes of the next act.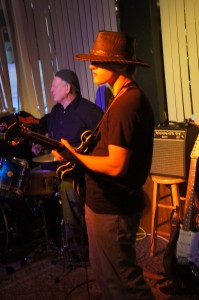 June Vaillancourt sang her little heart out while strumming her 12 string acoustic guitar. Her set consisted of "Folsom Prison Blues," "Whole Lotta Shakin," "Money Honey," "Honky Tonk Girl," and "Move It On Over."  It didn't hurt that Vaillancourt had support from bassist Ray Soucy, guitarist Jerry Ray Basnar, and harmonica man Calderone.
Newcomers Bob Rutherford and Susan Goyette, who call themselves Diversity Duo, sang some classic rock songs like "Travelin' Man" with support from Pratte, King, and Mullen. Rutherford did some funky stuff on his acoustic guitar, things one doesn't often hear a local band play on an acoustic.
Local guitarist Paul Dickinson was on hand at yesterday's Wantu Blues Jam. A quiet man, Dickinson has an interesting history in music. No spring chicken, Dickinson, back in 1970, played in an Ontario band called JR Flood that had a young drummer named Neil Peart. That's right, folks, Dickinson was a mentor to the aspiring Rush drummer while Peart was in his first band. It's confirmed by Neil Peart himself in his website notice about JR Floods. Peart concedes he wasn't nearly as talented in 1970 as he was when he joined Rush in 1974. Peart credits Dickson for being the timekeeper who inspired him to step up his game.
Dickinson played lead guitar and sang lead vocals on "I Drink Alone," and "Going Down." The first number was good fun before Dickinson and guitarist Mike Rivela turned up the heat on "Going Down." Brisk, energetic, and pulsating with groove. it kept feeling like it was one shade away from an explosion. Rivela practically set the song ablaze wit his fiery wailing.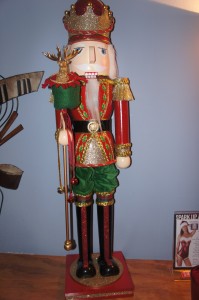 A later line up of jammers included Jerry Ray Basnar, guitarist Chris Townsend, and five string bass player Dan Danger. They went to town on "Can't You See," "Pride And Joy," and "Sweet Home Chicago." Dickinson was soon back in action, rocking on vocals The Beatles "You Can't Do That" and The Foo Fighter's "Learn To Fly."  Mullen sand lead vocal on an interesting interpretation of Bob Dylan's "All Along The Watchtower." Dickinson and Pratte traded up on Dylan like rhythm guitar and Hendrix like electric mania. Then, Rick King threw in a drum solo for good measure, a steady progression that an army could march to but with a lot of sound coming from each piece in his drum set.
Local singer/harmonica man Dave Glannon, from Downtown Dave And The Deep Pockets joined in to funk up "Slow Blues In D." Rivela unleashed some manic blues guitar line to make the song simmer onward. Noyes too turned up the heat with his scorching slide work.
It was another fun day of good blues music at the Wantu Blues Jam at The Village Trestle in Goffstown, New Hampshire. Now, get your hands on copies of the two CDs by Otis And The Elevators
https://www.facebook.com/pages/Otis-and-The-Elevators/339766289381378?sk=timeline