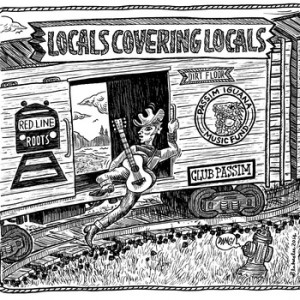 Locals Covering Locals is a CD released by Red Line Roots, a Boston-based blog that produces live music shows and recordings. Like the title suggests, the album compiles songs written by local artist in the Boston music scene covered by other local artists in the Boston scene. Having a local artist's song covered by another local artist gives us a chance to hear a lot of local talent in one album. It also allows for a new interpretation of a favorite song, breathing new life into something already revered. In fact, this album is everything that local music is about. The roots community has much to be proud of, and this album boasts the prodigious talents that write and record this material.
Locals Covering Locals opens with The Bean Pickers Union covering Sean Staples' "Dance At The Plough." This version reflects a nostalgic longing in the vocals, smooth flowing harmony vocals that move beautifully over authentic fiddle, saws, and banjo. The lead vocal has a sincere quality in the vocal's heartfelt affection for the song. The acoustic instruments beneath the voices contrast well, the sweet sway of the fiddle against the grittier banjo and acoustic guitar.
Dan Blakeslee's take on James Houlahan's "Riley" finds Blakeslee singing in a crisp clear timbre that let's the lyrics speak for themselves. He coos beautifully between verses too, putting his earnest croon over a steadfast acoustic melody that attracts with its simplicity. This one makes it by not imitating any other roots idioms and just puts forth an honest expression of words and acoustic instrumentation.
Eva Walsh milks Freddie Francis' "Secret Sounds" for all the tenderness its worth. Her tender beauty of a voice is infused with self-restrained emotion and she sustains her vocal notes sweetly, finessing them with her naturally elegant timbre. There is something in the way that she paces herself through the lyrics that allows her voice to shine, putting emphasis on the song's emotive qualities while showcasing her distinct phrasing. A plucky banjo beneath her voice helps to complete the natural beauty of this song.
Ryan Fitzsimmons, Laurence Scudder, and Jim Larkin tackle "Helen Rose," which was originally penned and recorded by Greg Klyma with Jonathan Byrd. Here, the song sounds hauntingly sweet. The vocalist sings mightily during the chorus, and the whole song feels full and wide, almost like an anthem in its ranginess. It tells a story in a way that makes it feel epic and legendary, and it makes the listener feel the whirlwind of emotion going on within its climbing momentum. An untamed fiddle beneath the vocal also contributes to the largeness of the sound and the story of this arcing narrative.
Mark Whitaker performs Noam Weinstein's "Yesterday's Weather," conjuring a dreamy feeling with its deliciously slow banjo line and Whitaker's considerate, moody vocal. A take-your-time approach lets this one engulf the listener with its tender, melancholic mood. A forlorn fiddle line easing its way through the sonic landscape behind the voice offers its own emotive quality while highlighting the vocal with its strikingly clear contrast. It's a song that makes you feel it.
Bringing a more bluesy feel to this compilation is Danielle Miraglia's take on Jenee Halstead's marching beat number "Building You An Alter." A foot stomping beat, a gritting, pushy acoustic guitar line, and Miraglia's gloriously strong and spirited voice make this come alive with a righteous attitude. Boy, can that Miraglia girl belt out a tune. She sings with such sweeping strength that one cannot help but get pulled into the hurricane force of the spiritual oomph this number is infused with. She takes Halstead's incredibly good material and makes it her own.
Ian Fitzgerald's "Vampyre" by Will Houlihan is a dark, emotive interpretation of an already haunting tune. As somber as a murder ballad, Fitzgerald puts heart and soul into expressing the darkness that is this song. His vocal maintains a careful balance between a somber experience and the need to sing about it to find closure and to deal with what has gone down. This singer is so soulful and mournfully beautiful that one cannot deny the power of his voice or his story.
Next up, Mark Kilianski, Amy Alvey, and Lukas Pool perform "Harlem" by Maya de Vitry as a folk-country ensemble, complete with lonesome fiddle and gritty banjo. This is a winsome way to sing an ode to a sleepless city. Every note picked or bowed here rings out with a beauty, purity, and innocence. The lilting main melody line sways affectionately for its city and the vocal adorns it all with even greater warmth.
Matt Chieffo contributes a likable rendition of "Nobody Telephone" by The Fantastic Liars. This version has a hearty acoustic guitar strum that works great with Chieffo's effective timbre. This one plays similarly to a Johnny Cash story song, and Cheiffo manages to sound amazingly charismatic as he fills this version with character and momentum.
Patrick Coman offers a catchy, lively version of Tim Gearan's "City Of Refuge." Raspy vocals and rolling harmonica lines fill this one with bluesy appeal. It's earthy, organic, and its groove makes it feel like you're moving with this traveling engine of moxie and mojo. Man, does that harmonica phrase sound beautifully cool against the street vibe in the groove. This is the kind of music that a roots, blues, Americana fan could listen to all day.
Jenee Halstead close out this compilation with her rendition of Danielle Miraglia's "Choir." This reviewer has been a strong admirer of Miraglia's music for several years, and this version of a song from Miraglia's last CD doesn't disappoint. Halstead captures brilliantly the balance of bitter disappointment and spiritualism that Miraglia clearly intended in her lyrical development. There is also a lot of good guitar going on in this arrangement. A hearty acoustic guitar strum marches it all forward with an authoritative stomp and a bluesy lead guitar is dripping with deliciously soulful appeal.
Red Line Roots has done the music scene a valuable service by compiling these roots originals recorded by local musicians after they were recorded by the original local artists. Listeners get a good hearty dose of good musical performances as well as good songwriting. Local music fans cannot go wrong by purchasing a copy of this right away.
http://redlineroots.bandcamp.com/album/locals-covering-locals