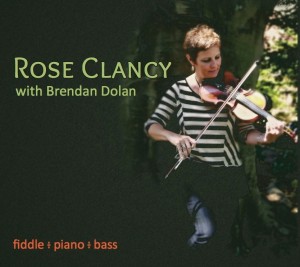 Cape Cod fiddler Rose Clancy has released an album of vigorous and joyful Celtic music. Inspired by the music of Ireland, Scotland, Cape Breton, and Cape Code, Clancy leads her combo of Brendan Dolan on piano, flute, and whistle, Jon Evans on double bass, and Bob Jennings on cello with a bracing, exciting batch of bowing techniques.
Clancy wastes no time jumping right in. There is no need  for build up in her opening track "Johnny Muise's/Laurel's/Jack Daniel's/Reels." Her starting melody line is both bracing and adventurous. Fearlessly up-tempo and intricate, Clancy bows numerous lovely lines in rapid succession, keeping the listener glued to see where she goes next. One can almost picture Clancy's bow and fingers working up this deluge of flowing melodic joy. A touch of the old world influences are clearly present. One can picture the rolling greens of Ireland's countryside, a panorama that suggests movement.
Next track, "Boys Of Lough/Knights Of St. Patrick/Dancing Eyes/Jigs" finds Clancy injecting more of a jaunty rhythmic stride into her melodic line. One could certainly dance to the rhythmic patter emanating from the fiddle. Brendan Dolan taps some effective piano chords in support of Clancy's bouncing bow. The contrast between his more controlled chording and her trotting fiddle melody highlights the appealing colors in both.
Third track, "Betty Moffett" is interpreted here as a high flying waltz. Soaring fiddle and supportive low notes on the piano suggest two dancers moving around one another in the sky. Dolan's Irish whistle sounds as pretty as a songbird, and he uses it to flavor the tune in something distinctly old world, a time when knights and ladies would sway to this remarkably enduring melody.
"Far From Home/Hughie Shortie's/Taybank Shenanigans/Reels" features a sharp, thin fiddle line dancing around a darker central series of piano chords. The bowing's rapid pace holds up the melody line beautifully while working well with the knobbier notes coming from the piano. Lovely and breathtaking at once, Clancy, by the time the tune concludes, has kept the listener on the edge of his seat in anticipation of where she would take this twisty outing.
Track five, "The Little Fair Cannavans/Ryan's/Moll Roe Slip/Jigs" puts Clancy in the mood for a lilting melody. She facilitates the tune with loveliest bowing technique, a succession of quick, high, sweet gentle notes. This makes her tune travel a line of bouncy joy.
Track six, "Coppers And Brass/The Admiral's Whiskers/The Spotted Dog/Jigs" is another lilting melody. This time, Clancy is again accompanied by pianist Dolan. Her quick spurts of fiddle notes bounce marvelously over his winsome, jaunty, somewhat darker chords. It's a tune loaded with charm and old world expression. One can picture a grand social occasion unfolding while couples young and old dance to this sprightly melody.
Track seven, "Doherty's/The Glenties/Mazurkas" offers the sharpest melody line of Clancy's fiddle on the album. You can hear the teeming life she packs into her ever so thin lines. They travel in a straightforward direction with only a light touch of brittle piano notes beneath. Despite the thinner sound, Clancy makes them feel as though they had much to say. There is an energy pushing its way through those exquisite lines that cannot be denied.
Track eight, "The Pleasures Of Hope/Dwyer's Hornpipes" is a sprightly affair. Clancy makes her melody line dance merrily over Dolan's anchoring piano low notes. You can almost picture a happy occasion with a lot of two step dancing, laugher, socializing, and fun. This jaunty bit of fun is certainly a mood lifter, and Clancy injects it with plenty of merriment and warmth.
Track nine, "Tuttle's/Kiss Me Kate/Ormond Sound/Reels" is a brisk number. Clancy's elegant melody line has a distinctive edge. Full of purpose and adventure, it rides with a chugging momentum. This fiddler makes clear she's on a mission and she carries the listener along, through twists and turns, with a melody full of oomph and a hint of abandon.
Track ten, "Neil Gow's Lament For The Death Of His Second Wife/ Lament" finds Clancy serving up a bittersweet, melancholic melody line. She brilliantly balances the sad feeling of farewell with the respect for the person who has departed. It's too bad one would have to die before the band will play this. It's a work of beauty, especially in the hands of Clancy and Dolan, and it's filled with the centuries old feeling of its age.
Track eleven, "The Dance Of The Honeybees/Chaff Pool Post/ Barndance," puts the listener back into a happier setting. One can feel the inspiration of the honeybee that inspired this tune. This piece is full of jaunty hope and brightness, and listening to Clancy's interpretation would make it impossible for one not to enjoy the rest of his day.
Track twelve, "Battle Of Waterloo/Neil Flaherty's Drake/My Friend Sharon/March/Jigs" rides along a brisk melody line. One can feel the warring mission in this music as Clancy creates a feeling of many things going on at once. There is something in her bowing technique here that connotes she's playing a soundtrack of action for many. It's also in the way she contrasts her sustained notes over Dolan's quicker, shorter, lower notes that makes one feel much drama is unfolding. The brisk, bold drama eventually turns into a sweeter, jauntier jig and one cannot get enough of Clancy's bouncy, spirited joy.
With one listen to this new CD, Clancy will have listeners wanting to call  their travel agent to book a vacation flight to the old world. In Clancy's highly skilled hands, these jigs, reels, and ballads become something more than just Celtic standards. She and her fellow players make these numbers come alive and inspire her listener to imagine the highs and lows of life in the old world that initially inspired these creations.