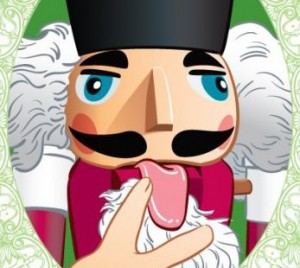 The Slutcracker has been a holiday staple in greater-Boston for several years now. Last Saturday night's performance at the historic Somerville Theater in Davis Square shows why. Artistic director Vanessa White's combination of traditional ballet and frisky burlesque respects both arts forms. Her dancers can actually dance the ballet steps, movements, and choreographed circular formations and line movements. Her dancers also know how to play up the over top show business sensuality of burlesque.
For those who haven't yet seen The Slutcracker, they're in for the sort of strutting sensuality they might associate with something like The Rocky Horror Show. The Slutcracker takes its sensuality as serious as its ballet routines. Some of the dancers movements, in pairs, could best be describe as ballet with pelvic thrusts. The essential premise of the Slutcracker storyline is that instead of a Nutcracker prince coming to life, Clara's Slutcracker Prince is actually a dildo that comes to life.
The Slutcracker Prince, as portrayed by James Bondage, maintained a fine balance between princely charm and an overeager participant in Clara's newfound adventures in fantasy land.
Clara, as portrayed by the able Nina Rose, wonderfully conveyed the switch from innocence to enthusiastic experimentation once her play thing assumes the form of an actual living partner. This Clara, while adept at rolling around and responding to her latest toy, was equally at home with the poise and practices of stage nuances associated with traditional ballet.
That combination of the traditional storyline, tweaked to add much burlesque flair, garnered most of the laughter at last night's show. The effect on the audience was not so much oo-la-la and va va voom as it was the cheeky twists and turns in this interpretation of the storyline.
A Slutcracker Bunny, was everything that title suggests. Her "Batteries," two young lovely lovelies, dressed in shiny gray leotards with the Slutcracker brand across their bodies in place of a popular battery brand, were a hoot. And again, it's the suggestion of what kind of device those batteries power that was as amusing and entertaining as the motions of ballet and sexy finesse that carried their scene
Another team of dancers in this production were called the Orgasm Hoopers. These dancers combined traditional ballet choreography with the physical motions of being in ecstasy. They also each had a hula hoop which each used to great effect while writhing around on stage as Clara and her new found pleasure watched from their royal bed. And again, it was not the sexuality of the dancers writhing on stage that nearly brought down the roof with hearty laughter. It was the placement of added, over the top sensuality smack dab in the middle of a risqué scene with Clara and her life size device. The entertainment value and the laughter mounted as these well choreographed routines continued to make more pronounced the zany appeal of this madcap production.
Appearing as Sugar Dish in a scene called Wet Spot Fairy and another titled Sugar Dish Fairy, Vanessa White utilized well her combination of fiercely fetching appearance, advanced dance technique, and a flair for suggestive drama to achieve the effect she intended, and with each motion, gesture, step, she got a rise out of the audience.
One of the most interesting set pieces in last Saturday night's show was a large plastic peppermint candy penis statue. At key points in the performance, this peppermint candy replica of male tumescence would shoot creamy white confetti straight up into the air. Each time, it represented the accumulation of the sexualized humor that had built up during a scene, and yes, tension, theatrical and otherwise, was most certainly building up in each scene.
While the storyline, costumes, and burlesque routines in The Slutcrcracker are not for everyone's taste, this is a fully realized, professional production. Ms White has worked with The Boston Ballet, The Boston Pops, Mike Doughty, the New York Burlesque Festival, and many other recognized organizations. Local businesses Hubba Hubba contributed to the costuming. Local musicians Walter Sickert and Edrie provided the audio-visual complements. Domino and Varny donated handmade whips. White also got conductor Mikel Toms and the Brno Filharmonie in the Czech Republic to compose a special arrangement of Tchaikovsky's score to enhance her storyline and to move with the flow of the bodies in the performance.
The Slutcracker is a fun, fantastic holiday treat for the eyes and ears. Open minded people from all over New England should try to buy tickets while they last. The production continues at the Somerville Theater in Davis Square in Somerville, Massachusetts until December 31.
http://www.theslutcracker.com/
Share on Facebook

Follow me on Social Media!