Archives by date
You are browsing the site archives by date.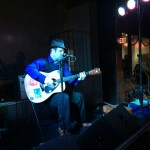 By Bill Copeland on January 30, 2015
The New England blues scene can proudly boast that New Hampshire's Arthur James was "tied for third place" for the acoustic solo/duo portion of the International Blues Competition in Memphis last week. While there is no official recognition by the I.B.C. for third place finishers in the acoustic solo/duo contest, every blues fan from the New England blues scene, James' home state of New Hampshire in particular, should be pleased to know he came pretty darn close to the top two spots.
Posted in Featured Articles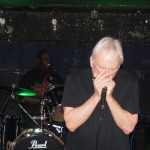 By Bill Copeland on January 26, 2015
Amadee Castenell and John Colby are sending this request on behalf of our dear friend and fellow musician, Parker Wheeler. Parker has given heart soul and music to the Amesbury/ Newburyport area for 20 years. Thats about 1,020 shows. Through Patriots Sunday Night games and open heart surgery, the show at the Grog went and […]
Posted in The Buzz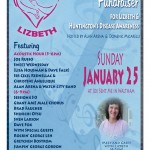 By Bill Copeland on January 25, 2015
Tomorrow afternoon, blues musician Alan Arena will host a benefit to raise funds for his wife, Lizbeth. Lizbeth is living with the progressive, incurable genetic disorder known as Huntington's disease. Funds will go to offset the expenses to cover her care.
Posted in Featured Articles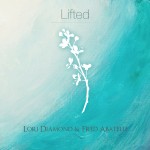 By Bill Copeland on January 19, 2015
Lori Diamond & Fred Abatelli have come up with another album of lovely, accessible singer-songwriter material. Lifted is an expression of the love the two share with one another, and they use their sophisticated musical and vocal abilities to share that love with the world through moving, uplifting soundscapes. Though this album clearly falls within the singer-songwriter genre, it offers sweeps of sound and lush harmonies that make it something larger than a pair of players with their acoustic instruments. There is a grander artistic vision than on their previous recordings.
Posted in CD Reviews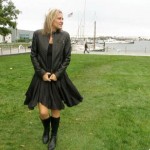 By Bill Copeland on January 19, 2015
Amy Fairchild is about to release a video to her song "Long Way Down," from last year's album, simply titled Amy Fairchild. Fairchild's video indicates she has come up with something brilliant by accident. It's almost like a Jackson Pollock painting in which certain images are combined in a planned way to make a wholly […]
Posted in Opinion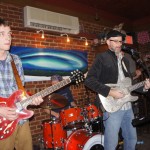 By Bill Copeland on January 14, 2015
Dave Bailin & The Bailouts appeared at the well liked restaurant and pub called In A Pig's Eye in Salem, Massachusetts last Sunday night. A strong turnout was par for the course at that room, and the band played to it well. Dave Bailin & The Bailouts draw a lot of their influences from classic rock, especially late 1960s and early 1970s bands that incorporated country music styles. This gives the Bailouts plenty to work with, keeping their guitar lines pretty and their rhythm section shuffling.
Posted in Live Reviews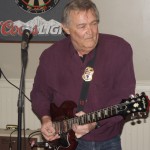 By Bill Copeland on January 12, 2015
Blues guitarist-vocalist Chris Fitz and blues-rock drummer-singer Steven Peabody have had an exceptionally successful run with their Sunday Funday jam at Salem, Massachusetts' Brodie's Seaport Bar & Grill. While Fitz couldn't make it to yesterday's jam, featured guest musician Robert Leger filled in on guitar and sex appeal. Proving he still has it, Leger unleashed some mighty fine guitar phrases throughout the jam, serving each song well by injecting fire and brimstone when needed.
Posted in Live Reviews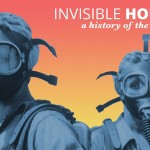 By Bill Copeland on January 7, 2015
Invisible House is a super charged duo which includes Boston's guitar wiz Conrad Warre. This debut album finds Warre teaming up with New York City drummer Giacomo Servetti. On this recording, titled A History Of The World, the duo displays fine chops and exciting musical concepts. This album is something to listen to when one wants to engage one's mind with tasteful interplay between skillful musicians while having a quiet drink. Savor the flavors on each track because they're too good to let go to waste as background music while cruising the highway or working out at the gym.
Posted in CD Reviews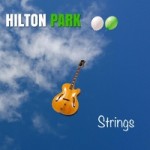 By Bill Copeland on January 5, 2015
Hilton Park's latest CD Strings plays out with a shiny vibrancy that often makes the three piece acoustic act sound like a full electric band. Every note from every instrument is brimming with life on this album, and it would be an understatement to say this trio have outdone themselves.
Posted in CD Reviews | 1 Response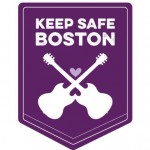 By Bill Copeland on January 2, 2015
A community organization calling itself Keep Safe Boston compiled these fifty gems and pearls onto one disc to raise funds for Planned Parenthood. Spearheaded by local on air personality Anngelle Wood, this compilation pretty much compiled itself when many notable Boston music acts responded to a mass e-mail she went out requesting song contributions. For a little as a dollar, music fans can support this cause while checking out some incredible good local music.
Posted in CD Reviews