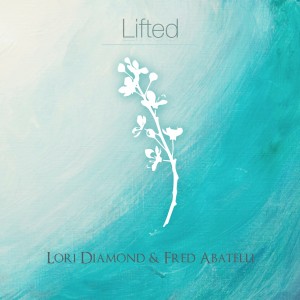 Lori Diamond & Fred Abatelli have come up with another album of lovely, accessible singer-songwriter material. Lifted is an expression of the love the two share with one another, and they use their sophisticated musical and vocal abilities to share that love with the world through moving, uplifting soundscapes. Though this album clearly falls within the singer-songwriter genre, it offers sweeps of sound and lush harmonies that make it something larger than a pair of players with their acoustic instruments. There is a grander artistic vision than on their previous recordings.
Opening track "Always There" is a love song about reaffirming love. From the perspective of looking back at the beginning of a relationship, the duo deliver wonderful images of two people who have grown as a couple. Diamond's soft, whispery vocal pleases the ear while it reveals a strong romantic yearning. Her piano is brilliantly and tastefully understated. She taps the notes out of her keys with easeful authority, creating a tapestry of soft, emotive notes that carry her message well. Abatelli too makes the most of an emotive vocal, lead and harmony, to build another layer of romantic warmth around this lovely song.
Diamond's sweet tender piano notes politely usher us into "Way Back Home," a mid-tempo joy ride into large emotions. This song picks the right moments to expand its sound, increase its dynamics. Diamond sings it with her rising vocal aplomb, increasing the emotional impact from the revelations in her verses. Including these ever so right touches makes this floating song feel empowered. Diamond and Abatelli create a bright, wide sound to make each chorus feel a bit like heaven.
"Dreaming" finds Diamond tapping out a jazzy, breezy piano melody. Its hip, jaunty rhythms makes this song as classy and disciplined as a tap dancer. One can feel the impact of each rhythmic up tick as the number progresses. Diamond also offers a lot of jazzy swing in her vocal approach. She makes it sound easy to spread her lovely voice over these ever so tasteful rhythms.
Title track "Lifted" benefits from a tender masculine vocal from Abatelli. He carries the emotional fiber of this song well. His vocal strikes a careful balance against an effective cello line from Kristen Miller. It's a joy to hear him spread his natural timbre over the serious tone from the carefully bowed cello strings. Abatelli plays an especially tender guitar line in the backdrop, his notes finding a good home in the gentle heft of emotions being played out honestly, tenderly, and effectively through their voices, piano, and cello.
Abatelli offers more of his guitar magic on "The Outside." While Diamond finesses the song well vocally, with vocal lines that skip coolly over the melody, Abatelli pushes it along with his assertive, well-accented note picking style. Together, the pair put across a life affirming message in this song about times when the cover is being more attractive than the text. Their chorus jumps out at the listener with its sudden wideness, and the verses and melodies leading up to it are filled with their own special imagery and lyrical offerings.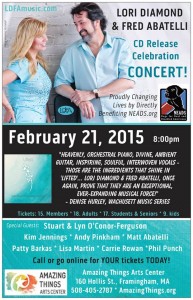 "Good Harbor" combines Diamond's gentlest, most whispery vocal line with Abatelli's tender guitar melody. Layering it with her twists of piano notes, the songs lulls one in with its emotional undertow. This song will make fans want to visit the "good harbor." Diamond and Abatelli wrap this one in a special warmth, musically, lyrically, and emotionally. Orange sunsets and salt air are only reminders of what this locale does for the head, heart, and soul as their song about that place do a similar service for their listeners.
"Castle" is Diamond's piano ballad about one of her children. She builds a fine tapestry of piano notes as she moves her melodic line forward. One can picture her fingers hitting the keys as she plays this tasteful run of notes. Her voice shines, too, sustaining notes that express the motherly joy within this song. Abatelli applies his carefully picked guitar notes, and he braces the number with the subtle presence of his smooth, bass guitar underpinnings.
Abatelli rocks things up a bit on "Wayfaring Stranger." His guitar picking is jazzier, speedier, and more fluid than anywhere else on this album. His accented notes make one feel he means business this time around. Those smoky guitar notes get even better when they're danced with by Diamonds organ work. Diamond sounds her sultry best on vocals and her classiest on piano. This travel themed song makes one feel like he's on a journey because there is a persistent motion within. Diamond reflects on her global destinations, and that too makes this one feel like the theme of travel.
Closing out with "OM," Diamond and Abatelli conjuring a pleasantly cooed chorus, with Patty Barkas adding more vocal lift, and percussionist Fabio Pirozzolo peppering the backdrop with something exotic. This number has a way of sounding momentous and gentle at once, carrying itself through with grand likeability. A piano line continuously circles back on itself to indicate that it's growing within itself rather than spreading itself out. The duo, with a little help from their friends, close out their album with something meaningful in its appreciation for its key theme, that the best things in life come from within and from others.
Diamond and Abatelli have done well with this latest offering from their duo recording sessions. Lifted is truly an uplifting experience. One can feel the love that lead to its creation while loving the voices, the music, and the lyrics that keep bringing it home beautifully to the listener.
Their CD Release Party for Lifted will take place Saturday, February 21, 2015, at 8:00 p.m. at Amazing Things Art Center in Framingham, Massachusetts.