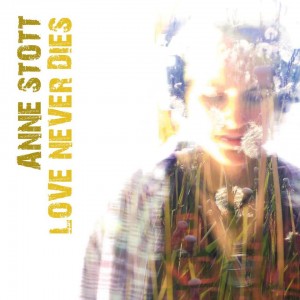 Anne Stott's third album Love Never Dies percolates with thick, irresistible grooves and sly rhythms. Stott's voice is so strong that she raises each of her personal reflections into anthems, declarations, statements that her backing players punctuate with hefty slabs of bass and drums and incisive melodic lines from guitar and keyboards. At times, this Provincetown singer casually slides into a down tempo whispery piece of prettiness. Yet, her voice and her message remain as powerful as they come across in her more driving numbers. She also takes some different twists and turns in her song crafting, moving in directions refreshingly unpredictable.
Stott commences her album with a spacey instrumental intro piece titled, "And Then." It's a crawling, fuzzy guitar phrase with a church bell tolling in the backdrop. Edgy and moody, it gives a hint of the drama to follow. Segue in to "We Are Here" and Stott emotes forcefully over driving, funky guitar riffs and an irresistibly danceable groove. Piano lines snake hypnotically around the beat which is offered by a drummer adept at smacking a lot of extra notes around his central time signature. An obvious choice for air play, Stott would be crazy not to send this out.
"Hold Me" slaps its way into the listener's consciousness with some firm guitar chords. Stott sings beautiful dollops of vocal rhythmic twists, turning her acoustic guitar-drum accompanied number into a primal chant. This is the kind of song one cannot turn away from. If its quirky rhythmic pace doesn't grab you, Stott's unique vocal delivery will pull you in with its simmering intensity. Her voice burns like an electric guitar sustain that slowly changes colors, tones, and dynamics. She rides out in a twist of psychedelic sound conjured by eerie piano notes, pushy drumming rhythms, and a bossy saxophone line.
"No Words" is a slow boil piano driven rocker. Stott lets the energy rip during her very bracing chorus in this number that makes one sense she pushed someone up against a wall to tell them off. Her fetching voice allures almost to the point of hypnotic as she belts smooth, high notes during her battle anthem chorus.
Stott adopts a pretty, whispery vocal for her subtle nuance number "Clap Clap." Named after a clapping rhythm that forms the basis of this song, Stott wraps an edgy guitar glide around it while letting her voice spiral ever higher. One feels lifted while listening to this piece. It's got wind in its sails from all of Stott's gusty vocal efforts. It's also impossible to get her incredibly catchy rhythm track out of one's mind, even after this song is over.
"Mostly I'm Not Around" initially finds Stott singing in a pretty yet subdued vocal. Her almost spoken vocal lines rings out with power over appropriately subtle touches of organ chords and piano tinkling.
Turning up the heat with some slamming piano work, Stott segues into another brief number titled "I Looked Up At God." Her, she's gutsy, determined, confrontational. Her issue and its delivery give this number a satisfying powder keg, end with a bang not a whimper.
Falling into contemplative singer-songwriter mode for "Do You Have A Song In Your Head," Stott flexes her vocal muscles over a more brittle, gentle accompaniment. Her feisty belt gets a lot of space to move around in, and she makes the most of it, letting her voice soar over her melody. This one rides out beautifully, making itself feel as full as something by a large choir of singer-songwriters.
The almost nine minute long "Light Breaks" carries the listener through a variety of pleasant moods. Initially, Stott sings in a pretty, singer-songwriter glide before a rhythmic track and a nudge of piano melody push her voice into an entranced chant like chorus. Lush harmony vocals fill the space wonderfully while it moves on with the rhythmic click of a well choreographed musical chorus line. Stott has so many fine musical touches going on during the final third of this opus that it's easy to picture a large dance team on a stage making various movements to each and every instrument's line.
"I've Known Your Name Before" is another fine mesh of acoustic guitars and drum work. Vocals running from whispery tender to belting, rollicking fun, Stott shifts gears to provide her listener with a variety of tempos and dynamics. Never favoring a straight road with only one speed limit, Stott keeps the energy pouring through different kaleidoscopes, keeping her listeners guessing where she might go next, keeping things interesting.
Closing out with "There Is No Leaving," Stott leaves her listener with sweet vocal coos and pleasant, dreamy acoustic guitar droplets. It feels like a warm parting from a dear friend who must leave for the time being but one you know for sure you'll see again some bright sunny day.
Stott has done herself proud on Love Never Dies. One cannot help but get caught up with and swept away by all of her artistic flourishes, rhythmic rushes, cavalcades of chords, and fine brushes of melody. Variety and just enough quirkiness go a long way at keeping things interesting and Stott is a master of musical quirks.