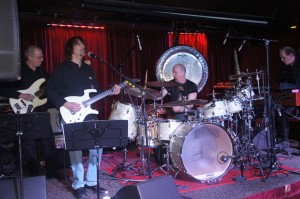 Named after a song by ELP, Four Fates treated an audience at Whippersnappers in Londonderry, New Hampshire to two hours of music by the Keith Emerson, Greg Lake, and Carl Palmer. And they went over big.
Their intro, played in perfect sync, found the four piece creating an epic sound with manic, high pitched organ notes from Steve Baker announcing the arrival of something grand, exciting, and intense. There were moments during the show when precision, powerhouse drummer Ron Stewart and frenetic keyboardist Baker made it feel like it was 1973 all over again. Many of the numbers performed last night were also marked by pronounced bass runs from Bill Drake.
Drake played a looming bass run to inject a presence into "Knife Edge" from the first ELP album, keeping it heavy, with a touch of menace. Meanwhile, guitarist-vocalist Bill Pourde sang it with his large, eerie, otherworldly timbre. Next up, Baker played a jaunty piano melody to support "Jeremy Bender" from ELP's second album, Tarkus. Plourde's lively delivery of the song's quirky lyrical story was another plus.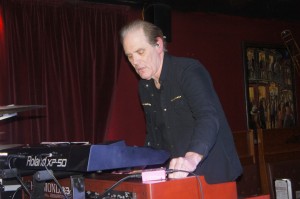 Four Fates met the challenge of playing ELP's 20 minute plus title track "Tarkus." A haunting organ line introduced a sound that was menacing with possibilities. Stewart's rapid fire yet intricate drumming wove the whole beast of this song together by maneuvering his way through its twisty patterns. The four made it look easy to deliver this complicated, involved music. They'd complete one part of the opus then swiftly move into the next with a sound that suddenly became much heavier, though no less involved, than the previous. Plourde handled the vocals impressively, crooning over an amazing keys, bass, and drums trio. The three pounded out a heavy ensemble section before Plourde and his guitar slid into the song's open spaces to play an incendiary phrase. His phrasing a bit later in the opus made it sound like his guitar was singing its fiery message, power and precision soaring out of his six string. Soon, Plourde and Baker were pumping out intricate melody and counter melody, and the song, in their hands, roared with a surging urgency that made one feel something truly epic had just taken place.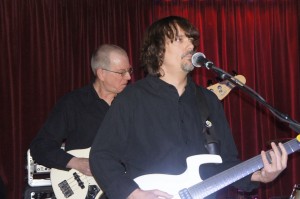 Four Fates played "From The Beginning" with a fine sense of classical guitar influences and percussion patterns. Plourde sang, with the right feel for this mellow classic, one of the few ELP songs that were short enough to still get played on the radio. His voice channeled that haunted soul quality of the original while Baker played the familiar, whistling organ melody.
Stewart rolled into "The Sheriff" with drum smacking aggression contained in a mid-tempo approach. Baker tapped out a bubbly 1970s rock organ melody, brief, brittle notes that adeptly accompanied Plourde's lilting vocal line. Four Fates displayed their fine ensemble strength playing Leonard Bernstein's "America" as combined with classical pieces by The Nice, Keith Emerson's previous 1970 band.
Back into more familiar territory, Four Fates played the likable ELP dandy "Take A Pebble." Baker played elegant piano melody while Plourde finessed the lyrical vocal deliver over Drake's dreamy, smooth low end line. It eventually evolved into Baker's sole piano, his tuneful notes speaking volumes with their quiet presence.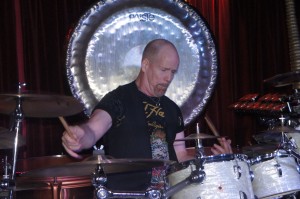 There was electricity in the air when Baker fired up his synthesizer to begin "Karn Evil 9," stirring pleasant memories of this classic rock hit. While most people who don't follow ELP closely know it by its opening lyrics, "Welcome back my friends to the show that never ends," Karn Evil 9 etched itself into memories of music fans everywhere. Racing guitar lines and organ tempos brought the song to vivid life, both in the original in the Four Fates show last night. Nobody other than ELP could've create this and only a tribute band of this combined talent caliber could get it right. Stewart's drum solo featured furious bulbous notes over a surprisingly consistent beat. One would expect the beat to slip away with the amount of fills and rolls flying around.
Four Fates tackled the opus "Fanfare For The Common Man." Its bold, epic strokes swiftly turned into snappy, rollicking rock and roll in the ensemble portions before Plourde played an incisive phrase that could have cut through steal like a laser beam. Final song "Lucky Man" brought everyone back to the realization that, aside from the intricate instrumental workouts, ELP were also a band that played songs that everyone fell in love with when they heard them on the radio. Rippling acoustic guitar notes and a lifted vocal lead the group into the tune. Stewart kept its ballooning sound anchored with his quick stick work as Baker's synth melody unfurled with noted largeness, filling Whippersnappers with its abundant, emotive sorrow.
It was a good night for Four Fates and several of their diehard fans responded at numerous times with thunderous applause.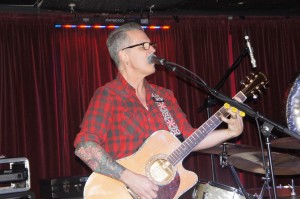 Opening act Chris Lester treated the audience to his original music, played solo acoustic guitar style. With pristine, melodically pure lines and catchy choruses, Lester proved that good original music can shine in the pared down format. Singing in a middle to high range, Lester's smooth vocal slid mellifluously over his sweet acoustic guitar melodies. And man, could he play a melody line on his six string. For an audience used to hearing Lester belt into a microphone and wail on guitar during his stint with Mama Kicks, it was more than a refreshing treat to hear him do his thing in his chill vibe. There were moments when he sustained vocal notes and pressed pretty melodies out of his guitar that proved this man's original music comes direct from his soul.
https://www.facebook.com/chris.lester.129?fref=ts
To book Four Fates: