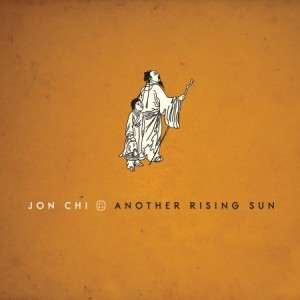 Jon Chi's latest album Another Rising Sun is sure to bring him ever greater recognition in his two fan bases. An artist who divides his time between Boston and Milwaukee, Chi's Berklee education and his flinty life experience in a mill town make him an artist that many can relate to. He also has a lot to draw from in his musical palette, using it to create painterly stories from his well spring of encounters with interesting characters, including a childhood bully who grew up to be a convicted killer.
"Words You Can Believe In" opens the disc with a winsome tuft of whispery smooth vocal, choir like backing vocals, brisk acoustic guitar work, and a shuffling drum beat. Not only does it sound good, a spiritual resilience comes across solidly in Chi's hearty delivery of his earnest lyrical portrait. Just when you think this song couldn't get any better, Sean Erick's trumpet cuts through the abundance of feeling with a forlorn melody line.
Chi gets a little bit edgier on his next track, "Call To Me." Here, Chi has a flinty electric guitar melody underneath his steadfast vocal. This one takes its sweet time unfurling what the singer-songwriter has to say. He makes the slow ride well worth the listeners' time, offering plenty of grit in his sandpapery vocal and hefty musical accompaniment.
"Killer From Our Hometown" begins beautifully, with a cooing choir and a smooth guitar line. Chi follows up with a dark, murder story. He lets this one pour out of him with a storyteller's need to get the whole tale out in the open. Guitar phrasing and organ strutting make this ferocious true life tale come alive with even greater fire. It rides out like rock and roll church at the end.
Talk about an eclectic musical personality. Chi next offers "The Battle Is Over(But The War Goes On)," a funked up rocker as danceable as anything released in the glory days of the late 1950s and early 1960s. It's easy to find one's step in this beat and even easier to sing along with its hooky chorus. As fun and festive as a day at the carnival, the horns jump and the guitars have bite.
Title track "Another Rising Sun" makes a fine gravitational center for this album, balancing well the energies of the tracks that come before and after it. It's a slow boiler that lets many fine things cook and simmer above the burner. With a voice as smooth as Jack Daniels and a guitar phrase that smolders with a menacing potential, "Another Rising Sun" fulfills its mission by carrying the listener into an adventurous world in which facing another day is a task in and of itself. Everything else going on around the guitar and voice is working at full force as well. The drums are pushy. The low end is muscular. The organs percolate. The choir is ready to take you to heaven.
"Don't Go Down Without A Fight" slides in with a smooth vocal and a curious after taste from sublime guitar and organ lines. Appropriately bumpy percussion work pushes along the gentle weave of electric instruments while Chi emotes with spiritual oomph about a world that requires us to be ever vigilant and wary. "One More Shot At The Light" continues down a similar path, with an acoustic guitar leading the way through this musical forest, a thick forest of instrumentation and that ever so alluring choir of backing vocalists. It gets its lift from the lead and backing vocals, singing out with spiritual ebullience, enough to make one feel swept up and away with them.
"Pray For Rain" brings the listener's back into Chi's penchant for flinty guitars and a brisk backing band. This mid-tempo rocker simmers just beneath the surface, keeping its tension just a quarter inch down the burning wick. Chi makes this one burn with his swaggering call for rain and his backing musicians follow suit, blazing the trail of glory beside him, knocking down all that comes before them with their hoofing momentum and their aggressive chops. Rollicking drums, bossy bass lines, organ chord lift, and laser sharp guitar phrasing keeps the listener on edge, making one wonder if something more harrowing is coming right around the next bend.
"Alvarado" is a sweeping, rangy tune that spreads its wings wide, swooping down from its lifted state to nail the chorus before rising ever higher again. It's an ephemeral tune that moves overhead, just out of reach as it sails by, a beautiful sight to behold. Turns out it's a song Chi wrote after listening to someone talk of how much he missed Texas. Chi perfectly conjures that sense of longing to return to a beautiful place of personal significance.
"Bound For Glory" is a quiet ballad that blows by like a pleasant summer breeze. Chi's soft, whispery voice wraps his message with warmth while some accented guitar notes give it a polite push forward. One cannot help but feel swept away in its wide, rangy textures.
Closing out track "The End Of The Road" leaves us with a pleasant memory of many of things we liked about Chi's album, his choir of backing vocalists, his adept rhythm section, his brace of support from his lead guitarist and organ player. Roots flavored guitar and soulful organ crawls blend beautifully with a cooing, humming choir. Chi's singer-songwriter sensibility carries this tune, and his entire album, to a satisfying end.
Chi has much to be proud of here. His singer-songwriter strengths are evident, imagery, impressionistic flow, and honest emotional grit make you care about his characters and want to follow their stories. His rocking, roots band keep everything drenched in authentic flavors. His choir can save you. Another Rising Sun will likely increase his audience and visibility in Boston and Milwaukee.