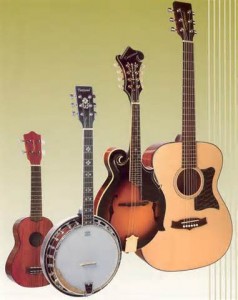 Ross Arnold and Steve McDonald will be hosting an acoustic workshop and jam at the Goffstown Parks and Recreation building the second and fourth Monday of every month.
This will be an opportunity for acoustic musicians to get together and work on song arrangements, network, and jam. It will be all inclusive. Everyone will get to play. All genres from acoustic musicians will be welcome.
Bring your guitars, fiddles, mandolins, banjos and anything else that doesn't plug in, including your voice, if you happen to be a singer. Styles include folk, country, Americana, bluegrass, and pop standards. Join the circle to jam, trade ideas and prepare for open mics and performances. Meet and play with new folks and polish your song arrangements. The workshop offers a fun, easy going environment for all skill levels.
Participants don't need to be professional musicians, but you should know how to tune your instrument and be capable of playing rhythm. This workshop and jam starts this Monday, March 9th,  7:00 p.m to  9:00 p.m.
This will be a relaxed informal environment. "Come on Down," Ross Arnold said.
Goffstown Recreation Center is located at 155 South Mast street, Goffstown, New Hampshire. For more information, please contact Recreation center @ 497-3003; Steve at smacdonald19@comcast.net; or Ross at oxxor@Hotmail.com.