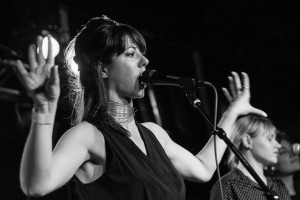 Ruby Rose Fox has, through hard work and talent, risen to the top of the Boston music scene. After starting out a few years ago going to open mics and networking, she was selected to compete in the 2013 Rumble, got nominated for a couple of Boston Music Awards in 2013 and 2014, before winning a BMA for Best Female Vocalist at last December's Award show.
Ruby Rose Fox is the stage name for Rachel Elliot, former singer for the now defunct ska band Mass. Hysteria, a group of Brookline High School students who got to tour locally, regionally, and nationally. Fox took the stage name from her grandmother, a Brooklyn Jew in the 1940s who was institutionalized from the age of 31 until death.
"I actually took her name on before I even started playing music as a sort of tribute to her life and her name, to give it sort of another go around," Fox said. "It's a family name. It's a family story."
Fox has been touted by music journalists and other music industry pros for her rich, rangy voice, one that seems born for nostalgic early 1960s rock and soul but can also reach into modern, edgy pop rock. She had taken voice lessons as early as seven years old. She studied classical and jazz at Brookline High School. But, that doesn't completely flesh out what she has to offer at the microphone.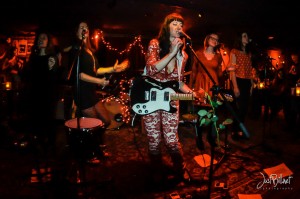 "I don't think I totally sat into my little voice until my mid-twenties," she said. "I just accepted the natural timbre of my voice. It's hard when you're 15, and they tell you basically you're a female, and the parts you're going to play in opera are the witch or the old woman. I think it took me a long time until I could sing in the place where my voice lived."
Fox is one of those singers whose voice can cut through any kind of musical atmosphere or genre. Fox and a videographer friend of hers once made a video of Fox singing a down tempo version of Dolly Parton's "Jolene." They were, just for fun, spoofing an internet hit that came about when someone had posted on YouTube a slowed down record of "Jolene," played at the wrong RPM.
"That video wasn't actually even planned," Fox said. "It was friends and I just playing. We were basically just covering this version of it that was swarming around the internet. My voice is naturally that low, and I also sing slowly sometimes." Creating this down tempo version illustrates not only Fox's rich timbre and rangy voice but also her narrator's voice, a glue that holds the story's song together well.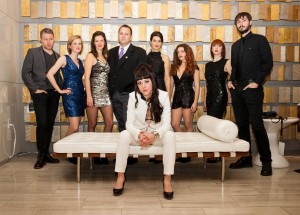 By and large, though, Fox focuses on her own original material. Everything she writes and records now is mostly a vast departure from her material with Mass. Hysteria. Yet, being exposed to a lot of 1960s pop and ska may have influenced a nostalgic feeling in her earliest solo material.
"The EP I first did a few years ago was definitely very nostalgic," she said. "But I wouldn't say that overall that what we're sort of playing now live is not entirely."
Fox's most current songs are more modern pop rock. Her first single, "The Dread," was inspired in part by the classic jazz tune "Mack The Knife" and in part by a fiction writing friend who was having issues with internet dating.
"He said every time he went on a date, he had this feeling that he called 'The Dread,'" Fox said. "He knew he needed to cut it off and keep searching and keep dating. I just looked at him and said 'You know, I'm going to steal that from you, right.' He said 'OK.' His name is John Russell Clark. It was sort of his experience but also just sort of using 'Mack The Knife' to reframe the song."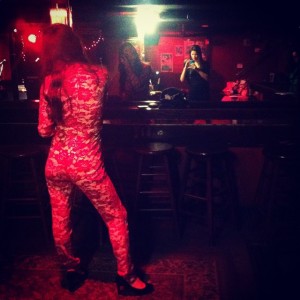 "Neighborhood Watch" is another interesting Fox song that might not ever appear on any of her albums. She wrote it early in her new songwriting career when she was slipping in and out of different songwriting genres. Fox also directed a video to the song, a black and white piece that focuses a camera on a body painted model/actress.
"I was thinking a lot about the internet and voyeurism," she said, "a lot of themes of voyeurism. That's the one that deviates the most and doesn't really fit with a lot of other tunes. So, that may be in the Ruby Rose Fox graveyard."
Her song "Die Pretty" was released a week before her nominations for last Fall's Boston Music Awards, giving her another glow of success. Many think that her song is about Andy Warhol's female collaborator Edie Sedgwick because Fox made a video to it that apes Sedgwick's black and white film clip, one in which Sedgwick continuously looks unflinchingly into Warhol's camera.
"I just wanted something that was going to add to the dimension of the piece," Fox said. "But, I didn't have her in mind when I was writing it. There was a phrase in my life. You get pretty obsessed with your eternal world. I think that the song was about the part of myself I think are perceived as ugly or what would've been rejected. I think that song is about accepting that and being exactly who you are in all your ugliness."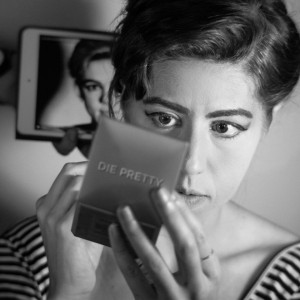 Her song "Unusual Grace" was born out of a striving to understand love and relationships. Raised as an intensely fundamentalist Christian, a lot of her programming as a kid included a lesson that conflict should be ended with a gentle hand.
"The concept of offering someone who had wronged you an unusual amount of grace as a virtue," she described. "I don't think I'm making a statement about doing that or whether it's right or wrong. I think the song is just grappling with that idea."
Fox sometimes accompanies herself on an electric guitar when she plays in a solo setting. Her unusual picking style finds her picking her strings with all of the fingertips on her right hand. The resulting tones are full, ringing with an edge in her sound as it fills a room. She never formally studied guitar. She just did it because it was what sounded good to her ears.
"It's very inaccurate," she said. "It's not the best technique, but it creates a certain sound that I like." She eschews the solo acoustic guitar because she doesn't get as excited about it as she does the electric. "I think I also was aware of the stereotype of the female musician with the acoustic guitar and the flower dress. I just didn't want to be that. There's nothing wrong with it. I was also just aware of the fact that the vulnerability of coming into a music scene as a woman. There's a part of it that also I just want to put my foot forward with just a little more power, just a little more ampage. You put one pedal down, and you could fill a whole space with sound,."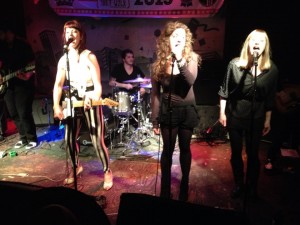 In between her Mass. Hysteria days and her reentry into the Boston Music Scene, Fox was a theater major at Emerson College. "We were trained in everything from The Greeks to Neil LaBute," she said. "Thank God I was never in any of his plays, though. I think he's got a lot of unconscious misogyny. I also think his plays are interesting and thought provoking."
Fox's background in theater might be surfacing when she performs live. She always has a look of intense concentration when she's getting into the emotion of a song. Fox never thought about it herself until one of her backing singers explained it in front of her to a new backing singers. Like an actress, she might be feeing what a character feels and bringing it forward.
"I really enjoy the act of channeling emotions in sound and vibration in general," she said. "There is a lot of enjoyment to be had by leaving time and space and being really focused on one thing. It's a way for me to completely be in the moment."
Fox has a band that would seem to take up too much space on local bar stages and be economically unfeasible. She plays out with an eight piece band. In addition to a lead guitarist, bassist, and drummer, she features four or five backing singers. She is trying to maintain the texture of sound on her recordings
"When I make demos, when I write, I often double all the vocals," she began. "I double my own voice. I double each back up vocal. I just felt if that's the sound that I like on the recording then why wouldn't I try to make that live. Why wouldn't I create exactly the sound that was pleasurable to my ears when writing."
Fox is doing something right. She started out four years ago, and, after only two years she and her band mates were selected to compete in the 2013 Rumble. She didn't come to close to winning. "I was so new to it all back then that I don't think we were very good," she said. "I'm not surprised we didn't win. But I was glad that we did it. Nobody really knew who I was before that, so it was nice to get to know the local community and meet people. It was helpful that way."
Being in the Rumble and nominated for two Boston Music Awards in 2013 and two in 2014 before winning Best Female Vocalist last December were pleasant but surrealistic joys to her.
"I'm so used to losing that I wasn't really even accepting that I won," she said. "But it feels good. For me, I don't have a family. I don't have a huge social life. I work constantly on this stuff. This is my life right now When you work so hard at something with very little returns and zero financial support, you're constantly putting your heart and soul out all the time. It did feel nice It felt nice to win. I've never won anything in my life. I think maybe the last thing I won was seventh grade, some little music award. It was just interesting. I'm not a lucky person. I'm not a person who wins things. I'm never in the right place at the right time. My karmic thing is that I need to work really hard. I definitely wasn't expecting it."
Fox has no management or publicity team. She has to do it all her own. The singer has huge plans to introduce her music to a large audience. Aside from releasing two singles in April, one in summer, then working towards a full length body of work, she and her band will be opening for Martha And The Motels in Boston, New York City, Connecticut, and New Jersey.