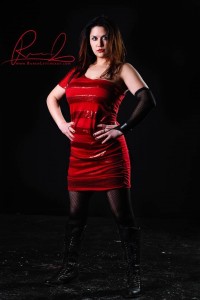 Shanta Paloma is on a role. The glam doll of the western Massachusetts music scene has been building a recording studio in her apartment. This gives her the control to make her songs sound the way she hears them in her head. "When they come out something different, I have no one else to blame but me," she said.
A prolific songwriter for many years, Paloma seeks to become a song powerhouse who can demo out songs for licensing, publishing, and film placements. "That's what I'm thinking," she said.
Her self-titled 2013 album, featuring her locally popular song "Parallel Lives," came after years of hard work playing out in clubs in western Massachusetts, including solo acoustic gigs, duo shows, and with a few bands. While many of her diverse influences from jazz, gypsy, and folk are clearly present on her album, Paloma kept most of the songs rock and roll edgy.
"I was feeling that people were expecting a female on guitar to be folksy sounding, and I've always felt a little bound by that, and I didn't like that," she said. "It seems to me that a female musician (is expected to be a) folksy, earthy, crunchy lesbian or a pop diva, and neither of them felt like me."
Her song "Parallel Lives" was inspired by quirky circumstances. Paloma and a male musician friend often show up at the same place at the same time wearing similar attire like fingerless gloves or a red leather jacket. They also often broke up with their perspective partners at the same time.
"We were leading parallel lives," she said. "It was a joke. We were never together, but there was a romantic vibe between us, I suppose. I got the concept, and he liked the concept, and he threw in some ideas, like "going down to the garden" and I added the chord changes. I started and finished the song and then he sang his male part in the studio."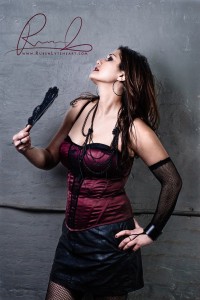 Paloma's song "Unspoken" came from a 2011 relationship in which she was disappointed in something. "I know who I was thinking about at the time," she said. "It was one of those songs that came out, right away, in the middle of the night. I woke up and I was very upset because he had been with somebody then left her immediately for me in a week. So in that week, I was thinking 'Wow! I was the other woman.' I knew he had a girlfriend, and he kissed me. Then, I backed away and said 'Dude, you have a girlfriend.' And it took him about a week to leave her. In that week I was feeling kind of like, I don't know."
Paloma's song "Under Your Kiss" is another relationship song. "All of them are different disappointments, different lovers," she said. "I was brought up to believe that girls are not supposed to chase. They're sort of supposed to hang tight and look pretty and wait for a guy to chase them. That didn't sit well with me. I like chasing. It's not so much I want to chase them then play coy. I just want to be able to express how I feel and not scare them away by expressing how I feel."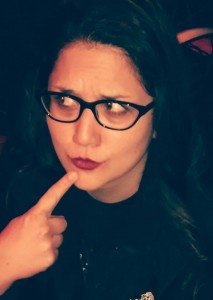 Paloma said that an emotion she feels, inspired by a real life experience, isn't necessarily portrayed in actuality in her lyrics. "They aren't true literal reflections of what happened," she said. "It's like a feeling that I got put me in the emotion of the song."
Raised by a diplomat father, Paloma has lived in India, France, and Turkey as well as both coasts of the United States, and she has taken in a lot of music from a lot of different sources. Jazz, folk, flamenco, bossanova and many other influences dot the landscape of Paloma's 2013 album. She melds her world music influences into her rocking sound. Aside from a love of classical Spanish guitar, she also digs The Cure and Portishead. "I'm also into the Gypsy Kings. The Gypsy Kings are always quite vocal to me," she said. Rodrigo Y Gabriella is another favorite who inspire her with their classic Spanish guitar.
"She plays the rhythm and she uses a lot of percussive techniques with her hands and he plays the leads on top," Paloma said. "They're just phenomenal."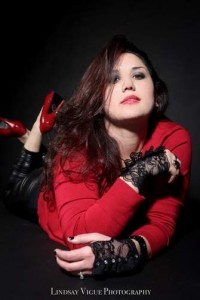 Diversity in her music stems from Paloma's appreciation for different cultures and each culture's techniques, instrumentation, and modes. "I'm curious about learning all of it," she said. "I think growing up in different places made me appreciate diversity in the world, and I drop that into my music. I explore different kinds of music and deconstruct it, learn what was behind it theoretically, and write a song like it. I would learn about a genre or a rhythm and bring that into a song."
On the other hand, Paloma can write more traditional rock songs like her jungle rhythm tune "Bad Monkey," which was inspired by its bass line, which her bassist came up with. "I just played on top of it. I just wrote the lyrics on top of it," she said. "It felt like a monkey in a jungle."
Paloma broke into the New England music scene in 2007 when she moved here and was asked to be a lead singer for a cover band called Vital Signs. This band lead to her joining a hard rock originals band called My New Shell. After joining, Paloma had to become an instant bass player, with two weeks before a show, when the band's bass player broke both of his arms.
"I went out and I bought a bass," she said. "I spent the next two weeks listening to the recordings and playing along and learning the bass lines, and I played with My New Shell at Pearl Street(barroom in Northampton). Then I was just part of that band."
Paloma is the featured artist at a songwriter's jam the third Monday of every month at Bishops Lounge. She plays a set of original songs with a brand new song for each month. "Everyone who comes hears a brand new song from me," she said.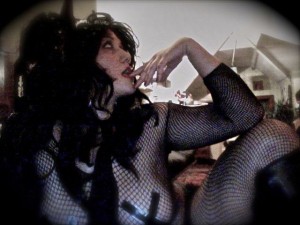 Western Massachusetts has been a great place for Paloma to grow but she feels she's beginning to out grow that local scene. She's gotten her music as far as Worcester, playing a gig in Wormtown's much vaunted Lucky Dog Music Hall. She has played Boston, Connecticut, and New York City and she is currently setting her sights on Boston where she would like to get more gigs and further her social worker career. She's been approached by radio and internet television for her music placements and she has a Sunday night radio advice show called Help Me, Shanta, currently on hiatus while it is being morphed into a podcast. Her social work and her radio show balance her music career.
"They compliment each other," she said. "I feel I give out and I give in, like give to myself and I give out to the world."
https://www.youtube.com/user/ShantaSongstress