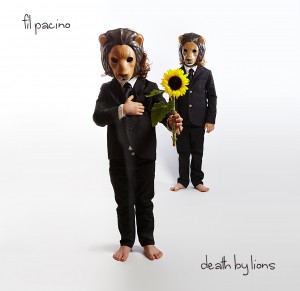 Fil Pacino's debut album Death By Lions is a good mix of full band rock and roll and singer-songwriter sensibility. A listener can rock out to the hefty band material on this album before mellowing out to Pacino's gentler acoustic guitar driven folk stuff. In either approach, Pacino is at the top of his game. He has a lot to offer fans of different forms of music.
Opening cut "Always There Until It's Gone" begins the album with an intriguing rhythm and Pacino's vocal, a voice robust with unique, sandpapery timbre. This singer drawls out his lyrics with a hip delivery that might remind of The Counting Crows. Loaded with charisma, it's impossible to stop listening to this voice and the bracing, racing guitar driven rock and roll beneath it.
"Revenge" has a slappy rhythmic thrust that Pacino belts over with his appealing gusto. Not every singer is born this cool. A falsetto during the chorus shows his range, and, the control he maintains over his pace during the verses show an unusual gift at narrating his lyrics.
Pacino delivers the dreamily paced "Sleepless" with delicate, intricate acoustic guitar lines and a sense of intimate conversation. He also creates a tremendously good atmosphere. He has his acoustic notes up front while a back drop of palpable percussion, skippy bass lines, and a whistling lead guitar establish the song's inner drama. Pacino sings out the frustrations of a relationship with emotive authority.
"Wander" is an accessible, mid tempo rocker with Pacino's soaring vocal giving this song character and richness. He makes you feel it when he goes into his hooky, sweeping chorus with a gliding vocal as smooth as stainless steal. The wide feel of this number envelopes all in its warm philosophy, showing Pacino to be a master craftsman who can hone a song into any kind of emotive soundscape he chooses.
"Without Knowing" is another dreamy sonic landscape. Yet, it's packed with light, perky bass, nice drum touches, and delicate electric guitar phrasing. It all unfolds like a painterly expression of thought and feeling. Meanwhile, Pacino delivers the vocal and emotive goods with the considerate pace he uses to unfold his tale, packing it with discernable emotion, expressing a lot with even his gentlest delivery. It's another of a few signs on this album that Pacino has a gift beyond other local singer-songwriters.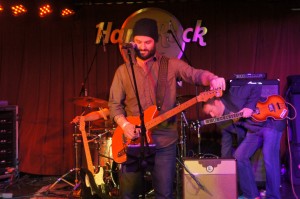 Title track "Death By Lions" swaggers in on the strength of Pacino's vocal charisma before getting more adventurous with a thumping rhythm section and feisty lead guitar work. A catchy rocker with a cool, hooky chorus, Pacino is still at his strongest when he's unafraid to sing in a mellow approach, quieting down over a hard charging band. His voice darts in and out with the quickness and force of a snake, and he wraps it around the accompaniment for a particularly tight sound.
Pacino sings of "Farewells" in the next song. More roots flavored in his acoustic guitar picking style, Pacino surrounds himself with pretty, twangy electric gee-tar, a country, hopping fiddle melody, and a honky tonk female backing vocalist, Jenee Halstead. Fiddler Rhett Price spruces it up flavorfully, ladling that sweet, stringing sound over the proceedings. Pacino succeeds at creating a homey acoustic atmosphere while keeping things as emotive, wholesome, and fresh as the rest of this album.
"Loved Or Forgotten" is graced by a slow spiral of lead guitar melody and more of Pacino's folksie lyrical renderings. He gets into an assertive stride here, moving into his chorus like an unstoppable force of personality. Pacino has an irresistible chorus on the strength of his hearty voice. It's hard to imagine anyone else making his words rock like this.
"Crazy Love" is another vocal treat. Pacino applies his husky timbre well to this softly, gently expressed ditty. His voice is the quintessential musical instrument here. He uses it to fill out the soundscape as well as the emotive content of the song. It's amazing how much force he can convey, even in these down tempo acoustic singer-songwriter tunes. One gets drawn right in and follows right along.
"Afraid" builds itself up well from drummer Gregg Settino's intrusive backbeat. Pretty, whistling guitar leads lace it nicely, with haunting, emotive impact, thanks to Steve Benson's pedal steel. Sean McLaughlin's knobby bass lines give it another bump in the right direction. And down in a whispery low voice, Pacino nails the emotional content of the song. He lyrically paints a well detailed portrait of a woman stuck in a certain place in her life. He follows up his magic with "Carousel," a dreamscape created by Pacino's hearty timbre, his voice wafting in like an emotional, musical carpet ride. He's a poet, and he confidently takes his time unfurling all he has to say.
Pacino and his boys close out his Death By Lions album with an extended version of "Sleepless." It's even cooler than his previous version because it has more of the instrumentation and atmosphere from the first time around.
Pacino certainly hits the ground running as solo artist with Death By Lions. He is a singer-songwriter and a rock and roll front man to be reckoned with. With the right backing, promo, and air play, it's hard to imagine this boys not doing well in a few different markets. Some of his fans will be singer-songwriter junkies. Some will be rockers getting into his live shows. Some will be people who just like to listen to a great voice no matter the genre.
https://www.facebook.com/fpacino?fref=ts

Follow me on Social Media!