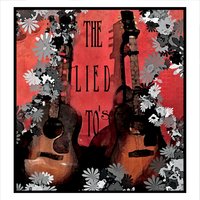 The Lied To's are a folk duo capable of becoming hugely familiar to listeners throughout New England. Susan Levine and Doug Kwartler formed this act after a significant period of transition for both singers. Their hard won experiences form the basis for their gritty, realistic lyrical material. Their unique blend of vocals and acoustic instruments create a lot of brittle, tender melodies and sweetly appealing harmonies. The due have a compact acoustic sound in each of their songs that pave the way for their unimposing but very likable voices to travel across.
Opening track "Tell Me Something New" finds the two singing in a tidy unison, their vocal melody line seeming to reach great emotional distances with their earnest applications of voice. Beneath their voices lies a yearning pedal steel line supported by a nudge of acoustic guitar and a persistent beat that's as strong as horse steps. This one conjures lonely scenes that wrap around the forlorn pedal steel while painting accurate descriptions of a demanding music business.
"Your Heart Isn't Mine" is an effective, pre-break up song. The two of them apply their voices, in turn, to conjuring the courageous confrontation between two who have become emotionally separate. This one is full of gritty guitar and organ that carries the message with a meaty swagger. It also showcases Levine's uncanny ability to reach the listener's heart with simple, unaffected sustains. There is true feeling in her expression, and in this tune it reaches an undeniable power and truth.
"Carry Your Boots" has more of an acoustic pop sensibility. It has a rangy, catchy chorus making it ready for radio. It also carries well the Kwartler lead guitar melody, one that rides the range of this number with adventurous aplomb. Putting their two voices together, this piece grows warmer and thicker with that special something that comes out of nowhere whenever the pair harmonize.
Gliding in with an organ waltz and a sweet series of mandolin notes, "Tennessee" is a flavorful affair that allows Levine to show how she scales emotional and musical heights. Her voice travels well along the wedge of organ and piano John-Henry Trink constructs beneath her. It's a startlingly good song on the strength of her ability to lay her lilting vocal ability over a honky tonk flavored musical backdrop.
"Things Aren't Always As They Seem" tugs one in with its interval of intriguing acoustic guitar notes before it chugs with a puff of drums. Kwartler sings with handsome simplicity over a tender weave of acoustic guitar, mandolin, and organ. His sandpapery vocal contrasts superbly with a sweet as candy mandolin line and a pretty pedal steel cry beneath.
Levine creates a sadly telling scene in "Sleep In," a song that hints slyly at an unhappy domestic setting. Her lyrical content develops from sitting alone drinking coffee with a lot of whiskey to murdering the ghost of the one who has already moved on. Her voice, making the most of this wistful material, carries the message well, especially her melancholy chorus. Mournful pedal steel and honky tonk organ double the feelings of this song, and Levine sounds on target when she returns to the initial idea of just wanting to sleep in.
"Eulalie" steps into the listener's consciousness with Kwartler's vocal calling on the title character to answer for herself. There is something truthful and earnest about the challenge he issues this person. With religious revival scenes percolating throughout the lyrics, the pair breathe even more life into it with organ, gritty acoustic instruments like Levine's mandolin, and Kwartler's hearty vocals.
"You Already Know" feels like a ballad in the way Levine takes her sweet time unfolding her tale before emphasizing its emotive fire in the chorus. She makes her listener enjoy the ride from her folksy verses to the banner of her chorus. She has a self-restraint that packs even more power into her verses and chorus while a fluttering mandolin melody pushes things in an inevitable direction.
Kwartler's "Do You Ever Miss The Things You Swore You Never Would" has a 1950s ballad sensibility in his vocal projection. One can almost picture him singing into a old fashioned microphone at Sun Studio while a simple set up of guitarist, upright bassist, and a small drum kit. Kwartler carries almost the entire force of this piece with his voice and its beautifully old timey approach eventually incorporates a lot of elements, offering a lot in its 4:15 running time. There's a player piano that sounds borrowed out of a carnival, accordion from an old world combo, and a gypsy flavored mandolin line that twitches with glee while pushing the song merrily along.
"Ten" offers more of Levine's lyrical poetry: "Ashes blowing down the highway/Remnants of a careless cigarette/I never understood how someone lights a fire/Throws it out a window and forgets." She soon moves onto this hopeful song's message of strength through letting go, moving on, and learning to live and love again. She puts a lot of grit behind her message with a bit of instrumental accompaniment and it all fills out this emotional anthem with the fiery passion that good folk music all about.
The Lied To's close out their album with a cover of Will Jennings' and Peter Wolf's "Always Asking For You." The song has a mighty acoustic guitar strum and a vocal that calls out with a seriousness of purpose. We feel how much The Lied To's enjoy singing this number and it makes one wonder how they formed their affinity for it.
The Lied To's debut album shows a new big thing in folk music taking shape. Their personal lyrics manage to also be universal songs in that everyone in their generation can relate to them: relationship stress, holy rollers pointing their fingers without ever offering solutions, and a world that's always changing while seeming to remain the same. The pair put their emotionally honest, visually striking messages across with the kind of nitty, gritty pluck that makes musician folk heroes as well as a storytellers.

Follow me on Social Media!