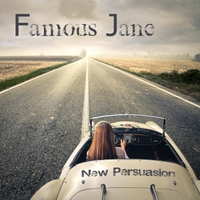 Do you know how sometimes a really, really good local album seems to come out of nowhere? Well, it's happened again. The upstart New Hampshire band called Famous Jane, brain child of producer-singer-songwriter-guitarist Hank Decken, just released their debut album, New Persuasion.
Decken recorded this disc at his own recording studio in Rochester, New Hampshire. Aside from featuring himself on guitars and vocals, Decken wisely cast Kim Riley as the album's primary lead vocalist. A rangy, experienced singer, Riley brings quite a rich voice to the proceedings. For his rhythm section, Decken brought in five string bass player Tom Davis and prog-rock drummer Ron Stewart. Drummer Travis Barton plays on one track.
Famous Jane open their disc with title track "New Persuasion." The band rolls right in with palpable, catchy instrumentation and Riley's lead vocal sounding real as it smoothly rides this roots rock anthem like a Harley on a hilly route. Decken's lead guitar, chockfull of rustic charm, roots this song in the Americana tradition with its tasteful perks. He pays out a meaningful melodic line, one that keeps hitting the ear and the heart just right, augmenting the feeling of the song perfectly. Moments when the lead guitar line and Riley's vocal sustains happen simultaneously make the listener realize there is more good music to come. There is just too much potential in the first song not to.
"Rain On Me" is a total gem. Riley's rich vocal timbre imbues this one with a spiritual ebullience. Her vocal melody line, empowered by her rangy belts, tasteful sustains, and gritty emotive presentation, is a perfect sister to Decken's rootsie, twangy guitar line. Not to mention another fine layer of flavoring from Decken's Dobro. Riley sings it like she means it while that old time country roots guitar also does a lot of the talking. A bunch of drum fills from Stewart help keep it rooted while smacking the song through its changes.
"Beside You" rides a dual vocal line well, Decken and Riley serving up a solid, earthy substance, blending like they were born to sing together. Meanwhile, Decken's guitar carries a lot of weight with its tasteful twists and turns, motor powered as it moves forward. The chorus here is catchy enough for radio, if only radio knew what to do with this genre in 2015.
Riley's voice is a soft, whispery beauty on "Bridges," a down tempo, guitar colored dandy. Electric and acoustic guitars percolate with brittle, tender, rustic notes as the drummer applies a percussive pattern that accompanies well. Bass guitarist Tom Davis meets the song's need for a beat. He's the one who carries all of the down tempo activities going on overhead, making it move with considerate timing.
"Rumors" rides in on the strength of Riley's smooth timbre and Decken's roots guitar grind. Contrasting Riley's easeful glide with his own gritty guitar work was an inspired, successful idea. The listener cannot help but get swept along for this traveling number. Both singer and guitarist and rhythm section create a huge feeling of movement, like we're all traveling together on the band's tour bus. There are some magic moments here, like when Riley sustains her vocal notes as the guitar briefly rests. Then, Decken's rustic guitar notes make it sound like his six string is crying out its own emotional needs and wants.
Bumping and thumping, "Say It Again" becomes as catchy in its rhythmic underpinnings as it is in its winsome chorus. Backing and harmony vocals fill this one up with something special, contributing to the sense of motion, the song bringing us somewhere we'd like to be. This could be another radio hit for Famous Jane, a possible niche for Adult Contemporary and or local country formats.
"Real As It Gets" takes it down low, letting Riley's beautiful voice move around at it's own graceful pace. She unfurls her smooth vocal melody line like an unveiling of a grand painting. Beneath that voice is an earthy electric guitar, taking its sweet time, making its pretty, roots rock melodic phrase come alive with a wide arcing sweep. The chorus is even more enticing, sounding real, in depth, and it completes the vibrancy of the song with a second sweeping arc. This tune is perfectly architected and its emotive execution is truly artful.
Utilizing a shuffle beat, "Well Learned" will make you want to dance a two step while digging its brittle, homey country rock guitar line. Decken's lead guitar bristles with authentic, true south of the Mason Dixon line flavoring. Famous Jane close out their album with "Save The Box," a number that lets Decken showcase more of his feisty country roots guitar style. The perky guitar line and Riley's brisk vocal clip ride alongside a quick, palpable rhythm section. Together, the four musicians create a motion filled tapestry of lyrics and music, something cut from a good cloth, running like a film clip about Americana life with the soundtrack accompanying the images flowing from the song.
Famous Jane has done exceptionally well on their debut album. This band plays meaningful roots rock music that is chockfull of fine moments among its fine songs. One of the best albums to likely come out of the New England music scene this year, it should be purchased and played immediately.