The Jennifer Tefft Band rocked the Hard Rock Café in Boston last Saturday night, elevating themselves from guest band to stand out with their furious, driving original music. Fronted by the springy, charismatic Jennifer Tefft, this five piece outfit made an indelible impression with powerhouse vocal work and passionate, edgy music.
In case anyone needs a reminder, Tefft sang the national anthem before a Patriots game at Gillette Stadium last fall. A few weeks later, she was invited to sing the national anthem again, for the Boston Bruins at TD Garden. This singer with the shock of red hair and wiry stage presence released her first album in 1997.
Getting back to last Saturday night's show, Jennifer Tefft Band hit the ground running with their opening tune "Follow Me" before moving onto the solid slab of rock and roll titled "The Only." Tefft's belty, jumpy, hopped up vocal pranced around a knobby, ass kicking groove and twitchy lead guitar phrase.
Tefft's eerie coos on "Silence" soon turned into an intense, roaring, bombastic killer vocal line. She just erupted with dynamic energy when it's least expected, putting numerous peaks in her tune. Her quiet, moody tune, "Let Me Be" found Tefft singing in a plaintive plea approach with a mountain of tension born out of a tense lead guitar.
Wafting rhythm guitar texture made a perfect backdrop for Tefft's wiry vocal application on "My Own." She has a way of building up dramatic feeling in her song. Her timbre here was edgy and pretty at once, emitting a sense of abandon, awareness, and a rising touch of dread. Her vocal sustains during her chorus were hauntingly beautiful, making the feeling of the song swell with three dimensional life. Luckily, she had a group of players around her who could also make her song something tremendous. On a sad note, it was also keyboardist Greg Schuler's last gig with the band, as he's preparing to record his own music.
Tefft sounded classy, almost like a singer from an earlier time in music on "Cooler Than You," until her vocal erupted into a more exuberant dynamic. She easefully twirled her voice around a snake charmer guitar line and stomping beat.
Tefft's approaches change somewhere per son. She finds, in each song, a fresh way to move her voice around the groove and alongside lead guitar phrases and keyboard melodies. "Down On My Knees" found the springy, barefooted wonder applying her trill timbre to finessing a bulbous rock sound enveloping her.
Next song, "Queen" found the barefooted wonder prancing around the stage while her band unfurled crusty, edgy waves of exciting rock and roll. Her voice became prettier here, building up her dynamics with gentle lift. The down tempo but still driving "Fly Away" was riffy and propulsive. Her new song, "Roller Coaster" was a crazy affair with Tefft's lead guitarist, John Parrillo, going into overdrive, making his guitar scream out the pain of the song as much as her vocal.
This Hard Rock Café showcase was billed as a reunion show for the Julie White Band, which has been away from the scene for 10 years. While much of this band's music sounded dated, from the 1990s, White and her band offered well crafted, well delivered material. White's silky, whispery voice resounded over a dark progression on her "White Horse" tune. She slithered around vocally while her support players built a mountain of tension behind her.
White delivered some vocal magic on "February Cold," tackling, diving into, and dominating the most manic melodies coming from her guitarist and the meaningful depth of her bass guitarist's low end ride. "Julia' featured a lilting vocal melody line which White rode perfectly, keeping the song sweet, motion filled, and wholly melodic.
White took things down low on "Empty Hand," allowing herself to traipse over a sweet guitar melody with grace and passion, her voice moving around in the open spaces with the gentle swiftness of a gazelle. Meanwhile, a lead guitar phrase cut through the groove and rose up like a beacon before White closed it out with a lovely coo.
Her song "Angel" was simple yet brilliant, a bright acoustic guitar guided the way as Whites' vocal glided over the gentle texture. White's "Meet Me In The Middle" was marked by colorful, flavorful melody before she offered some perfect vocal sustains, gliding over pretty melodies that wafted up from an electric piano during her song "Ghost." Next, "Mirror Mirror" was a stomping rocker, a driving beat and bulbous low end made everyone want to shake it. Electric guitar and keyboards tapped danced their melodic notes around the groove like nobody's business. White swaggered with a funky agenda, making her words move around the groove like street corner poetry.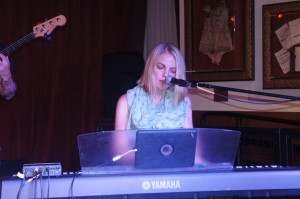 "Rain" found the pop-rock chanteuse back in gentle glide mode as her band got funky, edgy. She became more empowered vocally, her self-restraint making the song even stronger, keeping things infused with the possibility of what could happen if she let loose.
Swansea band Milo Bigwig were young men dressed like the early Beatles in suit coats and ties. Despite the early 1960s look, the Swansea boys played original music inspired more by hard rock from the later classic rock era. In addition to a decent cover of B.B. King's "The Thrill Is Gone" and a fantastic cover of Jimi Hendrix's "Red House," Milo Bigwig played plenty of solid original material.
They opened their set with some intriguing guitar phrasing amidst a primal rock and roll sound. The four piece also played a bit of a skiffle beat underneath pure, undelivered guitars, no additives or preservatives on something they called "Rubber Duckie #2." Their tune "Beat" served up a large, chunky sound, the guitars lurching around like dinosaurs. "Last Remark" featured the guitarist offering some nice touches, notes falling like a gentle rain.
Closing out the event was a New York City group called Bridge City Hustle, an R&B-soul band that specialized in funky guitar riffs, hefty bass lines, and smoky organ swirls. Their new single "Show Me Your Heart" was a dreamy, drifty soundscape that could possibly make it onto modern R&B radio stations.
It was another night of exceptionally good music at the Hard Rock Café in Boston. The evening, though, was dominated by the rush of excitement around the room while The Jennifer Tefft Band was performing and the buzz about it after their set.
https://www.facebook.com/JenniferTefftBand?fref=ts
https://www.facebook.com/pages/Julie-White/12565452587?fref=ts