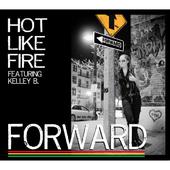 Hot Like Fire have been an in demand act for sometime now. Their latest CD Forward shows why this band has become one of our area's most popular reggae bands. It is loaded with high energy reggae music with a bit of a rock edge. Toss in the witty lyrical observations of band leader Kelley Bolduc and you have one dynamite CD.
The title track "Forward" opens the CD with an infectious, toe tapping beat and alluring vocal flourishes. Bolduc applies her silky, soulful croon with a high minded appeal, letting her vocal notes flow and spread without affectation. She's all real when she sings this positive vibe song about the possibilities of life and music. Her trumpet playing, too, makes a bold statement, rolling into this number with an exuberant wave of soulful joy.
Bolduc's take on the breakup cover song "If You" is a different kind of end of romance tune. She discusses the possibility of her man walking out and her response is that she already has several men watching over her. Her lovely flowing vocal captures the positive feeling of joyful possibilities and her tufts of trumpet line put a fine wave of tunefulness over the whole affair. A steady reggae beat beneath the vocals, keys, and horn keeps it nicely anchored in something cool to slow dance to.
"I Can See A Day" offers a joyful island vibe. Bolduc's lead vocal and the melody instruments seem to be flying in a breeze, like parasailing over a bright beach day. Keyboardist John "Redd" Lima lays down an infectious chord progression that gives the rhythm section a juicy, pulpy snap. Twisty curls of trumpet and snappy reggae guitar keep this one full of snap, crackle, and pop, a contrast between these two melody instruments that works well at keeping the ear glued.
Guest vocalist George Howard, on loan from Soul Box, turns in a fine performance on the standard "Hard To Make A Livin,'" and, as usual, stuns with his blue eyed soul timbre. Listeners would have to see George Howard in person in order to believe he is actually white Caucasian. This jaunty R&B number benefits from an edgy, riffy guitar hopping around in the back drop and thin, melodic trumpet lines up front. Colorful piano chords and the most muscular rhythm section in reggae keep this one full of pleasant bounce.
"Fly High" skips along to a merry beat, complete with a tasty nudge of bass guitar from M'Talewa Thomas. Thomas's low end progression fills this up with his persistent nudges. Bolduc certainly flies high, her voice seeming to waft above the song's strutting rhythmic click. Her chorus gets an even greater lift, and she makes one feel like one is up in the sky with her and the seagulls, gliding around in the breeze, powered by the myriad of notes going on beneath her vocal.
Bolduc continues her positive vibe on "Where The Sun Shines," a light, pop-reggae tune that contains a sly, contagious chorus. She sings a bit more whispery here, and that fits in well with the cutesy interval of keyboard notes. Horns slide in and out of the open spaces created by a brittle groove and that adds to the quaintness. This is just a nice little ditty to sandwich in between songs with wider arcs and pushier melodies.
"Good Vibes," sung and written by Tonybo Anthony Houston, is another track that moves with a bounce in its step. It has so much, keys, trumpet, and more, wrapped up in a tight little cocoon of sound that one feels compelled to listen closely to hear how every little note is fitted in to create this.
Originally recorded by Lee Ann Womack, Bolduc shows her skill at arrangement on "I Hope You Dance." She keeps the same positive, encouraging "go for it" message within her carefully constructed reggae rendition. She finesses the lyrics well with her rangy vocal and softer timbre and the instrumentation follows her in a sweet backdrop.
Bolduc displays her girlish charm and sly wit on "Sexy." She hits conceited males over the head with a rolled up newspaper for their self-centered, lustful, presumptuous ways. Her playfully delivered lyrics make the song another favorite while a squealing keyboard melody adds another layer of cutesy. It's uncannily likable even though it delves into annoying disappointments.
Bolduc turns Adele's "Someone Like You" into a mid-tempo reggae piece. By tackling a singer's song, she reminds that she is at the top of her game as a vocalist as well as a personality, trumpet player, and songwriter-arranger. She nails the mid-tempo clip as well as the emotive chorus. Bolduc also tackles a cover version of Debra Sareant's "Love Mi Man," by floating the lyrics in an easeful groove and by featuring Agrace on a rap segment.
Hot Like Fire close out their exciting album with Flex Murder's "Blazin'(Fly High Riddim)." Featuring Flex Murder as lead vocalist, he offers up a feisty delivery in his high flying rhyme scheme lyrical blast. Flavorful and bouncy, this track finishes up Hot Like Fire's album with a solid dose of reggae vocal.
Bolduc and her Hot Like Fire band mates, which include drummer Glen "De General" Grant, create a lot of reggae fun while remaining unafraid to add elements from other genres. Forward is a very good reggae album with a very strong female presence. Exciting guests musicians, well selected covers, and various takes on the reggae genre all come together here to form a winsome album. More importantly, though, is that they have another CD coming out soon.
https://www.facebook.com/pages/hot-like-fire/6395842716?fref=ts