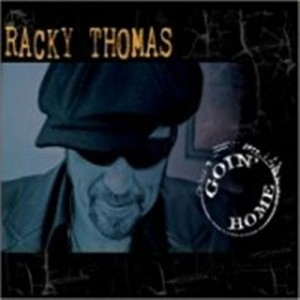 Racky Thomas has come up with a fun, detailed, enriched album with "Goin' Home," exploring in depth his favorite roots genres, blues, gospel, Louisiana blues, and vintage country. He also has a band behind him and beside him for the ride, each contributing greatly to the colorful array of yesteryear that Thomas lays out for his listeners.
Thomas wastes no time immersing us in old time musical stylings. Opening track "France Blues," known for it's "Hey lordi, mamma mamma; Hey lordi papa, papa" chorus, Thomas and his band mates surround it with roots beauty. There's some greasy slide guitar from Pete Henderson. Matt McCabe tinkles out a piano melody that finds each note shiny and vintage at once. Backing vocalists, Carrie Johnson and Savonne Moore, keep it earthy, gospel like, their voices resounding with a spiritual ebullience.
Next, Thomas and company tackle "Ready, Willing, & Able." With an oldies rock and roll feeling, Thomas's dry rasp infuses this one with character, his richness appealing to the ear over a melodic piano line reminiscent of Jerry Lee Lewis. John Juxo's accordion provides more of that old time rock and roll charm, and, Henderson chimes in with his lead guitar phrase, picking off a feisty little melodic line that inspires as it moves around within its intervals.
Thomas gives his piano player Matt McCabe a lot of leeway to spruce up "Goin' Away Blues," an early 20th century piano bar blues. Thomas croons this 1920s stride style number like he was born in the late 1800s and grew up singing this way all his life. He captures the vocal phrasing of the time with a lot of nuance and shading. Both Thomas and McCabe conjure a charming piece of yesteryear.
"Goin' Home" by Charlie Patton gives us a sense of what those late 1920s blues would've sounded like if only they had better recording equipment and studios back in that time period. Thomas sounds spiritually and musically pure, letting the words out like his soul depended on it. Juxo adds his own layer of acoustic beauty here with his winsome accordion line. The instruments are simply a weave of old time magic, carrying the listener back to a special time and place in music.
"Must Have Been The Devil" by Otis Span finds Thomas and his band mates tackling something a bit more modern. Thomas sings in a more mournful 1930s to 1940s blues style, bemoaning his lonesome predicament. Meanwhile, he's surrounded by a stomping piano line from McCabe and flintier guitar offering from Henderson. Henderson picks out a well accented blues line that draws out the hipper feeling blues was finding as it started moving into later decades.
"Stack O' Lee" by Mississippi John Hurt is a great number for Thomas to record. In a pared down format, Thomas draws the emotion out of this number while delivering the drama with his straight forward delivery. A simplistic acoustic guitar line beneath speaks volumes of emotion within its basic interval of notes.
Going further into the future of blues, Thomas next tackles Willie Dixon's "Down In The Bottom," a tune requiring a fuller band effort. Thomas gets a little gruffer here, capturing that whiskey soaked singing voice we all admire in blues. The guitars playing beneath his croon are sweetly spirited, having a voice and personality of their own. This is a great party tune as well as a great blues number.
"Big Road Blues" by Tommy Johnson is another blues standard Thomas and friends bring a feisty edge to. Thomas is hipper and deeper here, moving his voice around a hilly grist of grinding guitar work. That Henderson guitar runs like it has endless energy, traveling through twists and turns without losing its edge. A more barrelhouse style piano kicks the song into overdrive, and it becomes easy to picture everybody at the speakeasy having a great time belting down their whiskeys, dancing, and confabulating.
A very colorful, rollicking tune, Huddie Ledbetter's "Mary Don't You Weep" moves along at its own sweet pace, offering generous doses of piano, accordion, gospel-like backing vocals, and lots more. It feels like a midnight gypsy caravan thanks to Juxo's accordion sensibilities. Thomas adds a touch of darkness, showing a sense of pride that the pharaoh's army got drowned in this story song.
Heading back into stride piano territory, "Roll 'Em Pete," by Turner P. Johnson has been one of my favorite songs since I heard it in the opening scene in Spike Lee's film Malcolm X. Again, Thomas with his old time vocal style and McCabe's piano rolls bring us back to an exciting, revolutionary time in American music. This comes from a time when musicians were unafraid to perform with just voice and a piano, even as they were playing more briskly adventurous music.
Thomas and company close out this deliciously blues, ragtime, and Louisiana drenched album with the hugely popular standard, "Goodnight Irene." Thomas and his backing vocalists make this old folk standard feel like gospel, wide, spiritual, and uplifting, even though it's a very sad song. Juxo brings in a sweet, tender tuft of accordion grist to complete the picture.
Racky Thomas is definitely the top man in our local blues community when it comes to bringing to life these colorful, descriptive, and wholly emotive nuggets from the yesteryear of blues. Bravo.
Share on Facebook

Follow me on Social Media!