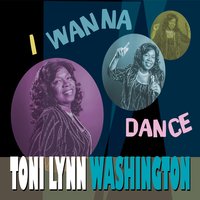 Toni Lynn Washington's latest CD I Wanna Dance is a nine track field trip through all of the various forms of blues music that Ms. Washington has favored over the years. The chanteuse seems to take her listener by the hand and walks him through like an enthusiastic tour guide pointing out many great highlights.
Opening track "I Feel Like A Million," an old song that cannot be traced back to its original songwriter, is a breezy, jazzy take on the blues format. Ms. Washington's backing band keeps the music flowing freely, easefully. Over that fluid motion, Ms. Washington just glides, sounding like a million when she adds just a tad more emphasis during certain words and phrases before shifting back to her initial expressive mode.
Ms. Washington's original, title track "I Wanna Dance," is blues with an R&B feeling. The singer has a bounce in her step while her band maintains a jaunty rhythm, especially guitarist Mike Williams who keeps paying out riffy, brittle phrasing. Ms. Washington gives her players room to breather and strut their stuff. So, when she comes back in, it's a bonus treat to have such a smooth, soulful vocalist finessing her lyrics with a graceful style.
Ms. Washington coos her way coolly into Willie Dixon's "Mellow Down Easy." She delivers the goods with a considerate delivery of the chorus, going to toe to toe with saxophonist Gordon Beadle as he struts his own stuff. Ms. Washington offers plenty of gusto with sudden vocal assertions before smoothing it down to some classy lower dynamics. Bari sax player "Sax" Gordon Beadle adds another layer of richness and class.
Ms. Washington's other original here "I Can't Get Over Losing You," showcases more of her classy take on the blues. This easeful, down tempo beauty finds Ms. Washington approaching it with a whispery richness. Her ever so right delivery finds a good home among jazzy piano tinkling and swaying horns.
Ms. Washington turns up the heat on mischievous women on Buddy Guy's "Leave My (Man) Alone." She belts the lyrics here, showing her emotion behind this number while spearheading her band's adventurous duties. Gospel rich, soulfully felt, Ms. Washington shows the earthy side of her natural timbre, especially as she navigates her way through a complex musical arrangement. Bruce Bears layers even more soul gravy over the meat and potatoes of this tune with his thick batch of organ groove. Ms. Washington and her boys punctuate this number well when they all slam home the attitude all at once.
Ms. Washington lets her hair down to have some fun with Sonny Boy Williamson's "Checkin' Up On My Baby." She a feisty fighter here, and she lets us know it with her assertive crooning, combined with a light hearted touch, letting us know its all tongue in cheek. A tuft of piano boogie, swinging horns, and an edgy electric guitar give Ms. Washington a cloud of blues to sail over, and she does, in grand style.
Ms. Washington offers a sly rendition of Tracy Chapman's "Give Me One Reason." She unfurls her strong, rich, soulful croon over a down tempo, bluesy take on this mid-1990s hit single. It's uncanny how well she's reinvented this song into her own genre. Giving guitarist Mike Williams a chance to showcase his tasty guitar work shows generosity of spirit. Ms. Washington also goes toe to toe with Williams' adventurous guitar excursions when she comes back into the song. She lays down much vocal oomph on this track, and makes it her own with her strong musical personality.
The blues lady is all class on "Somebody's Been Sleeping," paying out a refined, upscale vocal melody in which her style belies the nature of the song's emotional gripes. You know she'd like to whup her man good, but she's too elegant to handle it that way. She simply highlights his behavior with a dark, cool voice and that speaks volumes. Meanwhile, lead guitar phrasing and a burbling organ line makes one picture her singing this in a fancy Manhattan nightclub.
Ms. Washington closes out her album with "Walkin' And Talkin'(And Crying My Blues Away)," another that could make one picture her in a classy piano bar. Her delivery here is nicely understated. She rides over the peaks and valleys of horns, piano, guitar, and rhythm section like a sports car driven by someone who knows how and when to shift gears, giving just enough at each spike. It's sheer joy to listen to how she finesses this jaunty number with personality and finesse.
Ms. Washington strikes all of the right notes on this outing and her support players, including sax man Amadee Castenell, drummer Mark Teixeira, and bassist Jesse Williams, make all the right moves too. This singer offers a variety of approaches within her blues genre while her band pumps out great tunefulness all around her. It's safe to say that every fan of Toni Lynn Washington will be very happy with this offering. The lady is most certainly in all of her glory on this disc.
http://www.cdbaby.com/cd/tonilynnwashington

Follow me on Social Media!