Archives by date
You are browsing the site archives by date.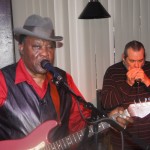 By Bill Copeland on November 30, 2015
Luther "Guitar Junior" Johnson was the highlight feature at yesterday's Wantu Blues Jam. Taking the stage after the house band performed their opening set, Johnson and a few of his regular band mates played some of the best blues songs in the blues catalogue. Johnson's scheduled appearance at this weekly blues jam likely accounted for the huge turnout at Goffstown, New Hampshire's Village Trestle yesterday afternoon.
Posted in Live Reviews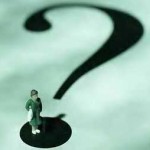 By Bill Copeland on November 23, 2015
The New England Music Awards show scheduled for April 2015 at Blue Ocean Music Hall is already in the planning stages, the ballots having already gone out to members of the NEMA nominating committee. Thankfully, the ballot is much easier to use this year. While there is no easy way to predict who will get nominated for an award when there's six different states and several different genres on the ballot, there have been some artists getting and or increasing attention to themselves this past year. BillCopelandMusicNews.com is going to take several shots in the dark based on who's been making noise this past year.
Posted in Opinion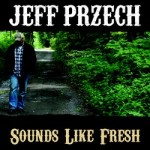 By Bill Copeland on November 19, 2015
Jeff Przech's latest CD Sounds Like Fresh is fine singer-songwriter faire with a country roots edge. Przech has one of those smooth, warm country vocals that makes the listener feel he's having a personal conversation with him. Thoughtful reflective lyrics with considered selections of acoustic instruments, pedal steel, and percussion are all part of the charm on this CD. Each track, whether bright or dark, makes the listener feel Przech is taking him down a long country road where his stories unfold like the bucolic scenery.
Posted in CD Reviews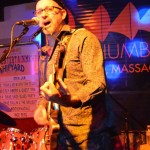 By Bill Copeland on November 18, 2015
BillCopelandMusicNews.com has just received a tip on who is hot in the North Shore music scene at this time
Posted in The Buzz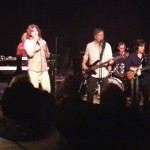 By Bill Copeland on November 16, 2015
Presented by Last Dance Productions, at the Regent Theatre in Arlington, Massachusetts: AfterFab is America's only tribute to the SOLO careers of all four Beatles. Something truly new and different for fans, praised by Beatles authors and experts for high fidelity to the original recordings, performed with high energy.
Posted in The Buzz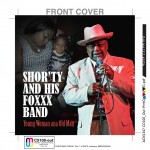 By Bill Copeland on November 16, 2015
Shor'ty Billups and his Foxxx Band have come up with a fantastic CD. Young Woman "Ana" Old Man is loaded with fine blues offerings and soul flavored numbers. Billups' voice makes him sound like a thirty year old crooner even though this Bostonian is 80 plus. His songwriting is solid and he has selected some of the best standards in blues to croon over with his deep down feeling of cool. Billups is also a drummer, keeping the backbeat alluring and irresistible throughout this disc. Like many drummers from the old days, Billups is also a band leader, keeping a bus load of players on track, making sure he milks the talent out of each to get what he needs for each track.
Posted in CD Reviews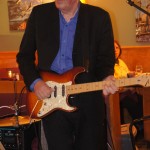 By Bill Copeland on November 16, 2015
Bees Deluxe hit one of their regular haunts in Newburyport, Massachusetts last night. Playing at 17 State Street Café Newburyport, Bees Deluxe displayed much of the blues, jazzy talent they have become so well-respected for.
Posted in Live Reviews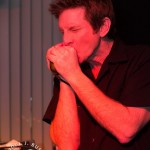 By Bill Copeland on November 11, 2015
Dave Glannon is gearing up for one of the biggest events of his life. Glannon recently won the band competition in the Granite State Blues Society's blues challenge. Glannon, and his band Downtown Dave And The Deep Pockets, were already doing well on their New Hampshire blues scene as well as making solid inroads into the Massachusetts scene. Then, he and his boys bested another top rated group of players to win the local contest.
Posted in Featured Articles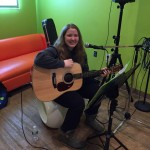 By Bill Copeland on November 11, 2015
Chick Singer Night of Boston is gearing up for another of their showcase concerts to highlight the area's finest female vocal talents. On November 19th, Chick Singer Night will fill the soon to close Somerville, Massachusetts venue Johnny D's with four distinct female voices from four completely different musical perspectives.
Posted in Featured Articles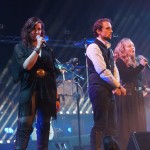 By Bill Copeland on November 8, 2015
The Ultrasonic Rock Orchestra unveiled their new rendition of Andrew Lloyd Webber's Jesus Christ Superstar at the Regent Theatre in Arlington, Massachusetts this weekend. Last night's show found the URO breathing new life into those songs with nods to everything from funk and soul to hip hop to hard rock. Lights and smoke too helped keep this production solidly rooted in a rock concert vibe.
Posted in Live Reviews