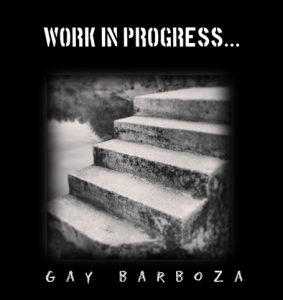 Gay Barboza's sophomore CD Work In Progress is a pared down offering of her beautiful voice, pretty melodies, and engaging chords. She carries her message well with this approach, as her voice is strikingly strong and rangy while her acoustic guitar work adds plenty of pluck to each of her original numbers.
Opening with "That Hill" Barboza shows she means business in the songwriting department. Focused on perseverance though the mission of life, Barboza encourages strength as one looks obstacles in the face before overcoming them. Her voice is particularly rich here and her shifting dynamics and sustains carry this number well.
With a little more grit in the guitar picking, Barboza turns "Unbroken" into a balance between sorrow and triumph. She sings with artful skill of having what it takes to get through bad experiences: "Sometimes pain doesn't scream out loud/It whispers and tells little lies/It's telling it's wrong it's real and it hurts/But you need to get over goodbyes." With some well placed dynamics and sustains in the melody line, Barboza stresses and teases more meaning out of her song, conjuring many emotions that make her listener feel what she's singing about.
"All Along" has a folk rock element in its drive and determined air. Barboza croons with an easy glide over her guitar line, like she's making her voice pivot around her guitar changes. This movement grows as she asserts her raspy vocal over greater sustains, with percolating richness that catches the ear and makes one wonder 'Who is this singer from Attleboro? It's a joy to hear her hold one of her vocal notes for several long moments.
"The Moon" benefits greatly from Kate Russo Thompson's moody violin. Its pretty melodic line puts a secondary emphasis on the theme, augmenting Barboza's gritty acoustic guitar melody with a bittersweet appeal. Barboza's vocal is loaded with emphatic emotions as she croons about the moon as a symbol of time and change. Voice, acoustic guitar, and violin are like separate emotional statements while also serving the whole with a meaningful, soulful cohesion.
Barboza moves into gospel belt territory on "Too Long." She sings with an emphatic oomph that can't be denied. She's ready to conquer her fears and her courage comes across like a force of nature. Putting that meaningful theme across with her hearty guitar and hefty vocal sustains, Barboza forges her feelings and talents into an anthem of strength and empowerment. This one carries itself with a spiritual ebullience that sweeps the listener along with it.
Title track Work In Progress finds Barboza even more contemplative. By focusing on how we never finish becoming who we are, she finds great meaning in the journey of life. Life brings experience. Experience shapes the person but the person never assumes a final shape, as we just keeps growing. Barboza caresses the meaning out of her lyrics with an understated grace in this one. Her voice is rich but restrained while her acoustic guitar picking remains gentle, a line of notes that patiently move the subtle melody along. Perfect.
"Move Away" features a frisky country fiddle from Thompson while Barboza sings like she's jauntily moving over an extra half step in the beat. Its down home living room sing along vibe makes it a winsome tune as much as Barboza's playful range and steady acoustic guitar line, a light brush of acoustic notes to create just the right cushion underneath the voice and fiddle.
Barboza closes out her album with the pared down sparse beauty of "What Is Love." Initially written for a friend's wedding dance, the singer-songwriter found that this understated gem of her song would make a nice addition to this album. Her vocal moves with the kind of grace and loveliness that should inform a record company executive know he's found a potential goldmine.
Barboza proves that a second time in the studio can do wonders for a singer-songwriter's career. Though more sparse than her previous effort, she manages to show herself at full power without anything to adorn her truth, beauty, and skill.