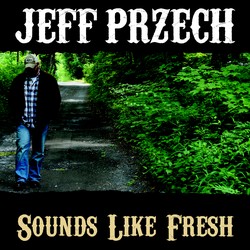 Jeff Przech's latest CD Sounds Like Fresh is fine singer-songwriter faire with a country roots edge. Przech, of the Connecticut music scene, has one of those smooth, warm country vocals that makes the listener feel he's having a personal conversation with him. Thoughtful reflective lyrics with considered selections of acoustic instruments, pedal steel, and percussion are all part of the charm on this CD. Each track, whether bright or dark, makes the listener feel Przech is taking him down a long country road where his stories unfold like the bucolic scenery.
Opening track "Eden" has an easy going vibe buttressed by gritty guitar work in the backdrop. Up front, Przech sings in one of those slightly gravel voices that gives edge to his words. Here, he maintains a perfect balance between the song's general vibe and the grit on the outskirts. It's impossible not to listen up and follow along as he lays out his story with his persistent focus. A lead guitar phrase takes center stage, making things pretty in a hearty way when it spikes its higher notes before mellowing out a bit, like tumbleweed catching the wind before pausing, an appropriate sonic landscape for the occasion.
"Wasting Time" has an enticing rambling feeling, making the listener enjoy its pleasant stroll to wherever it wants to go. Przech makes his case with his earnest, plaintive timbre, bringing home the emotional honesty of what he's singing about. Similarly, "Wasting Time" is built upon a persistent ramble with a touch more grit in the acoustic guitar, a flinty sound supporting Przech's dreamy, floating vocal approach. It's a pleasure to hear how his voice suspends itself over the flinty melody while remaining in motion. Pretty, melodic touches around his voice buttress well the bittersweet emotive qualities here.
I don't think Przech is "Angry All The Time" but his song titled thusly kicks its way forward with a pushy guitar chord that feels strong, assertive. He's singing about not letting people and events make him angry. It's all about empowerment, having the strength to let something go and move on. It all sounds so sincere and earnest coming from the plaintive grit in Przech. Relatable and engaging, this tune's a winner.
"Julia Rose" comes wafting in the winds stirred by wide sounding acoustic and electric guitars. Przech's vocal approach, crisp and flowing, contrasts sweetly with the flowing smoothness of a mellifluous lead guitar phrase. It's the sense of musical and emotional largeness of this song that makes it work. It's like a large, unfurling flag that dazzles with is size and colors. And, those guitars, too, offers another emotive tuft.
"Clinchfield Rail" glides in with a dark overtone from it melodic phrase, a pedal steel guitar played by Jon Graboff that seems to portend something tragic is on its way. Przech's self-restrained, somber vocal tone adds to the eerie feeling of the song. It's a perfect work of art, all coming together in one haunting tale of life on the road carrying not so precious cargo and being too long away from home.
"Make A Wrong Thing Right" makes a lot of nice twists and turns in its melodic line and groove, carrying the listener along with Przech's philosophical point of view. With plenty of grit in the guitars and vocals, this singer-songwriter makes a lot of things right in his song. It feels like a pleasant Sunday morning joy ride. Conversely, "Tell Me Something" takes a direct, straight forward approach, ambling forward with a gentle strum. Here, Przech's gentle vocal makes the listener feel he's having a conversation with an old friend.
"No Matter Where You Go" finds a guitar chirping melodically over an exotic percussion instrument's pattern. A mellow forward motion leaves plenty of open space for a lead guitar to glide in and out with melodic sweep. Przech's handsome vocal, wholesome as always, carries this one with a particular carefree approach. It let's his voice breathe, exposing all of its rich timbre and the way that richness percolates in the open atmosphere of this tune. It also helps that he's singing about a topic near and dear to him: being a father.
"Back Again" allows Przech to unleash a dual guitar line over his steady drum work. He also sings with meaningful depth, especially during his chorus, making the listener feel his message about being away too long. Acoustic guitar and steel guitar make perfect bedfellows on this one, running alongside each other, each offering its own emotional grist and flinty note picking, each note ringing out with something that beautifully, mournfully echoes the bittersweet vocal melody Przech cruises his way through.
Przech closes out his album with "English Girls Approximately," an assessment of modern English girls, by Ryan Adams, visiting the music scene of Adams' youth. Przech balances Adams' intrigue in their elegant refinement with their sensibility that might include a cold ability to discount his youthful attachment. Przech keeps his voice distant from the guitars and even the backing vocal Joanne Rowe provides to illustrate how hard it is to revisit old emotions. This one will hit the head with its sparse descriptions and the heart with its youthful emotional yearning.
Przech has come up with eleven emotionally honest, country flavored singer-songwriter tunes that engage the heart while also warning it, warning it of things the heart should be aware of. Emotional honesty delivered by a warm, engaging vocal surrounded by flinty, rustic melodies and grooves is Przech's stock in trade. He delivers the goods on Sounds Like Fresh.