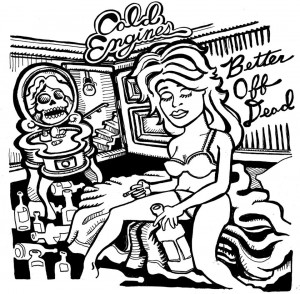 Cold Engines' third CD Better Off Dead is their best yet. Not only do they feature Sarah Blacker on backing vocals, Cold Engines have tuned up what was already a fine machine of rock and roll performance, songwriting, and recording. These 12 tracks will finally gain this band the widespread attention they've deserved. Cold Engines might also start showing up on the list of nominees at music award ceremonies. Portsmouth, New Hampshire-based guitarist-vocalist David Drouin and Boston-based bassist-vocalist Amelia Gormley have already played with award winning bands.
Opening track "Show You Crazy" pulls the listener right it with its engaging guitar riffs and hooky, hippie vibe chorus. With a backbeat and low end irresistible, the guitars and vocals have plenty of groove to lay their feisty grit and breezy aplomb over. This tune could go over well on local radio and at any party you play it at. Beneath the fiery talent is also a depth, the soul of a great rock song.
"Waterfall" plays like a waterfall of sound. A spiraling lead guitar phrase spearheads this track with a three dimensional life force. Combined with a sweet engaging chorus, it's one of those songs that immediately grabs the ear and never lets go. Some primitive percussion and fuzzy guitar will make you want to shake it while an undeniable passion in Amelia Gormley's bass playing pushes the song forward while reaching the listener at a deeper, more personal level.
Title track "Better Off Dead" offers some of the best guitar work on the album. This lead guitar has a unique personality and sound, and its melodic phrasing follows unusual patterns. It's also catchy as hell in its rhythmic underpinnings, and it's really cool when the lead guitar takes off on a burning flight of fancy.
A beatnik vibe permeates "Crawling." Its slow burn saxophone(Andrew Fogliano) makes one picture a 1950s coffee shop where young hipsters come to read Jack Kerouac and discuss what's wrong with the system. It's also a fine transition piece to a feisty follow up song.
"Never Been Promised" begins with eerie keys before it smacks everything out of its way with snappy drumming and forceful low end. The lead vocal here is appropriately quirky, distinct enough to make one listen closer to find out what's going on with this guy. The song takes intriguing twists and turns while background cooing gives it a haunted dimension. It switches gracefully between its otherworldly soundscape and its more slamming, rocking statement. All of the song's elements add up to a number that has a three dimensional personality. This song is saying something and its vocal is compelling enough to keep one listening.
Adding to this CD's quirky personality is "Sing To Me," a number drenched in alt-country idioms, a complete left turn from the previous songs. Yet, Cold Engines make it fit right into their repertoire of explorative music. Guest vocalist Sarah Blacker turns this into a fetching duet number as well as a fun, two stepping piece with plenty of country grit.
"Walking" finds the band getting a bit jazzy before they jump right into "Vegas Gold." This one rocks right out with determination and purpose. It's got a rhythmic underpinning that never lets go of the listener's imagination and a lead vocal croon that takes rock and roll belting to a higher plain. David Drouin's vocal timbre brings intrigue while his passion makes this a wild ride into a dark but fun place.
Cold Engines mellow it out on "Still Falls," a tenderly played and sung number, each note ringing out with purity. The lead vocal is cool, contemplative, and deep. The song showcases what this band can do with subtle nuances, and they do a lot. One feels a well spring of emotion behind this tune.
"Running" sounds like its title suggest, an endless run of intriguing sounds that this band conjures up with their creativity and ingenuity. Segue into "Wolf," a tune that begins with a sampling of Bela Lugosi and Lon Chaney Jr. from the first "Wolfman" movie. The band plays it wild, ferocious, and they never let up, singing about being under the werewolf curse. It's a good piece of chunk with a lot of unexpected, unpredictable twists and turns going on.
Cold Engines close out with a cover of The Doors classic "Blue Sunday," milking this Jim Morrison penned ballad for every nuance possible, offering a sample of their influences as well as an interesting arrangement of a well respected song.
Cold Engines keep taking their songs, their sound, and their recordings to a higher level. This third CD, Better Off Dead, is a document of a band that could be going places, big places.