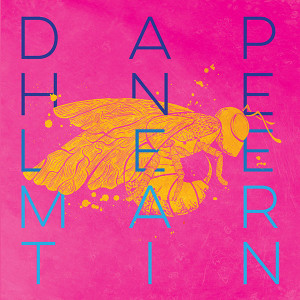 Daphne Lee Martin dropped her fourth CD late last year, and, while this New London, Connecticut artist incorporates more modern sounds amidst her vintage music landscape, she still pleases with her sensuous vocals and old time sounds. She applies more of a dreamy ambiance to some songs and an easeful flow to others. Yet, her sophistication remains in tact. Each song features a myriad of instrumentation that join together to create interesting and engaging soundscapes. Each can transport the listener to other times and places with plenty of drama and intrigue.
Opening track "Eskimo Bro" blends seductive saxophone, cranky electric guitar, vintage backdrops created by percussion instruments while Martin croons slowly, sensuously over this dreamy, floating soundscape from yesteryear. Her voice draws one in with its whispery timber and sexy expression. Martin's ability to set a mood remains intact. This song makes it easy to imagine a late night encounter fraught with intimacy, intrigue, and suspense.
"Bees Made Honey In The Lion's Head" finds Martin rocking things up a bit. Her smooth vocal sails over a funky groove, and she's the epitome of cool as she move her voice around the punchy beats. A rapper appears to state his case with snazzy aplomb of his own before the song becomes an engaging group chant on the close out. This song succeeds on the way it shifts from one interesting section to anther while Martin's fetching vocal line winds its way through all of her creativity.
"Saint Ambrose Kills His Darlings" is a snazzy, jazzy affair, sounding smoky with cocktail lounge keyboards, seductive sax, synthesized violin, eerie keyboard effects, and Martin's sultry vocal line. She sings with a breathy, sexy expression that turns up the heat of anticipation.
Track four, "I'd Take A Bullet For You," lets Martin match vocal wits with a blend of keyboard instruments, some modern, some old world to conjure a scene for a woman who leads an interesting life. Marin also croons over a peppy percussion line with a floating smoothness that contrasts sharply and wisely with the stick work below. That creates another wave of allure, her vocal charisma building a second lift seemingly out of nowhere. Her voice is so strong and full that she doesn't need to shift gears vocally each time her band changes dynamics in each section. Her strong personality, vocally and musically, is enough to weld all of this song's elements together.
Track five, "Dream Chaser," begins with a sample of someone talking about what is required to be an artist. Martin meets the challenge. She sings with an inspired verve through lines of cleverly wound lyrics as this narrator continues his discourse on art. It's a stroke of brilliance to have him on this track. Yet, it's Martin's voice that tugs the ear into this journey along a unique soundscape. Her pretty, old time vocal approach feels beautifully lost in time and hence celebrates timelessness. A keyboard reminds of the 1970s. A violin feels old country, and the rhythm section feels like it was inspired by the pace of modern life. Perfect.
"Yet The Sea Is Never Full" is a breezy, light jaunt through an island inspired melody. A faux ska beat skitters along with merry aplomb, providing lift for horn swells, keyboard melodies, and even some accordion. Martin, as ever, spreads her own special vocal charm over the musical proceedings below. Here, she has a celebratory air that fits this song like a glove, making the listener hope the rest of his day is as sweet as this song.
"Love Is A Rebellious Bird" utilizes a circus barker narrator to inject commentary in between Martin's breathy, considerate vocals. She emits just enough voice to make her point, finding a comfortable home in between gypsy acoustic guitar, a lingering, sassy horn line, and more modern sounding rhythmic underpinnings. As the sax line dances sensuously in the backdrop, Martin sings it with a light whispery approach that just kisses the ear. The result is a song that tells the same tale with several different, beautiful languages at once,
The unusual title "La Rochefoucauld & A Bottle Of Boone's Farm" masks a potential radio hit song that's quite accessible. A swaying horn section, knobby groove, and Martin's hip, electronically treated vocal line create a wall of cool. This is danceable as well as memorable. One cannot help but move his feet to the charging groove while Martin intrigues with her self-restrained, sultry vocal.
"Laughing Place" puts Martin in the role of sultry jazz singer. Singing over a forceful horn section, she sounds as vibrant as ever, possessing a sensitive character voice, a woman with a story to tell, and she tells it with a vocal flow that is smooth, strong, clear, and full of life. Pay particular attention to the knobby bass notes beneath her expressive vocal. It nudges the song forward while providing Martin another element to contrast her voice against. It works well, as she glides over those ridges of tasteful low end notes.
"Willing Victim" lets Martin showcase more of what she can do with her voice. Her song's anguished expression finds her sizzling with nervous excitement. A switch from easeful croon to desperate plea intrigues with its psychological subtext, keeping the listener to glued to all that is going on in this piece. There is also a striking contrast between Martin's vocal and a gentle clarinet melody beneath her, sharpening the artfulness of both.
Martin closes out this CD with "A Maturity Of Proof," an accordion laced waltz with a plucky upright bass setting a steady, ominous pace. While the music conjures everything from a slow dance to a traveling gypsy circus show, Martin emits just enough of her voice to spark the upper melody line and the effect is artful and beautiful.
Martin stretched herself on this latest Fall On Your Sword CD. She takes her penchant for vintage sounds and jazzes them up a bit with some excursions into soul and just a hint of modern dance music. Through it all she remains the highly sophisticated composer of music that dazzles with its intricacy and soothes and entertains with its flair. New England Music Awards recently nominated her for Female Performer Of The Year and Songwriter Of The Year