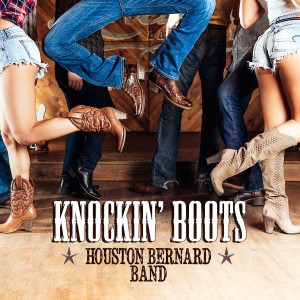 Houston Bernard Band's new CD Knockin' Boots have come up with a CD full of radio accessible country and country rock tunes. Every track could make the cut on local play lists and maybe even on the national level if the powers that be are listening. Do they even know there is country music in Boston?
Opening with title track "Country Crowd" Bernard wastes no time painting a scene of the people who frequent the honky tonks where country and western bands perform. Bernard's amicable vocal approach fits his lyrical description like a warm glove with its chirpy timbre and upbeat delivery. The scenes he describes are as fun as the music. There's plenty of pushy country groove, fiddle lines, and a lead guitar phrase that help make this one a likeable, winsome tune.
Title track "Knockin' Boots" centers on a woman who looks dynamite in her cowgirl boots on the dance floor. Bernard is country cool as his voice shimmies its way through the snappy grooves and instrumentation here. He has an ear for the right sounds as well as an eye for pretty country girls, and he makes it all rock. Spunky leady guitar over plentiful organ swirls keeps this one feisty and tough. There is one sweet boy-girl come on vocal portion that turns gritty as this singer lets the girl know where he stands.
"Home Is In Your Arms" soars in with some flinty guitars before a galloping drum beat carries this one out of the stereo speakers with steadfast purpose. Bernard mellows his approach somewhat but never slows down. He handles this tender theme with a good gust of wind under his sails, seeming to glide over all. A lead guitar tap dancing around beneath the vocal adds another layer of tasty musicianship.
Bernard makes another loving statement on "Ready To Leave." Bernard's earnest sounding timbre, emotional honesty, and the way this song eases its way forward reaches the heart while also pleasing the ear with its pleasant changes and dynamics. It's a rocker and a loving whisper in one.
Instrumental piece "Loretta's Last Shuffle" takes the listener into grittier territory. Electric guitars briskly rub their flinty timbres and notes against each other while an organ offers up some tough, wavy chords. The rhythm section pulls no punches as it pushes this one along
"Shut Up And Kiss Me," a rollicking, feisty, swiftly sung rocker carries itself well with tight ensemble playing. This one kicks down doors and knocks things out of its way as it barrels down a four lane highway. It gets the most exciting when the instruments are emitting a flinty, biting string of notes. This is sure to be a hit at Bernard's shows and on local radio shows.
Bernard's huge sense of fun, goofball humor comes across loud and clear on "Yoga Pants," an ode to all of those female gluts wrapped in spandex at their physically challenging exercise classes. Bernard has more fun than a barrel of monkeys singing this send up, his chirpy vocal more chirpy than ever amidst a jaunty fiddle and a warm but lighted heart group of backing singers. The video which accompanies this song has been nominated for Video Of The Year by the New England Music Awards.
"It Ain't Gonna Drink Itself" is a rocking number about redemption. Perky banjo gives a nice country accent to this up tempo ode to getting over it. The song is about finding love when it isn't expected and the down on his luck guy meets the girl twist in the lyrics is a pleasant surprise. Catchy and fun, it's another toe tapping adventure on this disc.
Bernard slows it down and gets tender on "I'd Rather Be Holding you." This mid-tempo country rock breeze finds the singer crooning with his heart on his sleeve, praising his partner and exclaiming her presence when he comes home. This number gets its strength as much from its unaffected emotional honesty as it does its musical and vocal peaks.
Bernard closes out his CD with "You're All I Need(I Don't Need Much)," an ode to a wild and crazy woman who keeps a man on his toes with her zany, over the top, and unpredictable behavior. Witty lyrics and a flippant chorus make humorous points as Bernard swings his amicable vocal presence around a pushy groove and steely electric instrumentation. There is also a lead guitar phrase that sounds as tough as the woman in question. An old fashioned piano line, borrowed from an 1880s' saloon style number, completes this pleasing confection.
Bernard has certainly come up with a first rate calling card. This CD will do a lot of talking for him when he sends it to bookers, radio stations, and hopefully some country music label executives. It's a down home winsome affair with plenty of grit and pluck.
https://www.facebook.com/HoustonBernardBand/?fref=ts

Follow me on Social Media!