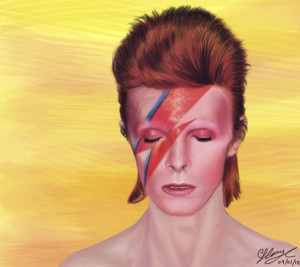 I thought my girlfriend had found out she had overslept and would be late for work when she looked at her smart phone last Monday morning and let out a horrified gasp. It was something more personal. "David Bowie died," she said, shocked. I replied with a confused "Huh?"
I had just read Jed Gottlieb's review of Bowie's new CD, Blackstar, in Friday's Boston Herald Edge section, less than three whole days prior. I was wondering if Bowie would tour so I'd finally have a chance to see him live. The closest I had come was a segment on Don Kirshner's Rock Concert in the late 1970s.
I asked my girlfriend if it might have been one of those celebrity death hoaxes. But, it was on CNN, not some fly by night website. It was true. David Bowie had passed away. When we turned on the car radio after we left her house, "Fame" was playing on WZLX, 100.7 FM. Of course, it was all the on air personalities were talking about.
It was a black day last Monday. It was one of those days when I felt like I was going through the motions in some kind of strange zone in which time seemed to have slowed down. It was my reveries that were causing the sense of time warp. (Planet Earth is blue and there's nothing I can do)
"Space Oddity" was a big hit song when I was a child. My father, a holdover from the 1950s rock and roll generation, was a huge fan of the rock music coming out in those early 1970s, owing to the influence of teenagers and young adults working for his cleaning company. I remember my dad purchasing the Space Oddity album at a department store in Rochester, New Hampshire and playing it on an old record player we had in our camp trailer in Lebanon, Maine. That was where we spent our summers away from our residence in Chelsea, Massachusetts.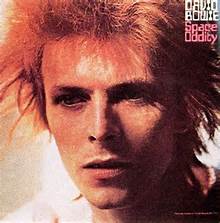 I can still picture Bowie's picture on the album cover, looking different from any other person I'd ever seen in real life or on television. By being himself in the public eye, Bowie made it seem all right for everybody to be different. That became important to me after my family moved to the more conservative town of Derry, New Hampshire in 1976. Being a hyperactive kid from the greater-Boston area with interests far removed from my new peer group, I often felt I was some kind of gypsy outcast in my new rural environment.
And I was damn proud of it. Thanks to seeing Bowie on that album cover a few years earlier and his photos in Circus Magazine and Rolling Stone Magazine, I didn't give a damn what opinions were held of me by my rural counterparts who always seemed boring and who always had too much of the letter R sound in their accents. I also had long, shoulder length hair in my freshmen year at the tedious Pinkerton Academy, long hair that was a symbol of the rebellion I was then reveling in and the trouble it got me into. (You've got your mother in a whirl. She's not sure if you're a boy or a girl)
But, getting back to my elementary school days. I remember listening to the entire Space Oddity album over and over again on days when it was raining outside our summer trailer or when I got exhausted hanging out with my brother, sister, and or cousins down by a nearby lake and just wanted to chill out after reading some Luke Cage: Powerman comic books. We had other record albums in our trailer collection. Yet, those other records were either early rock and roll from my parents' day or K-Tell Records compilations of current AM hits. The thing that blew my mind about David Bowie's Space Oddity was how incredibly fresh it seemed from everything else in music I had ever known during my childhood. After getting past the hit title track, I discovered "Unwashed And Slightly Dazed," "The Cygnet Committee," "God Knows I'm Good," and the rest of the zany Bowie songs on that album. I mean, what elementary school kid was listening to a song called "The Cygnet Committee" when most kids were hearing "Hang On, Sloopy" "Wolly Bully," "Joy To The World," "Put Your Hand In The Hand," "Half Breed," "Song Sung Blue" and whatever else was on AM radio.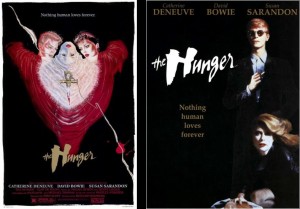 Without realizing it at the time, David Bowie was opening my mind to all of the explorative music I fell in love with later in life. He was the reason I became a culture vulture, a taste monger who got into Rush 2112, Emerson, Lake and Palmer, King Crimson, King's X, Genesis, and many others who seemed "out there" to people who prefer their rock and roll straight up. Bowie, with his dynamic vocal range and beautiful timbre, also inspired me to check out singers like Van Morrison, Tom Waits, Lou Reed, Rod Stewart, and to admire all of the wild, wiry front men from the classic rock era.
There was much more, though, to Bowie than music. He was also a film actor. I remember going with my friends to see his vampire movie "The Hunger." I remember being amazed in that early 1980s movie theater on Manchester's South Willow Street as I realized the singer-songwriter-musician I'd admired from childhood to young adulthood was also a fine actor who could carry himself through a role with the same kind of aplomb he carried a song with. I got another reminder quite recently when my girlfriend purchased his movie Merry Christmas, Mr. Lawrence. Bowie portrays in it a heroic British prisoner of war officer who continually matches wits with his Japanese captors. Here, we see Bowie carry a major dramatic role that only a true actor can carry. (We can be heroes. Just for one day)
Speaking of movies, Bowie made a huge impression on rock music fans when he scored the title track for the Cat People soundtrack. "Putting Out Fire" was as mercurial in dynamics and guitar chords as anything ever recorded.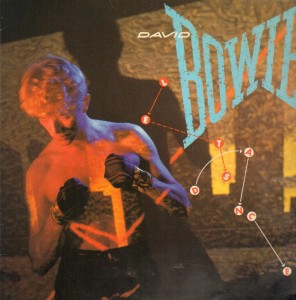 I still remember the impression Bowie was making on me as I went further into my young adult years. The man seemed to be a nonstop hit songwriting machine. "Fashion," "China Girl," "Modern Love," "Let's Dance," "Boys," and many others seem to keep rolling right out of him. He was the same creative force who cranked out "Fame," CTV15," "Panic In Detroit," "Young Americans," "Heroes," and "The Jean Genie" a decade earlier.
After thinking about it and feeling it since last Monday morning, I understand now why his death knocked the wind out of my sails. It was a huge personal loss to me. I had grown up with David Bowie, David Bowie the rock star, David Bowie the movie star, David Bowie the artistic genius who inspired the same kind of creative spark in each of his fans. He was also David Bowie, the star who made it all right for me to be me.

Follow me on Social Media!