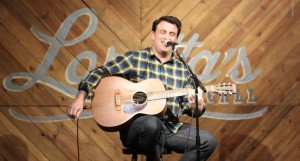 Matt York has been getting his feet wet wading back into the greater-Boston music scene for the first time since 2002, when his once hugely popular indie punk band Wide Iris had run its course. York just came back into the scene several months ago, releasing his solo CD Boston, Texas last winter, and holding a CD Release Party at Atwoods last January.
He had left the music scene after playing hard with Wide Iris for five years. Band members started getting married, getting older, having children. "That lifestyle is not particularly conducive to being an adult," York quipped.
Fronting his own support players is somewhat different, as he fleshes out his songs himself whereas Wide Iris helped him flesh out his songwriting ideas. "I have to learn the parts I have in mind," he said.
York's recent debut solo album Boston, Texas finds him sounding somewhat rootsie, a departure from the indie punk rock of Wide Iris. As a young man, he enjoyed the noisy, crazy material but he was also doing a lot of solo acoustic shows back in the day. "I really got into Steve Earle and Town Van Zandt after that," he said. "I think they've just had a lot of influence on some of the stuff that I've written more recently."
York's thoughtful, thought provoking lyrics on Boston, Texas are based partly on bad experiences he had growing up and the bad experiences of others around him today. Some of his current friends are going through divorces which reminded him of having to deal with his parents' divorce during his childhood.
"It rekindled that feeling I had as a kid," he said, "just watching how difficult that stuff could be. Most of these songs are about love, about heartache, about break up."
York named his new CD Boston, Texas to celebrate the music he fell in love with in the Boston area as well as the music he fell in love with when he lived in Austin, Texas for a year at age nine. "My father remains a fanatical music person," he said. "I learned some of that Austin music when I was down there. I learned Willie Nelson, stuff that was going on down there even though I was pretty young. All of that stuff stuck with me. I felt that the album was kind of a mesh."
York's own influences include Lou Reed and The Pixies. He also has a fondness for Steve Earle, Willie Nelson, and Town Van Zandt. "I really honestly I enjoy hearing bands that I cannot even tell you their names. I'm just hearing must that I've never heard before," he said.
The Boston music scene has changed dramatically since the years he had played out with Wide Irish. York often feels like Austin Powers coming back during a different decade. During his younger days, York said that bands knew they were doing well when they saw a huge turnout and people went crazy. "Most bands play a lot less gigs than we did back then," he said. "There are different measurables of ways you're able to move things forward. There just isn't as many places to play, or the demand."
Back in the day, York broke into the Boston scene while working with Rick Berlin to bring a huge benefit concert to the old Foxboro stadium. Berlin Airlift had just broken up and Mr. Berlin was starting up Rick Berlin The Movie. Berlin was working for the mayor of Boston at the time, and Berlin heard out York's request to play in this concert. Though the show never happened, York benefited from his acquaintance with Berlin, playing duos with Berlin at Bunratty's, The Channel, and other name city clubs.
"He and I would just do stuff together," York said. York has also played with a Boston band called Décor. "Don't ask," he quipped. "I had nothing to do with the name."
After Décor, York had stepped away from music for five years to complete his college education. Wide Iris started up for him when he was about 24 years old. His latest solo project began simply as a birthday gift he wanted to record for his father. After being in the studio working on what he thought was a pretty good album, he knew he had to do something with his newly recorded material.
"It's been a lot of fun," he said. "I honestly didn't anticipate getting back into the music world, but that's kind of what happened. "I'm still figuring it out each day."
Working on the album reinvigorated York's interest in playing out. Months later, he finds himself gigging as often as possible. Only this time around, he cannot rely on the old guard that supported his band. Most of them are just not around any more.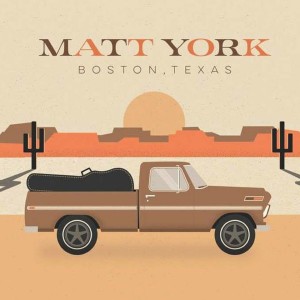 "People that were always good to me before, like Carmalita for instance, or Randi Millman at Atwoods. That's where I had the CD Release; she always booked me at TT's. So, she gave me that opportunity. But, yeah, there's not a hell of a lot of them left. Rick Berlin is still doing it, and I got some ideas from him. A lot of it's just trial and error."
York's CD Release Party last January worked out well for him. Randi had suggested he play an all ages show on a Saturday, as that would work out best for former rockers who, like York, now have children. "A bunch of people I hadn't seen in years that were part of my musical life from the past came with their kids," he said. "It was like a Parent-Teacher event or a school event."
Unlike his Wide Iris trio, York now relies on a rotating cast of players. His wife, who he met 15 years ago in the music scene, plays bass guitar at some his shows. He also has his former bass player from Wide Iris sit in on some. York's kids, when they can go to a show, help out with CD sales and they sing along to every one of his songs.
"They are already really learning music," he said. "They're young. They're only seven and nine.
Aside from his CD Release Party at Atwoods, York scored another great gig at The Spire Center For The Performing Arts in Plymouth, Massachusetts. He had recorded his CD at a studio, owned and operated by Mark Bryan, in the building's basement. The venue upstairs had an open mic contest York had competed in to win a gig there. A year later York was recording his CD in the basement studio.
"It's a really great place," York said. "It was an old church and it was basically crumbling and the city put a whole bunch of money into it and made it into a non profit theater upstairs. They're getting some really great shows down there."
For the future, York would like to take his music to the regional level. He's played at the Narrows Center in Fall River, Massachusetts and would like to play more venues like that and sees where it takes him. "I love that listening room environment, and I love to be able to do more of that. I'm having fun with it, and that's half the battle."