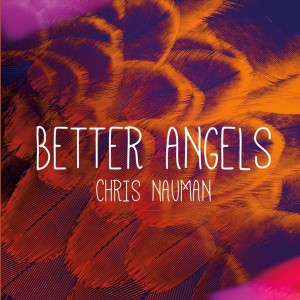 Chris Nauman's latest CD Better Angels offers a lot of the elements that have always made him an enjoyable listen. One highlight of all of the songs here is Nauman's personality. He shines through in each track, creating interest, vitality, and identity. He also offers lyrics that speak of hope amidst trying and sometimes dire circumstances. The greater sum of fine songs make this CD a winsome treasure.
Opening track "I Gotta Burnin" emits plenty of flinty instrumentation and a warm, chirpy voice that draws one in with its authentic emotive qualities. His vocal sustains are filled with warmth, his expression letting you know he's feeling it and that draws the listener more deeply into his tune. A rippling, homey guitar phrasing from Kenny Selcer is another treat.
Nauman takes things down tempo with "On The Waterline," a breezy, alluring number that attracts with its gentle, emotive vocal and Lyle Brewer's tastefully picked lead guitar line. The way this song rolls forward on the strength of its motion filled rhythm section makes the listener feel the song is taking him somewhere. It's easy to picture someone walking along a waterfront because of Nauman's easeful conjuring of all he associates with this location.
Billy Novick's whistle makes Nauman's Robin Williams ode "My Captain" feel like a centuries old folk song. Peter Tillotson's bass and Phil Punch's percussion also infuse this number with a tremendous sense of forlorn emotion. Nauman combines these instruments and other musical and vocal elements to make this piece a sincere farewell to an artist who made a huge impression on him.
"Your Shine" gets a hip groove going on. Its tuft of instrumentation runs perfectly alongside Nauman's handsome vocal lines and coos. "We Stand Our Ground" is another gritty guitar number. It hums with compact guitar riffs, and its hooky chorus pulls one in like a tractor beam. The chorus gives the anthem a solid dose of individualism, and the backing vocal from Louise Grasmere adds a needed touch of soulfulness, something felt deeply. Enticing guitar work from Brewer surround the vocals and gives it all a soaring edge.
"The Stars Are Waiting" benefits greatly from classically inspired guitar lines. Selcer infuses Nauman's song with a grand fanciness using tastefully picked guitar lines. Nauman certainly knows how to tell a story or make a statement. This singer-songwriter keeps things interesting with his easeful pacing, singing just enough of his lyrical verses at a time to keep the narrative flowing well with spikes in key phases at just the right moment.
"Won't You Come Home" finds Nauman applying his tender vocal at stirring the emotions of longing and loneliness. His fine harmonica playing lends another texture of sadness here while his acoustic guitar fills the space around his voice with further notes of parted mournfulness. With a rhythmic underpinning from percussionist Phil Punch, this tune makes the listener feel what it's all about, a universal feeling of what it's like to be missing someone that cannot be denied.
"Claire's Song" is another of Nauman's tender ballads. Getting a fine backdrop from Eric Kilburn's mandolin, Audrey Knuth's violin, and Punch's percussion, each contributing to a three dimensional soundscape, this one takes its time unfurling all its tender notes and lyrics. Nauman's sad tale of loss makes an impact on the listener with its universal theme and its sensitive delivery.
"Sand In The Wall" feels more like a brisk folk song. Things move at a faster pace here and there's a lot of fine instrumentation making this one cool. Seth Botos's swift drumming carries a lot of tasteful violin spikes, pretty mandolin notes, and sweet harmonica notes. Nauman's more assertive side finds him calling out his words with an old fashioned call and response motion. Put all of these elements together, and you get a folk song you can play at a beer blast. This is fun.
"Beyond The Walls" continues the brisk full band feeling of the previous track. Its ripples of acoustic instruments make a nice thick contrast with smooth lines from violin and electric guitar with plenty of nice moving parts to keep things interesting. Nauman holds his own against this exceptional backdrop by unfurling his vocal verve at a considered pace, a pace that gives it largeness and an authenticity of emotion.
"Be My Valentine" is a mellow folksy love song. Its light accompaniment from acoustic guitar, mandolin, and bass leave Nauman's voice plenty of space to make his sincere emotive plea. "Parousia" rocks things up a bit. Seth Botos's drumming and Steve Gilligan's bass make it brisk while Billy Novick's saxophone and Nauman's soulful vocal make it feel like a spiritual with a lot of oomph. An ode to surviving a quirky, menacing world, this tune is a fun, action-packed number. It would also be a good track to send to local radio stations.
A hauntingly beautiful song, "Rosie" feels like another centuries old number, a rendition of a traditional folk song we've all known for years. Audrey Knuth's somber violin line plays like a tasty bit of yesteryear while Erik Kilburn's mandolin feels like it could belong to pre-revolutionary America. Nauman puts heart and soul into his quiet delivery of this tale of racial strife in America. He simply lets Rosie's story tell itself. While remaining self-restrained, he makes a powerful statement with his easeful vocal application of his insightful lyrics.
Nauman closes out his album with "Everybody Get Ready," a call to stand up for what one believes in. The singer-songwriter builds this one up with steady momentum, like a 1960s protest song that becomes more strident as it moves along. A full, four piece band keeps it steady while several backing singers take the chorus to a higher plain with their sweet lift. It is also a fitting end to an album full of hopeful lyrics, as it encourages all of mankind to look forward with optimism, an optimism born out of action and a will to make positive change.
Nauman offers a lot of quality singer-songwriter material on this new Better Angels album. His voice, lyrics, and a special combo for each track come together in a special way, with each track offering glimpses of struggle and hope amidst the human condition. Buy a copy immediately.

Follow me on Social Media!