Archives by date
You are browsing the site archives by date.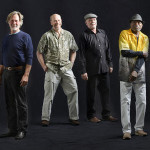 By Bill Copeland on July 28, 2016
Steve Morgan And The Kingfish have been on a roll lately, a wild roll. In the past year, they've won the Cape Cod Talent Search and the Boston Blues Society's Boston Blues Challenge. Since then, the Cape based blues band has been playing and will keep playing some high profile gig, including a set to open the two day BluesNBrews Festival in Westford, Massachusetts on Saturday, August 20th.
Posted in Featured Articles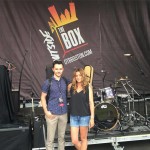 By Bill Copeland on July 22, 2016
Here is a perspective from a music journalist who left his notebook, pens, and camera at home to attend a bunch of musical performances as just another guy in the crowd. I spent a couple of days last week checking out some of the Out Of The Box musical artists performing on various stages along historic, scenic Boston Common. The most noticeable aspect was more the caliber of talent than even the variety.
Posted in Opinion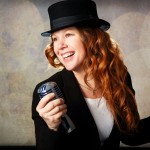 By Bill Copeland on July 20, 2016
Who's your mama? Always fronted by the driving redheaded fireball Kendal Bush, everyone knows who their Mama is. Blues band Mama Love And The Motivators have been playing out around southern New Hampshire, northern Massachusetts, and wherever they can find gigs beyond that for about four years now. Initially calling themselves Mama Love And The Wicked Sons, the name changed as personnel shifts continued until their current line up was finalized.
Posted in Featured Articles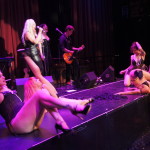 By Bill Copeland on July 11, 2016
An incredible vibe could be felt at last night's Strip Zeppelin show at Cambridge's Oberon cabaret style theater. The venue, part modern discoteque, part old time showroom where people are seated cabaret style, was the perfect performance space for this Niki Luparelli concoction. Luparelli had a full band performing Led Zeppelin songs while burlesque dancers […]
Posted in Live Reviews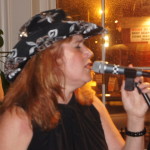 By Bill Copeland on July 10, 2016
Juliet Simmons And The Lonesome Romeos played sans drummer last night at The Book And Bar in Portsmouth, New Hampshire, a last minute adjustment that they adjusted to very well, proving that good songs can work well in any musical combo. Simmons proved an exceptionally gifted singer too. The things that girl did with her […]
Posted in Live Reviews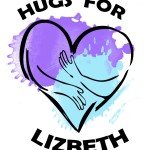 By Bill Copeland on July 8, 2016
Alan Arena is a very busy man these days. He's planning another Hugs For Lizbeth Benefit. His fiance has been living with Huntington's Disease for the last nine years, and the cost of paying full time caregivers in their home can be astronomical.
Posted in Featured Articles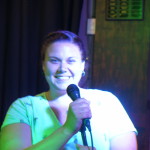 By Bill Copeland on July 8, 2016
Attention all musicians and music fans. You have got to know about this jam and venue in southern, New Hampshire. Last night's Thirsty Thursday Open Mic and Jam at Auburn Pitts in beautiful Auburn, New Hampshire was a fun time for all. Musicians and singers who came from several miles in all directions got a chance to get up and do their thing, offering a variety of genres, blues, country, and modern rock.
Posted in Live Reviews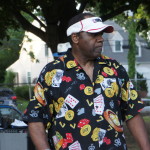 By Bill Copeland on July 7, 2016
Tomi's All Star Blues Band put on a good show last night at the Payson Park Music Festival, a Belmont, Massachusetts program in its 26th year. The blues band was playfully named after Tomi Olson, a resident who founded the program and organizes these music events each year, mid-June through late August
Posted in Live Reviews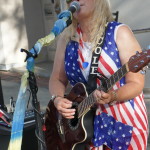 By Bill Copeland on July 6, 2016
Nicole Knox Murphy performed a couple of sets of originals and covers outside Penuche's Bar & Grill in Manchester, New Hampshire last Saturday night. Murphy's backing tracks drew a mixed response from this reviewer. Sometimes they were warm and appropriate. Other times, she would've been better off just accompanying herself with her acoustic guitar. Nothing, though, could distract from the pure, wholesome beauty of her voice. Combining a bright, soft timbre with strong emphasis and projection, she seemed like someone who should've been signed and famous long ago.
Posted in Live Reviews