Archives by date
You are browsing the site archives by date.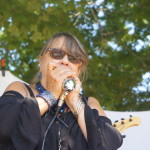 By Bill Copeland on August 30, 2016
Day two of the North River Blues Festival at Marshfield Fair was a well managed event. It was also one that gave an idea what heaven might be like when we get there: several hours of outstanding blues bands all in a row. Paul Speidel Band, Tony Soul Band, Neal And The Vipers, Kenny Neal, and Sugaray Rayford along with side stage band Basic Black featuring Cheryl Arena treated a huge turnout to fine renditions of standards as well as some of their own original material.
Posted in Live Reviews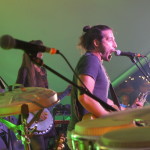 By Bill Copeland on August 29, 2016
Adam Ezra Group whipped up some exciting music at their seventh Ramble on Salisbury Beach last Saturday night. An event which raises funds for veterans related matters, AEG headlines it each year after organizing those who support the cause and a bunch of other bands who play on either of two stages set up for the event. Adam Ezra and his band mates, with special guests made up of those musicians who played earlier, created plenty of sparks with their solid songs.
Posted in Live Reviews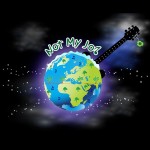 By Bill Copeland on August 26, 2016
Rockin' Ed Thomas has finally released his slightly edgy, fun flavored Not My Job album, ten years in the making. Thomas brings a quirky world view and sense of humor to his lyrics. He takes things seriously but he knows enough to look at life with a grain of salt. His sense of fun fills each song with a sunny disposition and likeable personality. Thomas also has backing vocalists Lee Villaire and Maia Cataldo along for his joy ride while bass players Brent Godin and Spencer Wright keep the bottom running smooth.
Posted in CD Reviews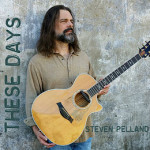 By Bill Copeland on August 24, 2016
Steven Pelland's new These Days CD is chockfull of beautiful vocals, an album that will long be remembered for the quality of the voice. These songs also make an impression through the way Pelland uses his acoustic guitar melodies to conjure emotions and contemplations. This singer makes one feel like he's conversing with you, not just singing his lyrics over sparse accompaniment. His personality shines through in each track, making one feel the man behind the song.
Posted in CD Reviews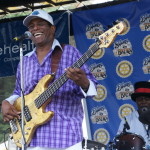 By Bill Copeland on August 22, 2016
Last Saturday's Blues N' Brews Festival at Nashoba Valley Ski Area found blues fans and beer fans braving an unexpected 40 minute rain fall before resuming the festivities. It takes more than a little rain to keep people away from good blues and good beer. Saturday, being the first day of a two day BluesNBrews Fest, had something special for each person. WZLX's Carter Allan was a perfect host for the day. His knowledge of blues and his gentile personality went over well with the demanding blues crowd that patiently awaited each act.
Posted in Live Reviews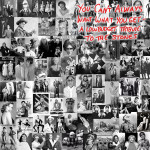 By Bill Copeland on August 17, 2016
Low Budget Records has released this very thoughtful double disc compilation to The Rolling Stones. Titled You Can't Always Want What You Get, it's loaded with renditions of Rolling Stones songs lovingly rendered by some of Roslindale, Massachusetts's most talented players. The variety of duos and combos on this compilation are perfectly matched to the variety of Stones material it offers and the succession of successful renditions makes this a must have for fans of the Boston music scene as well as fans of The Rolling Stones.
Posted in CD Reviews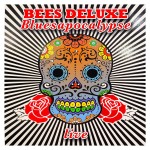 By Bill Copeland on August 15, 2016
Bees Deluxe have a released live CD to document what sounds like a very exciting band performance. It was recorded at the Arlington Center For The Arts Theatre in Arlington, Massachusetts last spring. Edgy, creative, and passionate, this band, fronted by singer-guitarist Conrad Warre, reveal the detailed depth and raw energy that goes into their live shows on this Bluesapocalypse album.
Posted in CD Reviews
By Bill Copeland on August 12, 2016
Most fans of Tupelo Music Hall, currently located in Londonderry, New Hampshire, are aware that Tupelo is relocating to another building in neighboring Derry. The change is presumed to happen before the end of this year.
Posted in Opinion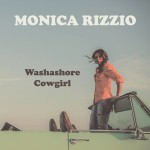 By Bill Copeland on August 11, 2016
Monica Rizzio's first official solo CD Washashore Cowgirl is chockfull of great original country and country roots songs. Originally from Texas, this Cape Cod resident shows she can project plenty of her southern girl charm and sensibility into her original songs and standards. It's who she is. A former member of folk trio Tripping Lily, Rizzio wrote or co-wrote most of the righteously fresh material on this album.
Posted in CD Reviews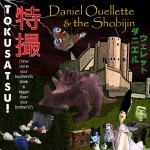 By Bill Copeland on August 10, 2016
Daniel Ouellette & The Shobijin are up to their old tricks again on this new Tokusatsu! CD, expressing musical concepts with highly clever electronic arrangements of their original songs. Ouellette, who hails from Fall River, Massachusetts, wrote these ten zany electronic pop songs, most of which have curious lyrical themes. Eerie concepts should probably be expected from an artist who is from the same town as Lizzie Borden. On one track Ouellette sings about wanting to see Universal Horror movies from the 1930s and 1940s.
Posted in CD Reviews