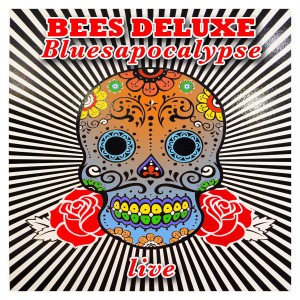 Bees Deluxe have a released live CD to document what sounds like a very exciting band performance. It was recorded at the Arlington Center For The Arts Theatre in Arlington, Massachusetts last spring. Edgy, creative, and passionate, this band, fronted by singer-guitarist Conrad Warre, reveal the detailed depth and raw energy that goes into their live shows on this Bluesapocalypse album.
Combining modern blues with innovative and pioneering instrumental techniques, Bees Deluxe have been on the cutting edge of creating something fresh and inventive for their followers in the greater-Boston/New England music scene for the last six years.
Warre's original "Blues For The Decline Of Western Civilization" opens the disc and show cases what this outfit can go with a down tempo, mellow groove. Carol Band keeps her keyboard line simmering. Allyn "Aldo" Dorr's tense, thick bass line holds the composition together with muscular authority. Drummer Patrick Sanders keeps a solid beat while adding tasteful , authoritative smacks. Warre's lead guitar phrase feels like a burning wick getting threateningly close to a powder keg. He keeps it just on the edge of explosive here and that's enough to keep the listener glued to what he's playing.
Popularized by Etta James, "Damn Your Eyes" is profoundly familiar for its raw, emotive vocal work. Here, Warre, sings it with an understated coolness while he lets his empowered guitar phrase do most of the talking. His melodic line burns with energy and passion, taking the listener through the measures with grace as well as romantic tension and yearning.
Bees Deluxe go into Warre's "B Minor With Stops" with an easy going confidence. There is something refreshingly breezy about this number even though it is brimming with a twisty guitar phrase that could make one breathless trying to keep up with it. Speedy bass lines and swiftly played drum work keep wonderful pace with the guitar as it sails through the measures of this tune.
Warre and his comrades show their blues influences and passion when they play J.B. Lenoir's "Talk To Your Daughter." Warre's vocal is raw and plaintive, just like one would want a blues man to sound. Guest saxophonist David Blaustein adds plenty of soulful charm with his jaunty blare and the harmony vocals sound pleasantly rooted in an earlier time in American music.
Bees Deluxe glide into Robben Ford's snaky groove number "Start It Up." A jumpy, jittery guitar line builds the rhythm while a jive saxophone line zigs and zags its way around with jaunty zeal. Raw and raspy vocals give this live tune another layer of cool and the whole piece becomes something that makes one wish he was at this performance.
The band take things down tempo on "I've Been Downhearted." Drummer Patrick Sanders and bassist Allyn "Aldo" Dorr keep the groove hefty and in the pocket even as they take their sweet time carrying this blues crawler. Warre's raw, raspy delivery keep this tune in a soulful territory while he considerately pays out his grueling cool guitar push. The chorus here feels familiar and fresh at once as the band add their own feisty, fierce, and mean touches.
Warre's "Roll Over Stockhausen" is a saxophone blaring, guitar blasting rock fest. The melodic instruments make way for the rhythm section to knock it home here and there. The band rocks right out, with jazzy style, as they each nail something crucial in the structure of this piece. Its strength comes from how each band member finds a place for their individual instrument's voice.
Warre's "Zoe's Chromatic Blues" is another instrumental treat. Featuring many of the traits of the previous track, this one manages to conjure a boogie feeling in its palpable bass line and a cruising, soulful glide in its sprawling guitar line. You cannot help but get pulled into its funky allure.
The band next goes into Robert Cray's "Phone Booth" and delivers the funky blues vibe with supreme self-assurance. Each band member makes one feel the frantic nature of that phone call. Saxophonist David Blaustein and guitarist Warre turn up the heat with dazzling melodic phrases while the rhythm section keeps this one hopping. One can also feel the presence of the slick, polished original as Bees Deluxe put their own particular stamp on it.
The band takes the audience on a joy ride on Gwendolyn Collins' "Travelin' South. One can feel the sense of motion in this one. It's taking us somewhere with its jazzy sax line and riffy guitar phrase. Every little one of the notes percolating from Warre's lead guitar feel like a combustion engine responsible for our vehicle's ride.
Bees Deluxe also show a penchant for taking their audience to other times and places with their ability to conjure the feeling initially evoked by their standards when audiences were hearing them for the first time. "Ain't Nobody's Business," written by Porter Grainger and Everett Robbins, delivers the gliding presence of this unforgettable standard with this band's delivery. Warre sets the stage light with his guitar phrasing interpretation of the melody line as Carol Band maintains a strong presence with her shimmering organ notes.
John Scofield's "Green Tea" gives Bees Deluxe plenty to sink their teeth into as they tackle this modern jazz piece. One can feel the tune's large presence unfurl as Warre presses out its larger than life melodic phrase. Ms. Band's sprawling organ notes give the rhythm section guys something zesty and fun to groove next to.
Bees Deluxe punctuate the classic "I Wouldn't Treat A Dog (The Way You Treated Me)" with hip rhythmic authority. They also ride their instrumental lines with steady purpose, aplomb until they each crack the whip on the one sentence chorus. Warre's guitar phrase is particularly perky here, something sharp enough to cut glass while also leaving its signature style on the surface of this fun, rocking blues send up.
Bees Deluxe have done themselves proud on this live Bluesapocalypse album. It offers many of their original gems and their fine covers with the live concert energy that has also been a hallmark of this band. This entire recording is a treat for musicians and music fans alike. Purchase it immediately.