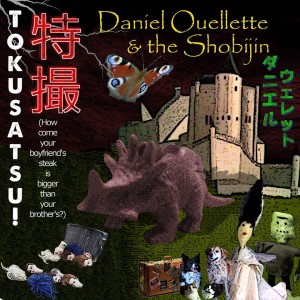 Daniel Ouellette & The Shobijin are up to their old tricks again on this new Tokusatsu! CD, expressing musical concepts with highly clever electronic arrangements of their original songs. Ouellette, who hails from Fall River, Massachusetts, wrote these ten zany electronic pop songs, most of which have curious lyrical themes. Eerie concepts should probably be expected from an artist who is from the same town as Lizzie Borden. On one track Ouellette sings about wanting to see Universal Horror movies from the 1930s and 1940s.
Ouellette's soundscape is always startling good, unique, creating melodies seemingly out of nowhere with his in depth experimentations in sound. It's also a lot of fun to listen to. Try to imagine 1980s artists Soft Cell and OMD on some serious hallucinogenic. You'll get the idea.
"Do You Feel Brave Enough, Aunt Louise?" opens the disc with a call to a paranoid woman's fantastic imagination. A low end line and a scratchy guitar riff keep this song comfortably familiar while Ouellette's eerie vocal timbre and an odd background hiss keep it all otherworldly. Catchy, hummable, and danceable, this tune manages to be original while remaining rooted in basic rock and roll elementals.
As an ode to the Wizard Of Oz, "She's Not The Kind You Drop A House On" boogies forward with a familiar backbeat while simple but frisky guitar riffs make their own sparks. Between Ouellette's quirky voice and a handful of girl backing singers chirping in a high pitched tone, the song becomes oddly appealing. It's so strange you can't ignore it. It's so you cool you can't help but to like it.
"If Only Marlene Dietrich Were Here To Have A Cigarette" has a guitar tickling out a self-restrained riff while a few pre-programmed drum machines pump out a myriad of rhythmic depth, thickness, and zaniness. This entire tune feels like an urging, something that is marching numerous souls to their fate, be it pleasant or not.
"Today Is My First Day Of High Heel School" has a male-female dual lead vocal describing someone's introduction to a new concept. Ouellette and his backing vocalist stretch their haunted croon over a simmering rhythm guitar line and a sparklingly clear percussion line. One's imagination gets inspired by this sonic landscape of quirky instrumental protrusions. Feeling rooted in something familiar in the persistent beat and low end rumbling which assert themselves beneath melodic quirks makes this song work.
An exotic landscape is conjured by foreign language chanting on "Su Aliento Atorrico Azul (Cuando Las Aletas Dorsales Comines a Brillar)." It is hard to know what is going on in this track, but it certainly sounds interesting. A funky low end line engages with its interminable groove. An electric guitar riff skitters across the soundscape. Meanwhile, Ouellette sounds like he could be a 20th century dictator announcing his edicts over early radio technology. This tune packs a punch with every instrument and crisscrossing instrumentation. Its sudden eruptions of guitar and what not are signposts of an engaging, creative mind.
"Melodramtic" is a fantastic weave of industrial percussion, guitar insertions, and odd, quirky vocals. Ouellette sounds like he's singing to us from some other dimension through some science fiction device. His vocal is deep, rich, and rangy and he knows how to stretch it over his sonic landscape. This dark, haunting creation makes it mark with every one of its unique expressions. Ouellette and his Shobijin do not invent any new musical instruments but they do stretch out what can be done with the ones we all know.
"Heartbroken And Gold Leaf" gets a push from a spanking percussion device. The oddly titled song becomes about a film buff who seeks to watch Universal Horror monster movies. Ouellette's large, charismatic vocal presence makes this interest in Boris Karloff, the Invisible Man, The Wolf Man, The Mummy and other figures from that bygone film era feel normal. Ouellette controls everything in his musical world and if he says singing about monster movies is par for the course than it is.
"Elle Est Un Des Seuls Monstress Bienveillants De L'univers" prances out of the gate with an energetic, persistent percussion. Odd vocal sounds become like instruments themselves before a swishy sythn line jumps in and out. It is difficult to understand exactly what this song is about, but it certainly sounds good. Its rush of multiple instruments and percussion sweep one away with its sonic tidal wave, and it's a fun one to swim along with.
"Guess Who Spilled Steak Sauce On Her Log Lady Shirt?" gets its strength from its racing, skittering electric guitar line that makes sparks as it contrasts with the surface of a low end line and a mesh of electronic percussion. Ouellette sounds ominous in a fun kind of way as he speak-sings his interesting lyrics. His song kicks into overdrive and one wonders how much fun it would be to hear him play these songs live. It is hard to imagine him using a small combo to recreate all of this music in a live setting. But, who knows?
Closing track "A Hat For Halloween" might be the most commercially accessible on this disc. It is easy to imagine its large, burbling synth wall finding a home on modern pop radio. It also doesn't hurt that Ouellette's strange vocal tone looms over all with such a supreme quirk as to make him larger than life.
This latest offering from Ouellette and his Shobijin shows their continuing penchant for making music in their own electronic-synth pop with rock elements way. Ouellette and company are very good at this and this latest Tokusatsu! Will not disappoint any who love them for it.
https://www.facebook.com/Daniel-Ouellette-and-the-Shobijin-46304984479/home

Follow me on Social Media!