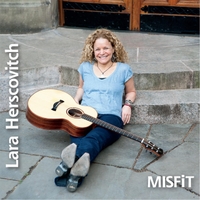 Lara Herscovitch has just released her fourth CD, Misfit. While misfits are the theme of this new album, Herscovitch fits in well with her New England folk music scene. Her earthy acoustic guitar accompaniments pave the way for this Former State Troubadour of Connecticut to shine. Her insights are sharp and valuable, especially when she turns them on her own emotions. There is also an undeniable husk of true folk music likeableness in each of her songs.
Herscovitch opens her album with a song about the courage required of love. "The Bravest Thing" is a lovely evocation of what is needed to make our world work as smoothly as it does, even when it requires a little more effort. This singer-songwriter's voice is as pretty as the pictures it paints, a breezy silkiness that glides along the surface of her acoustic guitar melody, a vocal that becomes strident in its messages as it soothes the ear and soul with its gentle tone and flow.
Title track "Misfits" finds Herscovitch cooing beautiful life into her songs, its chorus showing an artful joy. The entirety of the song is a vocal journey through beauteous terrain and lovely vistas. This singer revels in the unique gift of being an unusual individual and finding one's own place in the sun and her girlish chirp makes this whole thing feel real. She feels it as she sings it and she makes the listener feel it too.
"Wonder Wheel" gets a sweet, gentle touch of calliope music from Adam Michael Rothberg. Focused on someone who grew up near Coney Island, this piece uses carnival attractions as metaphors for someone's distorted view of the world, a world someone wishes to escape by leaving the town. The carnival music gets darker, more haunting as the tune progresses and Herscovitch's voice, which seems appropriately distant and forlorn, perfectly captures the daunting visage of the world this person constantly holds in his mind's eye.
Herscovitch moves into traditional folk territory with "Will The Circle Be Unbroken/The Flame." She peps up this version with a brisk piano line and a motivational percussion groove, creating a feeling similar to a boat motoring away from the dock or the train starting to leave the station, a feeling that it's time to get on board and do something meaningful. Herscovitch also exudes a spirituality here, her voice finding common ground with gospel choirs in her expressions of deep emotion and an effort to connect with something far greater than herself.
"The Conductor" finds joy in its tale of a man who came into his own as a human being after an exciting but lonely career in classical music. The sadness comes when the man finds a joy that he should have found years earlier. This balance of the highs and the lows gets expressed with a tender sweetness by Herscovitch. She tells this man's story unflinchingly but with a warmth that captures the authentic, undeniable bitter sweetness of one man's life journey.
"Another Gypsy Lifetime" is a lilting, melodic song, full of pleasant twists in Herscovitch's vocal line. This joyful ditty focuses on the delight of not having a focus but rather taking life in stride, no matter where one may end up. All about people who travel around the country and the world on a whim, it extols life's colorful, exciting vistas, destinations that we can only arrive at if we are truly free.
Borrowing ideas from Robert Louis Stevenson, "Mr. Hyde" is about denying one's own desires and motivations. It could be as much about anybody who hides his id behind a super ego generated mask. Writing without making a judgment, Herscovitch finds the sadness, the sorrow of being the person who made a tragic choice and has to live with it, and she puts it across with a subtle warmth that shows she can mourn the sinner while understanding the sin.
"I Will Mind Mine" is a contemplation of self-image. Here, the singer-songwriter talks about her own perceptions, then, through a process of meta cognitive thinking, examines her own thoughts. She also carries these proclamations with the assertiveness of an anthem and she makes one feel the feisty spirit she was feeling when she wrote this. Her voice is also as clear and powerful as a tolling bell, beautiful vocal notes that pack an emotional wallop.
"Maybe Someday" finds the singer-songwriter thinking about life after a failed relationship. Location figures prominently here as a favored town seems to offer solace for all she's been through. Her steady vocal climbs up the melody ladder and puts her in a loftier place simply because of her contemplations. The listener feels it in the strength of the vocal line as well as in the bare bones message of her song.
"Flim Flam" is a witty reflection of daily life. With details culled from a local newspaper's Police Incident Reports section, Herscovitch walks us through a year's worth of daily activities. Her playful ditty forces us to realize how many hilarious incidents take place in small towns. She keeps her light melody as playful as her words, swiftly picked notes that tap dance just beneath her amicable, girlish chirp.
"Om" makes the most of Herscovitch's lovely cooing ability. She glides right in and out with sussurant beauty.
Herscovitch closes out her disc with "Buddha On My Back." Singing about personal discovery, she uses her beauty of a voice to create a pleasant journey toward the song's clever, twisty ending. The Buddah on her back has more of a relationship with her than she has realized. Her lovely coos, earthy winsome chorus, and pleasantly crooned verses all come together in one loving but challenging song.
Herscovitch has only gotten better with time. This fourth official CD release shows her to be an artist of tremendous growth, both personally and musically. A singer-songwriter-folk artist whose life and feelings are intrinsically tied to her words and melodies, Herscovitch stands tall as a true beacon of humanity as well as a bringer of authentic, quality folk music.