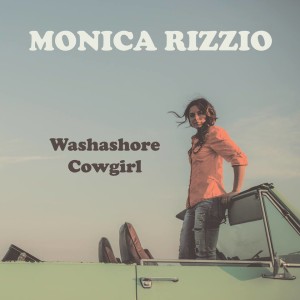 Monica Rizzio's first official solo CD Washashore Cowgirl is chockfull of great original country and country roots songs. Originally from Texas, this Cape Cod resident shows she can project plenty of her southern girl charm and sensibility into her original songs and standards. It's who she is. A former member of folk trio Tripping Lily, Rizzio wrote or co-wrote most of the righteously fresh material on this album.
"You And Me" opens the disc with Rizzio crooning sweetly over a tuft of fiddle, banjo, and other acoustic instruments. Her smooth, rangy vocal works its way over a country two step with a jumping, skipping expression. An instrumental break finds an electric guitar making its twangy presence felt as Rizzio hums the melody with a special resonance. This tune grabs the ears and never lets go, making one wish he was at the country hoedown its peppy vibe conjures in the mind.
"Best I Can" goes mid-tempo to let Rizzio's voice to breathe more freely. She draws out that special resonance in her vocal by expressing herself through anthem like lyrics about moving on from a loss. The instrumentation around her is all top notch and her voice is full of earnest emotion. She is one of those singers who can make you feel it.
Rizzio must have been feeling homesick when she recorded Sean Brennan's "Texarkana." Her voice is full of that longing feeling that lets the listener know that this song is very personal for her. Her vocal here is rangy not just vocally but emotionally. She takes the listener to a special place in this song, as her delivery is loaded with passion as well as talent.
Rizzio takes it down tempo for the beautiful ballad "A Little Time." Her vocal is a clear, sharp line of art, moving tenderly over a flinty banjo and a moody pedal steel spread. She makes the listener feel the strength in her vocal as she mounts the knobby hillocks in her melody line. She songs so strong emotionally and musically that one cannot help but follow along with her song's emotional quest.
From her first few vocal notes to her last, Rizzio's tune "Willie Nelson" shows a solid reverence to an old love. Acoustic instrument grit beneath her voice makes a firm platform for the fierceness of her outlaw country approach. She asserts her vocal with muscular authority and her allusions to driving all night give this tune an undeniable darkness. She wraps her vocal around her brisk chorus with supreme confidence and aplomb, giving it all a tough mama edge.
Rizzio's respectful cover of the Larry Collins and Alex T. Harvey hit song "Delta Dawn" serves up plenty of country grit. Banjo notes dot the landscape with understated rustic charm. Fiddle notes swerve around with a sweet melody. Rizzio makes the most of this authentic backdrop with a hauntingly lush vocal that is full of feeling, talent, and an ability to project the sadness of the song's title character.
Rizzio's "Luckier Than You" is another hauntingly beautiful melody. This singer's darkened, forlorn tone measures sadness in quietly passing measures. It is not entirely clear who she is singing about or why. Poetic, it makes one think she is mourning someone who didn't survive something that she made it through. Seemingly simplistic, the lyrics require Rizzio to carry the emotional heft of the song with her nuanced, rangy vocal ability, and she does.
In "Long Lost Friend" Rizzio makes the listener feel her longing for what could've been if two people hadn't fallen out. Her chorus is warm, inviting while containing a sense of the inevitable. An image of not being at her friend's side at her wedding is mournfully beautiful and it is all considerately supported with sweet acoustic accompaniment. Rizzio pours her heart out in carefully measured vocal dollops. As subtle as the banjo that takes its time expressing its rustic beat, Rizzio takes her sweet time revealing all of the loss and sorrow that is working away at her.
"Buttercups" features more of Rizzio's rangy vocal ability. Just like a pedal steel moaning in the backdrop with an arcing presence, Rizzio sends her lush, soft vocal line across a landscape of sound with pleasing, artistic expression. She knows how to create the perfect rustic setting with her song craft and so does her co-writer Peter John. The tune engages the listener's heart and soul while remaining very pleasant to his ear. The tremendous depth in this tune is one of many examples of excellence on this disc that explain why Rizzio and her band have caught on so well in the northeast. They are so real it isn't funny.
Title track "Washashore Cowgirl" is a whole barrel of fun. Perky, twisty electric guitar, banjo pluck, and an infectious two step shuffle give Rizzio something husky and bouncy to sing over with energetic zeal. She sends her voice hopscotching through her speedy, up tempo vocal line with confidence and precision. A slight southern accent she layers over all is just the right amount of gravy over the meat and potatoes here. This number is definitely a must for her rowdier country hoedown performances.
Featuring her co-writer Mark Erelli, "On My Way" is a beautifully fine close out track. Rizzio and Erelli do a fine job creating a feeling of completion. They've finished their work and are readying to move on. Boy, does Rizzio project her voice with power and oomph and Erelli helps her thicken her sweetly appealing chorus.
Rizzio is certainly a country girl at her core. She doesn't just write, sing, play, and record these songs. She makes them jump out of the speaker with a fresh energy and determination, with able assistance from bassist-producer Jon Evans, guitarist Ben Kushigian, and drummer Matthias Bossi. Rizzio is one of those artists that make you realize you're listening to something special from the first few notes. Lets hope the country and western venue owners, booking agents, music journalists, and local radio stations all get a copy of this CD lickety split. Rizzio will love them the best she can when they all come out to hear her sing these songs.
https://www.facebook.com/MonicaRizzio/