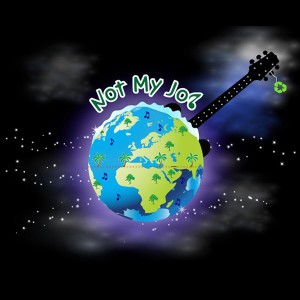 Rockin' Ed Thomas has finally released his slightly edgy, fun flavored Not My Job album, ten years in the making. Thomas brings a quirky world view and sense of humor to his lyrics. He takes things seriously but he knows enough to look at life with a grain of salt. His sense of fun fills each song with a sunny disposition and likeable personality. Thomas also has backing vocalists Lee Villaire and Maia Cataldo along for his joy ride while bass players Brent Godin and Spencer Wright keep the bottom running smooth.
Thomas opens his CD with "Two Tire Fire" and we're immediately pulled into his world of lively lyrics and music. Singing about raising hell when he gets to heaven and sailing across the Milky Way inform the listener that this is guy who enjoys life and likes to party at the microphone. He's also adept at taking a whole mess of musical influences and forging them into his own personal concoction. Thomas is playing an edgy electric guitar in the background, one that invigorates his song while he plays the part of the merry singer-songwriter with his acoustic.
"Shine" takes things into an easy going groove while Thomas croons about enjoying life to the point where you're visible to all around you. His chorus is a catchy, sing along joy and the mesh of peppy, upbeat instrumentation surrounding him help him take us to a place of merriment. Listening to this song, it's easy to imagine him dominating any lively bar, restaurant, or club he plays in.
"Lost In Boston" comes across more like a personal statement amid a joyful breeze of instrumentation. Written about someone who doesn't know what to do with himself in the city, it has a sorry, forlorn lyrical sweep. Thomas's chorus is catchy as hell, and his steadiness of purpose combines well with his quirky zest for life and song. He develops this zest by contrasting with the kid who is "lost in Boston."
Title track "Not My Job" showcases Thomas's penchant for fierce electric guitar flavorings. An edgy electric guitar phrase burns away as the singer-songwriter croons through a litany of whimsical gripes with the modern world. Thomas playfully rants about how everybody thinks somebody else is responsible for making the world a better place and he gives us a lot of playful music as he states his case.
"Children's Books" is a quirky way of asking for a different and better world. Thomas sings of a world where "No one ever cheats at any kind of game/No one ever calls other people names/No one has a need to complain/A band aid will fix up all your pain." Thomas plays his acoustic guitar so sharply and sweetly it sounds almost like a mandolin. He also sings this one with a bit of a rasp and in a well considered pace. Thomas almost makes his listener feel his compassion.
Thomas makes a complete turn into edgy rock with his protest song "Program Of Life." Forceful guitar work contrasts with more subtle guitar work to create a busy texture. This reinforces Thomas's litany of gripes about people who live their lives according to a plan rather than living in the moment. It works both musically and as a clever, witty message song.
"Living Contradiction" has a dark, knobby groove and some wavy sounds above it, especially within some haunting backing vocals. The lead guitar is scratchy and raw, and its musical tension makes a hardscrabble surface for Thomas to croon over with a hefty dose of conviction. It's in the way Thomas sings over it, a mighty croon that most makes one feel his passion.
The quirky rock and roll of "Hobos In Disguise" keeps the listener glued to the voice, instruments, and the strange lyrical concoction that this song is. Essentially, the song is about people who make themselves out to be more than they are. There is a pleasant dose of sarcasm in the way Thomas applies his unique vocal timbre to it. He's just weird enough to keep people listening, and his uncanny ability to turn his quirks into a good song is his greatest accomplishment. The low end line is really cool too.
"I'll Come Back To You Again" turns a mopey vibe into another fun song. In anybody else's hands, this tune would be boring. But, Thomas, being a wild and crazy guy in any tempo, turns his mellow tune into something that is driven in low gear with his persistent vocal quirk.
"If I Close My Eyes" is a mid-tempo, forward slapping number. Its greatest strength is the conviction with which Thomas belts out the chorus. A guitar gives some attitude beneath the vocal, and that seem to push Thomas to put his best into his warm, wide chorus. It works. He keeps giving his song a larger than life vibe which makes his whimsical lyrics seem as important as any historical declaration.
Thomas closes out his Not My Job album with the appropriately titled "Let's Say Goodbye." Its lilting melody moves along like a friendly wave goodbye. This singer-songwriter sums up his childhood with personal bittersweet reflections about his older brother, a youth who lived a bit wildly and didn't quite make it into adulthood. Leaving out maudlin sentiment, Thomas tells it like it was and his straight forward delivery is all we need to know what he was feeling when he wrote this.
Thomas makes a strong personal statement in each one of his songs. His flare for using his quirky timbre, personal perspective, and fresh takes on instrumental accompaniment results in a fantastically fun album. There is nobody else on the music scene quite like him. Let's hope this Not My Job CD brings him greater visibility and larger audiences.

Follow me on Social Media!