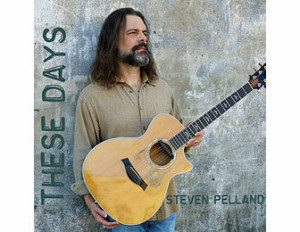 Steven Pelland's new These Days CD is chockfull of beautiful vocals, an album that will long be remembered for the quality of the voice. These songs also make an impression through the way Pelland uses his acoustic guitar melodies to conjure emotions and contemplations. This singer makes one feel like he's conversing with you, not just singing his lyrics over sparse accompaniment. His personality shines through in each track, making one feel the man behind the song.
"California" is a light, breezy number. With a steady string of lovely acoustic guitar notes behind him, Pelland unfurls his beauty of a voice, filling his lyrics with a heartfelt warmth without even trying. His song floats by like a refreshing summer breeze, a breeze that carries clouds, each cloud resembling something familiar.
"Change Is Good" finds the guitarist-vocalist projecting his handsome, steady vocal over his solidly picked acoustic guitar. There is true beauty when he hits his chorus, a steadiness of purpose in his words as well as his voice that makes the listener feel his sense of a mighty climb that this song is about.
A rippling acoustic guitar melody makes "Love is Life" feel like it's moving forward like a brook of running water. Pelland's smooth, soft timbre graces his words with a sweet tenderness while also maintaining an under current of strength. Again, without seeming to try, Pelland infuses his tune with feeling, a grandness or purpose and emotion that swells up with each verse. It should also be noted that backing vocalist Andrea DeSharone adds an extra fine layer of prettiness.
Becoming more forlorn and somber on his instrumental "Winter Minuet," Pelland showcases some fine acoustic guitar work. He also makes a beautiful expression in each meter, letting the emotive qualities emerge within the technical method he is using. His melody speaks to the listener on a level that words never can because the music is pure emotion.
"Light Of The Sun" is about bringing things out into the open and then leaving them out in the open. The song is as warm as the sun it keeps referencing as a bright, healing metaphor. One can feel the sense of appreciation Pelland is singing of, his voice loaded with admiration as well as a smooth resonance. His guitar technique here requires him to play his melodic line in crisp, tight intervals as he goes along. That controlled momentum furthers the feeling of joy he is submersing himself in.
Title track "These Days" uses a steady ripple of acoustic guitar notes as its backbone. Pelland keeps every one of his sudden notes running, forming a melodic line through his sheer persistence. After forging his sound through this will power, he coolly, casually croons about his worldly wise observations. Here, his solid vocal carries the listener through his verses with reassurance, as if his steady vocal line was a friendly guide, something familiar and necessary at once.
Calling on people to pursue what they want rather than merely contemplate it, "Just Fly" has a message of liberation. Pelland's vocal approach, again reassuring, makes one feel it's OK to just let go and see what an experience will bring. His persistent confidence holds his song together as much as the nitty, gritty acoustic guitar picking that rings out with fullness, sweetness, like a nice big ripe piece of fruit.
"Never Again" has a lilting melody that carries us along with a slight swaying motion. Pelland builds this sway with an acoustic guitar line that skips merrily along as his voice hop scotches through some twisty lyrical phrases. This clever approach is another way in which he makes his song feel like it's taking us somewhere. A second, closer listen to his acoustic guitar picking makes one appreciate what he is doing even more, running, gritty notes that give new meaning to the words flow, motion, movement.
Pelland really lets himself go at the microphone on "Another Day." It has a chorus and a vocal sustain that remind of the best pop songs, even though the husk of this tune is purely acoustic singer-songwriter fare. This very likable song grips one with its energetic zeal, and when it finishes, one wishes it could be a longer tune.
"Precious Life" has a clear, bright acoustic guitar melody unfurling while Pelland is at his emotive best. He fills this one with feeling, singing in beautiful assertions of voice that feel lifted, lofty. This is what singer-songwriters should sound like, sparse but loaded with feeling and sound.
"Wash Away" finds Pelland utilizing his rippling acoustic guitar notes to move the song forward. Feeling like a persistent stream in a brook, his note picking makes one feel like he's being carried away by a thousand friendly Lilliputians. Each crisp guitar note can hit the listener's soft spot as they are loaded with emotion. Pelland sings in a very considerate fashion, moving through his verses smoothly but offering enough of his sweet sustains to keep the feeling right.
Pelland closes out his These Days album with "Walden," a meditative instrumental piece that makes the listener realize how important a certain place is to him. The acoustic guitar notes hit the listener in a way that makes them sound special, each note a delicate sweet sound that makes one feel what Pelland was feeling when he composed this. It expresses peace, joy, and solitude. It's also a fine close out to an exceptionally fine album.

Follow me on Social Media!