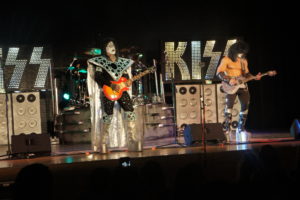 There is nothing in rock and roll quite like the band KISS. There's nothing quite like a Kiss concert, either, but a few good tribute bands have come somewhat close to approximating the experience. Malden, Massachusetts based KISS Forever performed a fundraising concert at that city's high school auditorium last Saturday night. The band offered plenty of lights, flash, and good costuming. More importantly, KISS Forever had the Kiss sound down pat. Aside from the theaticals, they're also good musicians who know what they're doing, melodically and rhythmic.
Despite a few glitches with the audio system here and there, this Kiss tribute band rocked it all night. They set the tone when they opened with the bass driven "Detroit Rock City," a number also marked by the lead guitar work of Rob "Ace" Smith, a Malden musician who graduated from the high school in 1986 and was instrumental in putting this show together. Smith's lead line in "Detroit Rock City" was fraught with the inner tension that made the song so dramatic when many of us first heard it in 1976.
There was plenty of rhythm guitar crunch and rhythm section force in "Deuce," with Ara Asadoorian as "Star Child," John Saner as "The Demon," and Mike Grillo as "The Cat Man" pushing the song forward with a steady momentum. They also kept it hip, in the pocket, exactly where such a song needs to be. "Parasite" was another rhythm guitar fest and its thumpy groove kept it moving.
"Shout It Out Loud," an anthem off of Kiss's Destroyer album, was a rush of energy, good chorus team ups, and swift coordination between the tribute band members. "Let Me Know," off the first Kiss record, was an example of good ensemble playing between guitarists, bassist, and drummer. They played so tight it wasn't funny.
"Lick It Up," a briskly paced number from the album of the same title, carried the audience along with its non stop riffing. Next tune, "King Of The Nighttime World," featured a wild guitar phrase from Rob "Space Ace" Smith. Ara "Star Child" Asadoorian donned a Kiss Army fire helmet to dedicate "Firehouse" to the Malden Fire Department. Then he played solid chunks of rhythm and that brought out the vibe of the song and the feisty lead guitar techniques from "Space Ace" was another special flavor.
"I Love It Loud" found John Saner as "The Demon" lurching around the stage and shaking his head in pure Gene Simmons like motions. It brought back fond memories for those who remember Kiss at that time in their career. "Cold Gin" was a riffy, thimble study in changes and it was a recreation of one of the catchiest songs in the Kiss catalogue. Segue into a "Cat Man" drum solo, a serious pounding with plenty of speedy rolls, fills, and crashes.
"Shock Me" gave "Space Ace" a chance to sing lead vocals on an Ace Frehley penned tune. He sang it with an anthem like authority and some help on the hooky chorus from "The Demon" and "Star Child." It was the manic "Space Ace" guitar close out that brought this tune to its fiery conclusion. "Space Ace" also sang a memorable lead vocal on "New York Groove," showing his mastery of the Frehley vocal and guitar approach.
"The Demon" began his intro to "God Of Thunder" by vomiting blood like a recently fed vampire before going on to play a stirring version of this song from Destroyer. The dark number had a circular, muscular motion that kept the song powerful, gripping, and scary.
"Love Gun," a title track from the late 70s period, was composed of rapid bass runs, powerhouse drumming, and flawless vocals. "Star Child" had moved to a separate side state for this one, giving just a bit of star personality. "Ladies Room" was performed with rock and rock finesse and "I Stole Your Love" was delivered with strong backing vocals, giving the piece a three dimensional flair. "Christine Sixteen" was a catchy pop-rock song in these guys hands as they captured the fun feel in the riffs and playful chorus.
"Cat Man" came down from his drum set to sing lead vocal on the original band's Top 40 hit "Beth." He handed the pop melody vocal number well. Pleasantly, KISS Forever wrapped up their nonstop, two hour plus show with the number one Kiss song "Rock And Roll All Nite." Everyone in the audience was on their feet for this close out and it didn't disappoint.
KISS Forever proved that they have it all down pat. From the stage mannerisms, flashing lights, and the KISS sound, a sound that many a tribute bands will attest is hard to capture. Last Saturday night's show was a benefit for the Maldens Teen Enrichment Center, with over $3000.00 going to the center. KISS Forever donated all of their time and energy, and for that, they received a warm welcome mid set from Malden Mary Gary Christenson.
http://www.kissforeveronline.com/
https://www.facebook.com/MaldenTeenEnrichmentCenter/?fref=ts