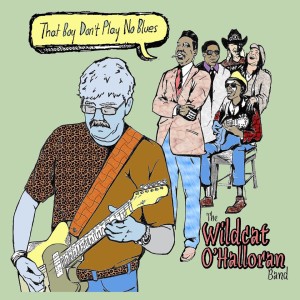 Wildcat O'Halloran has come up with an interesting blues album. His That Boy Don't Play No Blues disc features blues renditions of classic rock, oldies, and R&B numbers. O'Halloran defies expectations in that he has come up with authentic blues renditions of these all so familiar numbers. This isn't "blues rock" and these players are not dabblers. This is real blues.
The Wildcat O'Halloran Band open this disc with their gritty, guttural version of The Beatles' "Dr. Robert." Here, O'Halloran applies his whiskey soaked voice to these timeless lyrics. Vocally, it sounds like someone who's been singing blues for a long time, leaving no trace of Beatles sweetness. O'Halloran's crackling lead guitar line is drenched in the Mississippi Delta, all down and dirty, nitty gritty.
"I Wanna Be Where You Are," written by Arthur Ross and Leon Ware for a very young Michael Jackson in 1972, becomes, in O'Halloran's hands, a slow, grooving blues number. O'Halloran's cool, smooth lead vocal and Amy O'Halloran's backing vocal mesh finely and flow over an easefully paced flinty lead guitar phrase. While there is none of Michael Jackson's sweet vocalizing or pop sensibility, O'Halloran does find the right feel of this number and turns into something that can hit his listener just right.
O'Halloran goes into Oris Hay's old soulful number "Don't Let The Devil Ride" with Johnny Marino leading the way on blues harmonica. Marino's harp line is loaded with feeling while O'Halloran's down and dirty guitar phrasing supports the main melody with an extra flank of assertive gristle. O'Halloran's vocal timbre is more smoothed out here, letting his guitar and Marino's harp have more breathing space. Their tradeoffs give this rendition a whole new sense of tension.
"In A Million Years," by Brian Johnson and Manilal Shishora, gets turned into a down tempo acoustic blues tune on this explorative disc. O'Halloran feels this song deeply and puts it across in a way that makes the listener feel it too. His plaintive vocal has a lot of room to breathe in this stripped down version. His tender vocal application carries this message beautifully from beginning to end.
Carlos Santana's instrumental dandy "Soul Sacrifice" sounds like something a bunch of blues musicians could be jamming on at a weekly blues jam. The percussion loses the original's Latin rhythms but thickens the peppy groove emanating from the drums and low end. This makes O'Halloran's take a driving piece of work that keeps the listener very focused on what he's doing with his guitar phrasing as he pushes it over everything else going on here.
Initially recorded by Marvin Gaye and Tammi Terrell, "Ain't No Mountain High Enough" gets turned into an old fashioned, 1940s style blues song by O'Halloran and co-lead vocalist Sarah Halloran. This version has a yesteryear jump jive style that comes to life and rides along Emily Duff's sweet, flowing saxophone line before O'Halloran's restless guitar line takes over. Bass player Dave Kenderian and drummer Joe Fitzpatrick move it all along with an understated finesse.
In a strange twist of history, O'Halloran has rearranged Sting's cold war plea in "Russians." O'Halloran not only succeeds in recreating Sting's moody, plaintive ballad into a bopping, grooving blues song complete with jittery guitar line, he keeps the song current by saying he hopes not just the Russians but the North Koreans loves their children too.
"Atlantic City," a show tune originally composed by Lynn Ahrens and Stephen Flahery, gets the O'Halloran treatment here. Instead of a song and dance motion, this rendition consists of scratchy guitar chords and a simple blues rhythm section. O'Halloran keeps this one gritty and full, like it's bursting with the thrill of activity in the Atlantic City he sings of.
One surefire radio hit on this album is "Mercedes." Based on 1980s dance music artist Pebbles' "Mercedes Boy," O'Halloran's rhythm section conjures an admirable Chicago blues feel, turning the processed groove of the original into a real blues thumper. Saxophonist Emily Duff rides the melody line well as O'Halloran thickens the rhythm with a solid progression and he sparks up the main melodic line with his assertive guitar grinds. He and Sarah Halloran mix it up vocally with sexy trade offs in the suggestive lyrical expressions.
"Dance To The Music," originally an R&B romp by Sly And The Family Stone, is transformed into another dye in the wool O'Halloran blues piece. The shuffle groove of the rhythm section and the boogie of the higher register instruments, harmony vocals, and the general vibe of this go over well. It's uncanny how well O'Halloran conjures the essence of the original number while maintaining a blues consistency with his rhythm section and sax player sticking to an old fashioned pattern. Above that groove rides a feisty harmonica and a sweetly harmonized chorus.
O'Halloran and his band close out this interesting blues album with "Dark Whiskey," a modern country song by Gary Allan played here as a blues guitar drenched number. O'Halloran's vocal is one of those whiskey soaked timbres that always made blues sound so real. His guitar work and his band's tasteful groove make this song sound like it was recorded by 1950s Chicago blues musicians.
O'Halloran and his Wildcat O'Halloran Band have come up with a fun and interesting album. One can simply enjoy this as a party album playing in the backdrop of a huge event or one can listen carefully to study how these fine songs from multiple genres have been arranged as solid works of blues. Good stuff.
http://www.wildcatohalloran.com