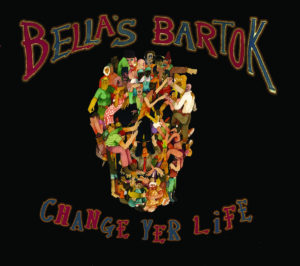 Bella's Bartok's first full length album Change Yer Life is loaded with this Northampton, Massachusetts band's trademark party vibe quirk. Incorporating Hungarian folk music, gypsy influences, and other old world elements, Bella's Bartok makes you feel like you're at a swinging party at a German dance hall.
This band pulls the listener right into their three ring circus of sound with opening cut "The Strigoi Waltz," a tune that might make one feel like dancing a two step jig with a German beer mug in one hand. Trumpets and accordion fill out the main melody with a swaying liveliness as the rest of the band hops things up with their eccentric groove. Lead vocalist Asher Putnam sings in a slightly accented vocal, like he might have moved to the United States from Bavaria in the least ten years. All these gripping elements come together in a way that makes one want to party with a bunch of Eastern European models and rock stars.
"The Strange Ones" make full use of Amory Drennan's horn blasts to turn this thumping rocker into a foreign anthem. The groove beneath the horns feels like a highway cruise during a pleasant Sunday afternoon while Putnam croons with gentle affection for his subject matter. Occasionally, this one speeds up and whisks the listener along with its partying mania of excitement.
"Satan's Song" features a wide, sweeping horn line that carries one along like wind under the sails while an eccentric beat makes one feel like doing a freaky dance. Its spiral of quirky accordion intervals and horn lines eventually swirl into a hurricane of mad, hysteria-inducing melody. Putnam's unique vocal timbre and foreign influenced approach keeps this whole thing fresh and wholly original.
Jumping out of the gate at a jaunty, mid-tempo pace, "Zora" motivates one to move one's feet, like jumping up and down with joy. The band's drummer, known as CRISCO, keep this one frisky with his endless run of inspired fills and rolls and his danceable beat in the rollicking portions is inspiring as well as a bit insane. By this point in the CD, the listener might start wondering if these musicians and their singer are mad geniuses who, despite their hoards of talent, should be locked up in a place where they can't hurt anybody.
As if to mock their own zany behavior, they named a song "So Calm, Relax," a number that does anything but. With its other worldly, melodic vibraphone and persistent la-la-la vocals, these players sound like they are celebrating a world with no tomorrow.
"Mother" rocks things up a bit with a more persistent beat and a mild but hooky chorus. The rhythm section is hoofing it here and full, feisty horn lines fill the soundscape with their vibrant coolness. Putnam's vocal style is more pop rock here, but it fits in well with this swaying song that feels like it could be a hit in Norway or Germany or maybe even Spain.
"The Fiddler And The Devil" gives us acoustic guitar drive over a thumpy beat augmented with a horn section and keyboard that punctuates with stunning, persistent slabs. Eventually, it feels like a bunch of old world musicians are playing at a 19th century event in a public place. A muffled horn line darts with zig zagging madness, and that's just one of the wild and crazy things spinning around inside this mad hatters tea party ball.
Next, swaying horns and accordion melody turn "For The Children" into a funked up European dance party. Vocals are appropriately pop rock style here while horns, accordion, and harmony vocals glide over a racing beat. This one cruises with listener in tow to a pleasant destination.
"Creepster" finds Putnam stretching into his higher pitched vocal timbre, and its eccentric appeal cannot be denied. He sings with passion and with range and its moments like these when the listener is more keenly aware of how seriously this singer and band take their musicianship even though they do things their own amusing, fun, quirky way.
"Masquerade" stomps its way forward with a persistent beat kept with a bulbous bass line. All the vocals, horns, and everything else playing arches up over its low end, emerging as something larger than life with a lot of moving parts. Its this larger than life quality that helps make this song and others on this album feel like something one can party to or rock out to even though it's only about 75 percent rock. One just swept up in its windy, swishing melodies and rhythms.
"The Walking Dead" celebrates life, playing in a dreamy, low key manner, offering nothing of what we might expect from the title track. Putnam sings low and dark as his band mates offers soothing lines of mellow, relaxed horns. This song becomes another reason to adore this album as it shows the boys coming up with another kind of creative expression.
"Ode To Bregovic (Toro's Lament)" is, strangely enough, about a party, completely opposite of what the title implies. Its two stepping, groove motivates the feet while sudden bulbous horn notes entertain the imagination. One wonders what kind of 19th celebratory event this tune could've been the soundtrack for. Its strange vocal patterns seem to be coming at us from an earlier time and place.
"Science" reminds of The Munsters theme music in its irrepressible groove. Its groove carries the weight of an arcing horn line and it feels like the Spanish rhythms one might hear the band playing before the start of a bull fight. Transcending time and continents to find elements that combine with their rocking verve brings a breath of fresh air to all of the genres this band is combining.
The boys close out with "Ramona," a jumpy, jumping soul-pop rocker. R&B flavored horns lines coupled with an acoustic guitar strum help make this a strong finish.
Bella's Bartok have come up with something completely new and old and different at once. Combining European, old world influences with rocking grooves and horn blasts might prove a hugely successful experiment. They already have a huge following in the northeast and it will likely double by the time they finish touring on this album.