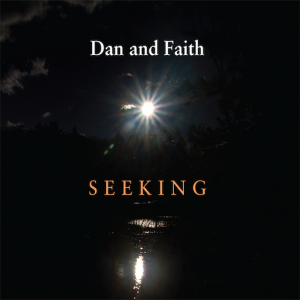 The Bolton, Massachusetts folk duo Dan Senie and Faith Senie, known professionally as Dan And Faith, have released this winsome folksy album Seeking. Seeking builds each of its 13 songs upon the strong chemistry of this husband and wife duo. When they trade off on lead vocal, they create a sweet, building mystery, something that keeps the listener intrigued with where they are taking their song. When they come together in harmony, they weave the warmest tapestry of voice.
The duo open with "Looking For The Road Less Traveled," a piece whose wafting accordion melody, played by Joe Barbato, sweetens it up as the two sing about the need to be patient with life's more tedious journeys. Their vocal chemistry as well as their tuft of gentle acoustic guitar strumming keeps their charming delivery wholesome and three dimensional.
"Homesick" features Dan Senie's smooth vocal croon easing over a cello line. His voice makes the song feel like it's climbing toward a lofty place and Faith Senie's harmony vocal chimes in with a delightful accompaniment. Together, they make us feel their longing for home while appreciating how they've crafted this piece together.
"Driving With Friends" moves at a jaunty, mid-tempo piece as it expresses the couples joy about playing their friends' original music on their Ipod while out and about in their car. Their amicable, emotionally generous chorus grabs the listener like a big friendly hug and the perky electric guitars played by Eric Kilburn and Pete Kennedy give it a second tasty layer to follow.
The duo extol the virtues of individualism, exploring life, and kindness without pretension on "The Path You Choose." Thoughtful lyrics, warmly and considerately delivered, carry this one along like a pleasant conversation with an old friend, intimate and familiar. Ken Perlman's gritty banjo notes are like the wagon wheels that push everything foreword with a steady persistence while keeping the whole thing rooted in something real.
One of this album's most engaging songs "Yukon Quest," is a heartily sung number, with a hint of ballad style crooning. Daniel Senie takes us through this cold, northern terrain with his descriptive lyrical vision using his warm, understated vocal. He gives it a fine sense of motion and makes one picture the world he sees in front of him. Billy Novick's pretty, high pitched whistle gives it a sweet, tender melody that contributes to the forlorn location.
Billy Novick continues to support with his whistle on "Deep Cold Sea." His melody contrasts tenderly with the bright, austere beauty of Faith's upper register croon, making this folk number touching and serious at once. Using her voice with the precision and complexity of a musical instrument, Faith Senie creates an aural beauty that carries the listener like the wind lifting a sail.
An acoustic guitar creates a somber, forlorn mood with its gently picked melody packing an emotive wallop in "Grey Skies." This instrumental, which includes guitarist Bennett Hammond and harp player Lorraine Hammond, takes each little acoustic note and milks it for all of the accented beauty it is worth.
"Falling Into Autumn Leaves" recalls an earlier time in Mr. Senie's life living in his rural community. The duo brings images of the rustic life more clearly into the listener's imagination with their solid, unadorned vocal delivery and by contrasting it with urban images. They succeed in drawing a picture that listeners would want to jump right into.
Title track "Seeking" finds the duo taking turns with the lead vocal duties in a way that builds the looming seriousness of this piece. Taking a long hard look at one whose life has changed drastically, the duo say a dour reversal of fortune can happen to anyone. They conjure the bitter sadness of knowing one's life can turn on a dime, leaving one in circumstances one would never have imagined. Mike Connors' drum work pushes everything forward with appropriate fills while Billy Novick's clarinet offers a pretty but forlorn melody. This is certainly an effective song that takes an important, unwavering look into the human condition.
"Maestro" focuses on a favored music teacher who gave his students the gift of music. This tender ode is full of feeling, making it a sincere expression of appreciation. Mr. Senie's handsome vocal comes across as a generous offering of joy and the feeling grows when Mrs. Senie chimes in with her harmony vocal. A piano melody pours forth with more gratitude, and the more one listens to this song, the more one feels it.
"Moon Over Concord" is a shiny reflection on a summer night boating on a river in rural Massachusetts. The moon, the water, the swimmers near the land are all quite vivid here as this piece moves like a canoe, paced and smooth. Billy Novick's clarinet melody adds a pretty, peaceful backdrop which does a nifty job of tying the feeling and the theme of this piece nicely together.
"The Blind Shall Lead The Blind" is a pleasant, easeful piece with gentle lead vocal trade offs. Hatrack Gallagher's harmonica line weeps in the backdrop as Dan and Faith Senie croon handsomely together. Their theme of living together more harmoniously seems appropriate during this contentious year of debate and division. This song goes over well with its quiet thematic delivery as well as its musical integrity.
Dan and Faith Senie close out their winsome folk album with "On My Way," a larger than life vocal expression with the two joining each other's wide vocal expressions in even grander beauty. There is also a ten part choir of backing vocals that help carry this one along like a huge flag or banner above a parade of protest marchers. It concludes their album with a passionate expression for what they care most about: freedom.
Dan and Faith Senie work a lot of folksy magic on all 13 of these tracks. Their Seeking album will surely be remembered as a milestone in their duo career.