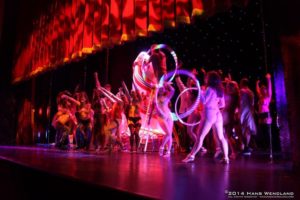 The Slutcracker is in its 9th season and last Saturday night's sold out showing of this year's rendition, albeit pared down, was even more rollicking, ribald, bawdy fun, or body fun, than last year's. Clara, Fitz, Drosselmeyer and the Slutcracker Prince, a magic vibrator come to life, each did their part well to bring this traditional holiday classic, once again, into the realm of sexual fantasy.
Some are not sure how to categorize this production running at The Somerville Theatre in Somerville, Massachusetts. Some call it burlesque. Some call it a sex comedy. While the production is difficult to define, it is a full scale production in terms of costumes, props, numerous talents participating, and the size of the theater. As the sexual antics of Clara, her Slutcracker Prince, the other dancers, and the set pieces continued through the show, there was no denying the quality of the dancing, acting, comedic timing, and choreography taking place on stage. Ballet movements like tour jete, dancing en pointe, and piroutte were in as much display as suggested voyeurism, suggested orgasms, and even a pole dance routine. The dancers managed to perfectly blend the dramatic tension of ballet with sexual tension, often giving new meaning to the dance term split. Show creator, director, choreographer Vanessa White knows how to do this.
Clara, as portrayed by Simone de Boudoir, was lithe on her feet, athletic enough to shimmy into many positions, and playful as a cat, able to connote many of the suggestive themes flying around this ode to Christmas and ode to release of pent of sexual tensions. The Slutcracker Prince, essentially a dancing penis, fully erect, was portrayed by the especially buoyant, glittery clad, Jonathan Smalls, a dancer especially adept at combining ballet movements with expressions of tumescent enthusiasm. Of course, the two would never have had their chance to mate, oops, I mean meet, if it were not for the magical prowess of Drosselmeyer. Portrayed by buxom blonde Jane Doe, a staple of area burlesque shows, this Drosselmeyer had the entire cast just buzzing with joy, including herself, which featured her, in one moment, doing part comedy pratfall, part helpless surrender to joy.
When the Slutcracker Prince finally has Clara right where he wants her, which is right where she wants him, the ribald comedy gets as bawdy and cheeky as legally possible. As size matters, four, almost nude, hula hoop baring dancers, known as the Orgasm Hoopers, take to the stage and surround the futon utilized by the reposing Clara and grooving Slutcracker Prince. This mirrors, quite artistically, the grandness to the purpose of the freedom and joyful release Clara is feeling as these Hoopers swing their O-shaped hoops around while sashaying sensually around the stage. The dramatic enlargement of the entire scene sent the humor over the top and made for a very sexy end to the first act.
The second act commences the show with an after party sleep over scene, and of course the revelers didn't wear much to bed. Before we know it, the stage action has Clara and her Slutcracker Prince as voyeurs while the traditional series of dancers perform right before their eyes. As with everything else in this production, though, there was a lot of new, sexually charged interpretation of the dancing teams that worked their art for the couple. Some the dancers cannot be mentioned by their names in the credits as too many of my readers might delete this post and or report it to the social media sites I post it on.
Three scantily clad dominatrix dancers combined ballet movements with the more suggestive moves implied by their profession, both aspects being well choreographed and well acted. Their routine ended when they brought in a huge, brass pole and mounted it into a corner of the futon shared by Clara and her Prince, who, by then, were showing that they like to watch. After the pole was set up, Clara, showcasing athletic prowess, and other kinds of prowess, made clear how much she likes to wrap herself around long, hard objects.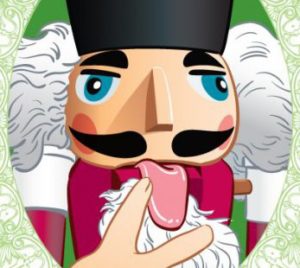 Many in the audience gasped in wonder and curiosity as several strange bird like creatures in white, leg-baring outfits, converse sneakers, and with black dildos strapped to their noses took to the stage. Then, the audience squealed in amused delight as these beings began using their assets during a well considered, well choreographed scene of group activity. It was beyond description. One simply had to be there to enjoy that kind of humor.
Clara's original suitor, Fitz, reenters the scene during Clara and The Slutcracker Prince's post-coital joy dance. Crestfallen, Fitz performs a lonely dance for the couple before the three partake in a three way dance that suggests their could be much fun in a love triangle. The two male dancers continuously passed Clara between them, over their shoulders and what not, in movements that found her sliding down the side of either one.
There is only so much of this show that lends itself to critical review. It's a fully staged, well-choreographed production that leaves one feeling fully satisfied with its outrageous comedy but has to be experienced first hand to how far the artistic license is pushed and well the show is able to get away with it. It runs until New Year's Eve.
http://www.theslutcracker.com/

Follow me on Social Media!