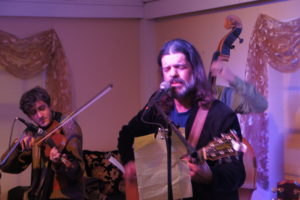 Steve Pelland's CD Release Party in the Ballroom at The Bull Run Restaurant in Shirley, Massachusetts was a fine testament to Pelland's emerging presence on the greater-Boston/New England singer-songwriter scene. Celebrating his recent These Days release, Pelland displayed plenty of guitar magic just during his sound check. He has a way of making his acoustic guitar waltz all over his fretboard.
Shortly after being introduced to the audience by DJ Bruce Swan of Bridgeport, Connecticut's WPKN, Pelland began his title track, "These Days," by easing right into his vocal melody line, filling it feeling without seeming to try. Surrounded by mandolin player Eric Lee's high, sweet notes and upright bassist Craig Akin's plucky low end, Pelland gently sunk into a husky and low timbre before moving slowly back up to his more middle ground voice, each subtle twist bringing out another dimension in his song.
A new song that Pelland wrote only two days before this show, "Juniper Rose," showed how he is already "on" from the first note he sings. From there, a series of subtle touches made one feel caught up in his world of song. Smooth flowing bass and sublime fiddle(Lee) wrapped around Pelland's voice and guitar work with gentle aplomb, making it an extra treat for the ears and heart and soul.
"Change Is Good" is an especially strong song from a CD of impressive music. It came across well live, in all its swaying moods. It is hard to put into words what makes Pelland such a wonderful singer. There is definitely something there, a unique vocal timbre and an uncanny way of expression, like it's all coming out of him by magic.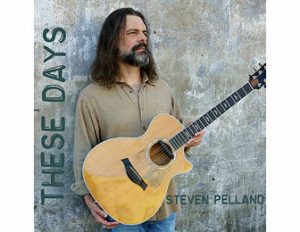 Emoting over a rushing weave of acoustic guitar, mandolin, and upright bass, Pelland made
"Just Fly" float by like a soft cloud of expression. Then, he sang his "Love Is Life" number with his chorus climbing into a special place, emotionally and musically. His coos and sustains dotted his vocal line with warm, pretty signposts along the way.
Pelland's CD features an instrumental titled "Winter Minuet" which went over well in the Bull Run's Ballroom last Saturday night. He caressed a pretty, lilting acoustic guitar melody out of thin air as he went into what he called his "biggest hit." Fiddle bowing and upright bass bowing created a texture that allowed the guitarist to balance light and darkness as he picked out a melody line that speaks to the human heart with its sense of graceful longing.
"California" was inspired by Pelland's notion of the state as being an "ideal destination, a fertile place." He created, with his guitar, words, and vocal flow, a feeling of travel, a long journey to an area of sunny disposition.
Pelland was inspired and influenced, over the years, by Pat Donohue, a music director for Prairie Home Companion radio show. Writing and playing in a Donohue technique, he performed rippling acoustic guitar notes amidst swirling fiddle and lilting low end on his "Let's Figure It Out," a speedy, upbeat number with a lot of wit. A consumate storyteller, Pelland gave excellent details about growing up in "Mill Town Boy," complete with images of bloody noses and blackened eyes from childhood fistfights.
Closing out his show with "County Line," country flavored fiddle and upright bass kept a foot stomping pace with a swing dancing motion as Pelland used his treasured vocal inflection to make this one feel down home and welcoming.
Opening act Lori Diamond and Fred Abatelli had a few nifty tricks up their sleeves as well. Each tune featured Diamond's pristine vocal melody over Abatelli's sharply accented, gently delivered electric guitar notes. "Good Harbor" found Diamond's vocal gliding over a layer of tender, sublime piano notes. Her harmony vocals with Abatelli were especially emotive, a perfect blend of voices from a perfect pair.
Abatelli looked really cool with a Telecaster guitar in his hands and his funky guitar riffs on "The Outside" contrasted well with their engaging chorus, harmonized for extra oomph and extra tenderness. During "True" Diamond's ladylike sussurant gently asserted itself with more expressions of emotional honestly.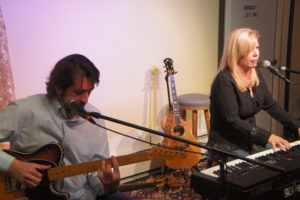 It was an evening of fantastic singer-songwriter material. The opening act was impressive and the Pelland trio wove magic with Pelland's original songwriter material. It's easy to picture Pelland rising to greater heights of acclaim and recognition with his triple threat delivery of fine writing, acoustic guitar virtuosity, and a magically gifted vocal.
http://www.stevenpellandmusic.com/
http://www.bullrunrestaurant.com/Bull_Run_Restaurant/Home.html