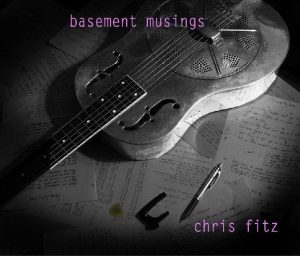 Chris Fitz recently released his Basement Musings CD to pay homage to all of the personal home recordings made by many of the great recording artists. Like the great men who have gone before him, Fitz has come up with a collection of some of his best reworked songs that many of us were not already familiar with. There's a cool, breezy atmosphere to some of these tunes while others have a bucking blues driven beat with plenty of flare. Regardless of whether these tracks are culled from previous studio outtakes or that Fitz plays all of the instruments himself, his Basement Musings is one fine bundle of good songs.
Opening cut "Drunk On Living" finds Fitz crooning in an easy going manner before he blows some cool, lilting harmonica blues lines. The groove he puts beneath it all has a swanky, kitschy vibe while his slappy electric guitar chords are a treasure. His lead guitar line rides across the range of this laid back mesh with a swaggering precision that drive it all forward while prettying things up with its clean, high pitched whistling thinness.
Fitz explores a line between dusky folk and slithering blues on "Down Bound Train." His sly vocal delivery suggests a man who's been around and knows how the world works. He presses a lean, low growling phrase out of his electric guitar as the groove ambles its way along beneath this singer's raspy flow. Tom Waits comes to mind but there is also something defiantly Fitz in the undertow.
"Cold Shot Jimmy" jumps right in with a guitar twang that springs up over an easy beat while Fitz sings in a casual, folksy manner. This singer-songwriter approach lets Fitz tell his tale of desperadoes with clarity and directness, letting these characters loom large in the listener's imagination. Details become the focal point here and Fitz breathes life into this story with his husky voice looming large overall.
A similar study of despair comes in "Love…It'll Drive Ya Crazy." Here, Fitz pays out a slinky guitar line throughout this thematic songs, a melodic phrase that seems to follow the story's fall into madness. Fitz has a street corner wisdom here that he conveys in a coolly delivered, whispery vocal. His soft timbre makes this song even more real with the persistent truth it carries in his lyrics.
"Sweet Virginia" finds Fitz more comfortably back in his blues territory. His lilting vocal and harmonica lines make this one feel like front porch blues from the 1920s, a perfect voice with perfect accompaniment conjuring a perfect vibe. This one will please the heart, soul, and ear all at once.
"Mississippi Myles McHenry" is another easy going, old fangled blues exploration. Here, Fitz utilizes his electric guitar to express the emotions of a front porch style number. His six string practically cries with emotion as he delivers a smooth, flowing, mellow vocal line. Soothing and flavorful, this one is all feeling, and goes over like an ice cold beer on hot summer's day.
"Gasoline Woman" continues the mellow path Fitz has beaten through this mid-section of his disc. Mellow vocals, comforting rhythm and acoustic guitar, and a melodic phrase that is jumpy, frisky, and totally smooth each speak with a striking voice.
"Enjoy The Sunshine" makes the listener picture the sunshine, as the lead guitar line waves like a flag of bright, sunny sound. Imbued with tender feeling, that melody reaches the listener on a gut level, sublime, something that tugs on you in pleasant manner to bring your attention to something sweet.
With a bounce in his step, Fitz returns to more mid-tempo territory with "Springtime," a perfect song to imbue with a peppy, upbeat outlook. Vocals, chords, and groove weave into a tuft of pleasant sound as Fitz's lead guitar sails across his soundscape with true wind under the sails.
"No More Tears" offers some tasteful guitar work. Intervals of acoustic guitar notes make for a cool spiral as a greasy lead phrase skitters around within the meter. Jumpy, lively, and festive, this one is like the fish that gets off the hook and back into the water all the while glistening in the sunlight.
"I Need Your Smile" finds Fitz doing some good finger picking on his acoustic. Soulful, emotive notes lace this one up well. Graceful electric notes slide in and offer their own juicy notes as Fitz sings in a winsome bluesy vibe.
Fitz closes out his Basement Musings CD with "Honey Sucklin' Tree." This shuffle driven blues lets Fitz drop into a raspy character voice that lends credibility to this charmer. He finesses this number with his best Tom Waits style cool and more his trademark tasty guitar rhythms and lively phrasing.
Fitz has not only come up a disc that offers his fans insight into his lyrical, musical, and vocal abilities and influences. His has come up with a high quality recording that stands on its own as an album. This is going to go down as one of the best albums to grace the scene in 2017, and this is only January.