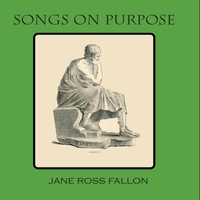 Jane Ross Fallon's latest CD Songs On Purpose are a gathering of fine folk tunes imbued with as much emotion as message. Fallon lets it be known where her sympathies lie. Her 11 track album is accompanied by a book titled Beyond Reason: Songwriting On Purpose that explains a lot about the songwriting process that Fallon employed to get these songs written and recorded.
Opening cut "Before The Fire" peers into the heart of a racial incident in Florida of the early 1920s. Fallon's pristine vocal timbre contrasts well with a moody violin from Jackie Damsky and an acoustic guitar line that mournfully cycles on itself without resolution. Fallon draws up stark lyrical images that make one picture the frightening scenes of the time, and they seem even more harrowing as she sings purely, without affectation, letting the words convey the stern, narrow world this song informs us of while also warning us of.
"Sweet Poison" laments those with chemical sensitivities in our modern, environmentally insensitive world. This tongue in cheek number about a fellow who cannot stop sneezing uses his allergy as a guidepost for Fallon to remind us exactly how many chemicals surround us daily. Her casual, carefree delivery and lilting chorus further the message by letting the dilemma speak for itself. Fallon's voice is as beauteous as ever, riding a persistent but gentle melody line with considerate phrasing.
A tender song about a rescue dog, "Maggie(If You'd Like To Stay)" lets Fallon express her concern about all rescue dogs, the kind that need ample attention even after they're adopted. This one gets the listener right in the soft spot, conjuring emotions about man's best friend, a helpless creature who shouldn't have been left helpless in the world. The musical accompaniment of guitar and violin along with that voice all come together in weave of serious, undeniable concern.
"Highway 84" centers around the songwriter's relationship with her growing son. Fallon swirls her pristine vocal around a spiraling melody line that wittily expresses that growing relationship. Her highway route also reminds her of a national tragedy that had taken place nearby, a tidbit that she delivers with sensitivity. Her ride feels palpable and memorable as her vocal approach, violin and acoustic guitar accompaniment create a sense of motion and travel.
"My Daughter" is about a Vietnam Veteran's daughter who seeks to join the military. Fallon conjures the senselessness of what war is and how much everyone has to lose to it. When a vet who struggles with post traumatic stress disorder has to face losing even more to the war machine when his daughter seeks to enlist, it provokes a study of all the unnecessary carnage that war brings. Fallon's tender vocal application lets us feel her sympathy for both parent and child and the music surrounding her voice is ample food for the soul as it expresses the complex emotions going on here.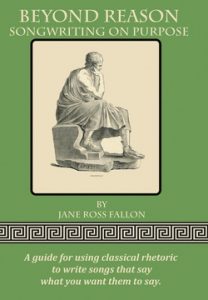 A forlorn folk feeling permeates "Northern White," a softly delivered but plainly stated protest song against hydro-fracking. Fallon's voice is among great company with violin and acoustic guitar sewing their own weave of emotion. She makes us feel what we might be losing environmentally when we dig into the Earth in pursuit of the almighty dollar.
"Take Care Of The Sante Fe" is another of Fallon's heartfelt protest songs. This time, the singer-songwriter is focused more on the site than what the polluters are trying to install. A love song to Florida's Sante Fe River, Fallow infuses this one with emotion for an important place in her childhood. Damsky's elastic, ever moving, ever turning, twisty violin melody keeps it moving deeper into the listener's heart and soul.
Fallon takes a closer look to the "lungs of the world," the rain forest, in "Sweet Amazon," a song that calls on all of us to stop using it up for the sake of money. It has a running acoustic guitar line that makes one feel those mighty timbers while this singer warns of a world without these sweet trees. Fallon's voice is a bright, winsome charm as she lyrically lists her series of concerns.
Fallon get a bit funkier with backbeat under her vocal on "Uncle Tony(The Tofu Song)." Her smooth vocal sounds coolly reserved but no less stunning in this laid back delivery. Her images of food servings can make one hungry while listening to her finesses her way through this clever arrangement with only drums as accompaniment.
"Walking Wounded" is the most poignant on the album. It comments on all of the people who are still living with the aftermath of an excruciatingly painful experience. Fallon reaches the listener's soft spot lyrically, vocally, and musically all at once with this song that holds up a sign post to pay attention to these people while giving us insight into each one's very real human ordeal. It's uncanny how Fallon can make a song sound at once so beautiful and so sad.
Fallon closes out her album with "The Town Of Sugar Grove," another glance into another racial situation. A stop on the Underground Railway, Sugar Grove, Pennsylvania, saw a lot of people with hope for the future and visions of freedom. Fallon's vocal glide and sustains makes this one a tasty treat for the ears while informing her listeners about the life of an interesting woman who made those journeys possible.
Fallon created a very likable and winsome folk album with this Songs On Purpose disc. She tells meaningful tales and immerses the listener into the folk idiom with these stories that touch upon the overall American experience as well as upon individuals living through their particular distinctions. Reading her companion novel Beyond Reason Songwriting On Purpose helps to illuminate some of these songs by tracing the form and structure of songwriting back to early man's methods of communicating on the basis of logic and or emotion. Her book also serves as an interesting examination of many of the songs in the modern era and from the great American songbook.

Follow me on Social Media!